Stay safe and avoid fines up to $10,000 by not attending street parties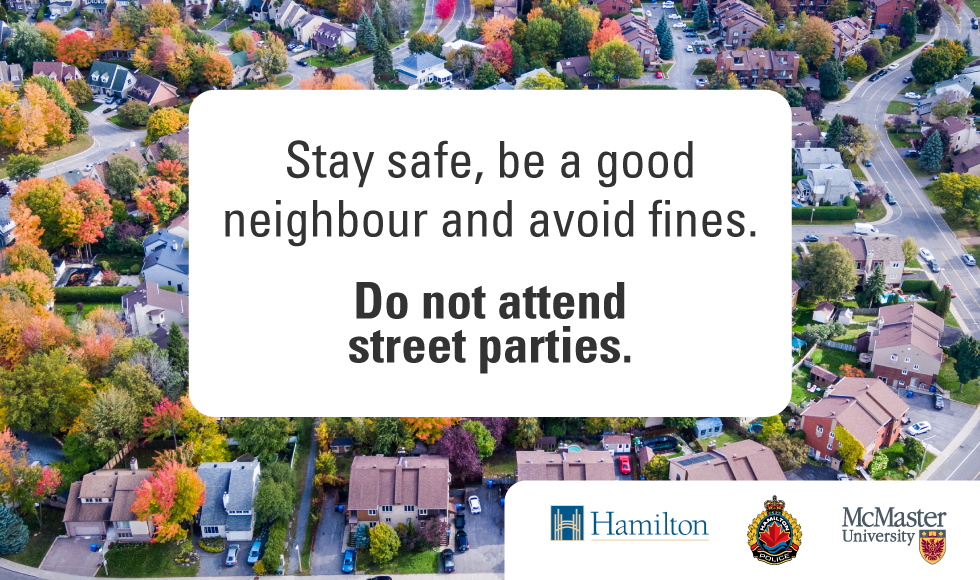 The City of Hamilton, Hamilton Police Service, and McMaster University are working together to discourage unsanctioned street parties.
---
With the community in mind, the City of Hamilton, Hamilton Police Service and McMaster University are working together to discourage large, unsanctioned street parties that can put students and community members at risk. Students can help by staying safe and avoiding large fines of up to $10,000 that could come from attending a street party.
The City of Hamilton has put a Nuisance Party bylaw in place to discourage street parties. In addition to this by-law, a University District Safety Initiative acting as zero-tolerance zone for by-law infractions in the neighbourhoods around the university, has been declared between September 14 and October 1. 2023
"When the zero-tolerance zone is in effect, Nuisance Party bylaw infractions such as excessive noise, attending or hosting a large street party, and failure to comply with a bylaw or police officer can carry fines up to $10,000" said Monica Ciriello, the City's director of Licensing and Bylaw Services.
McMaster is reaching out to students in multiple ways to make sure they are informed about the City of Hamilton bylaw, the zero-tolerance zone and about being a good neighbour. This will include a message from the Dean of Students, social media posts, and communications within student residences on campus. McMaster is also engaging with students who live in the community and with neighbours, hand delivering messages about the bylaw, and reminding students to be kind and respectful.
"While many might see street parties as an opportunity to hang out with friends, the safety risks increase the larger gatherings become. For example, when there are large street parties, it becomes harder for emergency services to respond," says Sean Van Koughnett, associate vice-president and dean of students at McMaster University.
"This is why we are reminding students to avoid street parties, whether in Hamilton or in any community across Ontario."
McMaster University has not hosted a sanctioned "Homecoming" since 2019. Even though there are no Homecoming events at the university, Hamilton could still be the focus for some street party events which, in the past, have been organized and promoted by people with no connection to the university. McMaster does not support these types of activities and actively works with community partners to try and dissuade students from attending street parties which can also attract large numbers of people from outside of the city. This is a challenge many cities are facing, not just Hamilton.
"Safety of students and community members is our collective priority. The bylaw can also mean large fines for anyone who attends a nuisance party, blocks traffic or roads or damages property," says Hamilton Police Chief Frank Bergen. "The best way to avoid these fines is not to go."
Students can learn more about the City of Hamilton's nuisance party by-law and zero tolerance zone on their website.