Fall 2021 convocation: Meet Honorary degree recipient Tebello Nyokong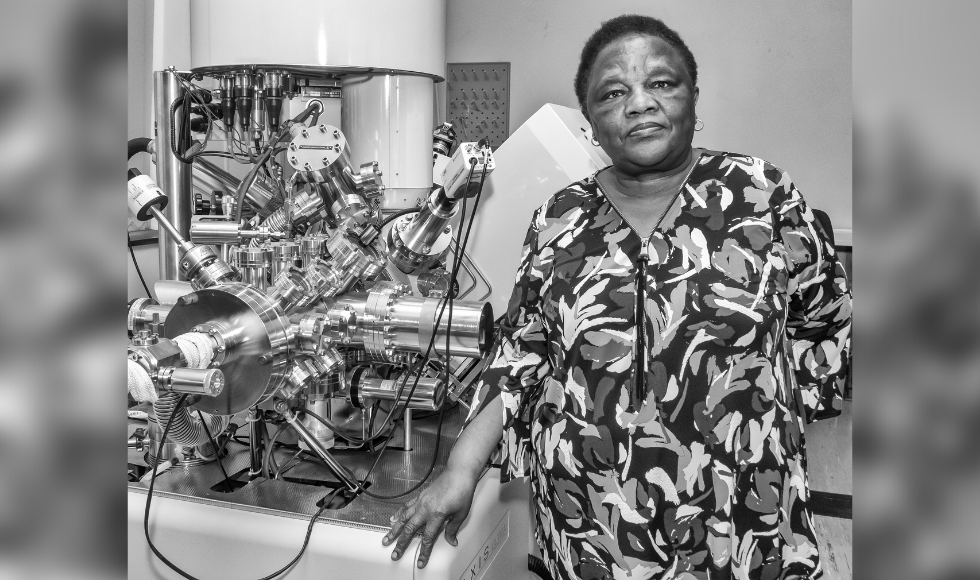 A trailblazer in the field of chemistry and graduate of McMaster will receive an honorary doctorate during today's Faculty of Science convocation ceremony.
---
Tebello Nyokong, a trailblazer in the field of chemistry and McMaster graduate, will receive an honorary doctorate during today's Faculty of Science convocation ceremony.
Nyokong graduated from McMaster with a Master's of Science in Chemistry in 1981. Since then, she has made significant and enduring contributions through her current work as director of the Nanotechnology Innovation Center at Rhodes University in South Africa, and through her pioneering research around the world.
Nyokong's story began in the small mountainous terrain of Lesotho, South Africa, where she worked as a shepherd on alternate days from school. In a letter to her younger self, Nyokong shared her growing passion for science and the world around her during this time:
"You like to ask deep questions about your environment, and you like to fix things around the house. You like to see plants grow, you love to listen to birds and identify them. You do not realize that this is what science is about. Being a scientist means being in touch with your environment, having an inquisitive mind and asking questions about how things work."
See below for a short film produced by 21 Icons, following Nyokong's journey and many contributions to scientific research.
After completing her PhD at the University of Western Ontario in 1987, Nyokong received a Fulbright fellowship in the United States, after which she returned to Lesotho as a lecturer in Physical-Inorganic Chemistry at the National University of Lesotho.
In 1992, she moved to Rhodes University in South Africa as senior lecturer and became a full professor in 2001. She is currently a distinguished professor of chemistry — one of only eight faculty members to hold this position at the university.
Nyokong's research is focused on advancing photo-dynamic therapy as an alternative to chemotherapy for cancer treatment and developing new methods for purifying drinking water.
Her research has been recognized with numerous major awards and honours in South Africa and beyond. In 2020, she received the Linstead Lifetimes Career Award on phthalocyanine chemistry in Buffalo, New York; an honorary doctorate awarded by Western University in Canada in 2019; and three honorary doctorates in South Africa — awarded by Walter Sizulu University in 2010, and the Universities of Kwazulu Natal and South Africa in 2018.
Nyokong has served on advisory boards for different local and national government departments and organizations around the world, including academic selection committees and policy advisory boards, such as her 2011 appointment to the UNESCO high-level panel on Science, Technology and Innovation for Sustainable Development.
A strong advocate for women and young learners, Nyokong has dedicated herself to promoting science education by supporting high school teachers registered for part-time degrees in chemistry, fundraising for the purchase of science micro-kits for local schools and delivering talks to young learners.