Fall 2021 Convocation: Meet Governor General Academic Gold Medal winner Beth Culp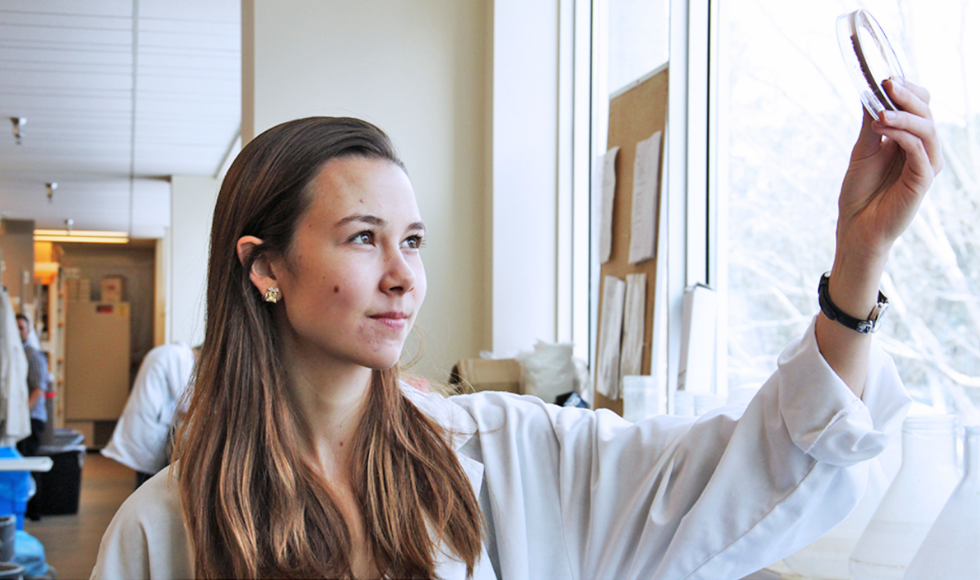 Beth Culp is a recipient of the Governor General's Academic Gold Medal. (Photo courtesy Beth Culp).
---
McMaster is pleased to award the Governor General's Academic Gold Medals to two exceptional students this year. The award, established in 1873, recognizes outstanding students for their high scholastic achievements.
These award winners will join the ranks of 50,000 Canadians like former Prime Ministers Pierre Trudeau and Kim Campbell and former Premier Tommy Douglas who have received one of the academic medals.
One of this year's recipients is Beth Culp.
"[The award] is a great honour and it feels really special," says Beth Culp.
Culp received her undergraduate degree in biology from McMaster University in 2015. She continued her studies McMaster, obtaining her PhD in biochemistry and biomedical sciences and conducting antibiotic and infectious disease research under the supervision of Gerry Wright.
Her PhD thesis focused on antibiotic discovery from a family of soil bacteria that are prolific producers of antibiotics.
Culp says her favourite memories of her time at Mac are working in the Wright Lab and being surrounded by highly-motivated researchers with diverse skillsets.
She calls Wright an "amazing" supervisor who provided her with continuous guidance on her research and career.
Culp is currently a postdoctoral fellow at Yale University in Andrew Goodman's lab, focusing on microbiome research.
"It makes me very grateful for the experience I had at McMaster," says Culp. "All the opportunities I got, and all the people that I met along the way and that I got to learn from."