Fall 2021 Convocation: Meet Faculty of Science valedictorian Shawn Hercules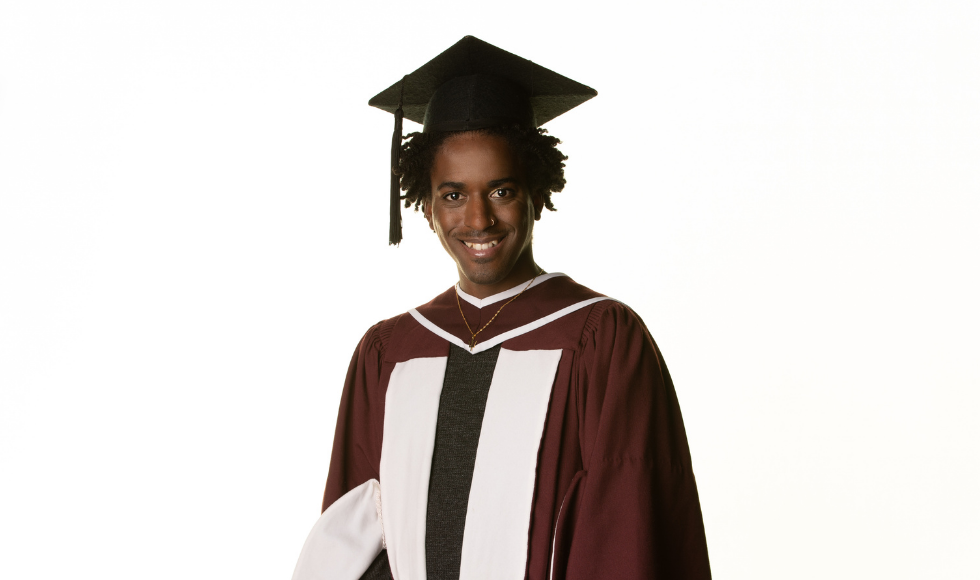 Shawn Hercules is the valedictorian for the fall 2021 graduating classes in the Faculty of Science.
---
Shawn Hercules is the valedictorian for the fall 2021 graduating classes in the Faculty of Science. We asked him a few questions to get to know him. Here's what the Barbadian, breast cancer researcher and drag performer had to say. 
Name
Shawn Hercules

Hometown
I am originally from the beautiful and sunny island of Barbados, located in the Eastern Caribbean.
What is the degree and subject you pursued?
For graduate school, I earned a PhD in biology (cancer biology and epidemiology). My work was focused on understanding the epidemiological and genetic profiles of women of African ancestry in Nigeria and Barbados with the aggressive and difficult to treat triple negative breast cancer. I did my thesis work under the direct supervision of Dr. Juliet Daniel.
Why did you choose to attend McMaster?
I chose McMaster because of the interesting and very important work that I did for my PhD. Even though I've travelled to many cities across North America, I had never travelled to Canada before, and I was excited at the prospect of studying and attending this amazing Canadian institution. I have zero regrets about that, including the winters!
What do you plan to do/see yourself doing in the future?
Before starting my PhD, I completed a Master of Public Health at the University of the West Indies – Cave Hill Campus in Barbados and I was focused on chronic diseases and social determinants of health research. For my PhD, I worked in a molecular biology lab with a public health lens which I found particularly exciting to marry these two vast and often separate fields. In the future, I want to continue working in health disparities research at this intersection of public health and genetics research, specifically among Black, and other under-represented and at-risk populations globally.
Any advice to your first-year self?
I would tell first-year Shawn that grad school is by no means easy or a "walk in the park" but to stay focused, keep his eyes on the prize and to be open to accepting and learning more about themselves, earlier.
Any advice for current or future students?
I'd advise current and future students to focus on the end goal of finishing their degrees but not to neglect fostering relationships with their peers, colleagues and mentors. These relationships were central to the graduate school experience for me and I can't imagine how I would have gotten through grad school without those support systems. Take every opportunity you get to present your graduate work and network with others in your field.
How has McMaster shaped the person you are today?
My time at McMaster has helped me to see science through a collaborative lens. I was grateful for the opportunities to collaboratively work with professors, clinicians and trainees across different departments and faculties at McMaster, as well as with colleagues both nationally and internationally. Working with these collaborators for my graduate research allowed me to fully see that complex scientific questions can be answered more efficiently when we bring our individual expertise and lived experiences together in a collaborative manner.
What events did you enjoy the most at McMaster or in Hamilton?
So many events I enjoyed at McMaster! I really enjoyed the trips and social activities provided by the Graduate Students' Association (GSA) and welcome week events by the School of Graduate Studies. I also loved karaoke nights at the Phoenix! In Hamilton, I enjoyed Westfest and Supercrawl with my friends and during my last few years of grad school, partying the night away at Sous Bas!
What is your definition of success?
To me, success is doing the absolute best that I can and having zero regrets or second guesses. Success is not defined by a specific outcome, though that can be at times the "cherry on top." Knowing that I've done my best is success, to me!
How has McMaster helped you to create a brighter world?
My graduate school journey has helped me to create a brighter world in so many ways! For my thesis project, I was able to directly contribute to my home country Barbados and collaboratively work with healthcare professionals across multiple sites in Nigeria and Jamaica. The research we collaboratively conducted helped to contribute more knowledge about breast cancer aggressiveness in these underrepresented populations. Also, through established collaborations with Dr. Daniel and Leila Springer from The Olive Branch of Hope cancer services, we were able to work with our communities of interest—namely Black women—to engage in knowledge transfer and community engagement within the Greater Toronto Area and Hamilton. Most importantly, my time at McMaster helped me to come to realize the power of authenticity and showing up completely as Shawn Hercules. This opened many doors for me, but especially through science communication. I co-produced "Science Is A Drag" which took place in July 2019 and March 2020 in Toronto in collaboration with RCI Science. These events featured scientists performing in drag and communicating their research to challenge cis-heteronomative stereotypes in science. These are just a few examples but every step of the way, I know that my time at McMaster has helped me to create a brighter world, perhaps in other ways that I may not know of right now.
What motivates you to work hard?
My family. They have worked extremely hard for me to get to where I am today. They were not able to pursue tertiary education but made sure that they did everything they could have to ensure that me and my brother did. I felt my family's prayers every day throughout my graduate journey and just knowing that they are cheering me on, keeps me motivated to work hard. Also, my research directly impacts the women not only in my family but my direct community (namely Barbados) and that also keeps me motivated to keep going.
Who is your favourite professor?
This is a difficult question as all the professors at Mac that I've personally interacted with academically have been extremely helpful! I am however especially grateful for my thesis supervisor, Dr. Juliet Daniel, and my supervisory committee; Dr. André Bédard (Biology), Dr. Andrew McArthur (Biochemistry) and Dr. Greg Pond (Health Sciences).
If you could live anywhere in the world for a year, where would it be and why?
I would live somewhere tropical with beautiful beach views, fresh food, fruits, and vegetables and where the people are very warm hospitable. It almost sounds like I'm talking about Barbados now, doesn't it? Haha.
What have you been doing to self-care during the pandemic?
Whew… DOING DRAG was so helpful for my mental health over this time that we've been home! Drag was a creative outlet for me, and it was really the first time I've ever done drag makeup on my own. It was a way for me to decompress from the week and do something fun that didn't involve "going out" as I often did before the pandemic. I hosted drag race viewing parties with my friends virtually from across the world in different cities (Sydney, London, New York City, Grenada, Barbados) and Canada (Ontario, British Columbia, Alberta). I also baked quite a bit to help with self-care and went on walks to just get out of the house. Hamilton has so much to offer with waterfalls and beautiful trails to explore!
While at Mac, did you receive donor-funded financial assistance (e.g., a scholarship, award, bursary)? Any thoughts on the importance of giving back to your alma mater to support future generations?
I was not fortunate enough to receive donor-funded financial assistance; however, I do believe it is important to give back to support future generations. I hope to be in a position one day to give back to McMaster, specifically for Black, queer and international students.