Fall 2021 Convocation: Honorary degree recipient Harold Brathwaite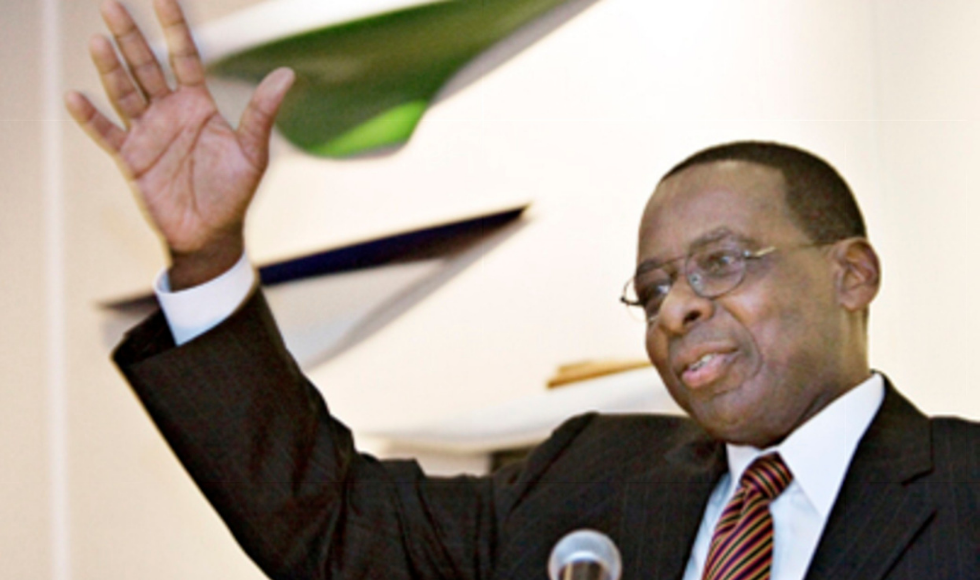 McMaster graduate and trailblazing educator, Harold Brathwaite is being awarded a posthumous honorary degree today.
---
There will be a notable absence at McMaster's Fall Convocation this year. On Nov. 25, Harold Brathwaite, a McMaster alumnus and ground-breaking educator, will become one of the few people in the university's history to receive an honorary degree posthumously. Brathwaite was nominated for the honour in 2019, but died May 31, 2020, one day before his 80th birthday.
The first Black director of education in Canada — and a gin rummy cardsharp, according to this daughter — Brathwaite was home-schooled in St. Michael, Barbados before earning degrees at the University of the West Indies and l'Université de Lyon. He completed his Master's degree in French at McMaster in 1969.
"My dad grew up in very humble beginnings," said his daughter, Jennifer Brathwaite. "He understood that education really is the key to freedom."
An educator by character as well as by profession, Brathwaite taught at the elementary, secondary and university levels. He was a department head, vice-principal and administrator with the Halton District School Board and then principal of M.M. Robinson High School in Burlington.
In 1984, he became superintendent for French language schools in the Toronto District School Board and then associate director of education in 1991.
When the Peel District School Board chose Brathwaite as its director of education in 1994, he became the first Black person to lead a school board in Canada.
His appointment to the top post at one of the country's largest school boards inspired what Jennifer Brathwaite described diplomatically as "some negativity," but she recalls her father saying, "I'm going to focus on who I am and let them [his critics] stew in their anger as I continue to succeed."
His steadfast commitment to making public education truly accessible to diverse communities was tested soon after his appointment by a change at Queen's Park. When the new Mike Harris government cancelled the anti-racism plans that had been developed during the previous government's tenure, Brathwaite was the only education director in Ontario to implement an anti-racism plan without ministry involvement.
Brathwaite's approach to matters both personal and professional was "equal parts meticulous and single minded in focus," according to his daughter.
"Once he decided he wanted to do something or accomplish something, he was going to do it to the absolute best of his ability, no matter how long it took him."
Jennifer saw her father apply that focus to small tasks at home and to big goals in his work and community. "His dedication to education became a mission of helping other people reach their greatest potential because he understood that the world had opened up to him because he was smart and had the opportunity to flex that ability," she said. "He wanted to create that scenario for other people."
Part of that dedication included assisting McMaster with its recruiting efforts in the Caribbean, where he wanted to help young people explore the kinds of learning opportunities that had changed his life.
Brathwaite retired in 2002, but barely slowed down. He served as senior advisor to the president of Seneca College and then became executive director of the Retired Teachers of Ontario. His volunteer roles included serving as a trustee of the Art Gallery of Toronto, as a member of the board of the United Way of Peel Region and as chair of the Nelson Mandela Children's Fund (Canada).
He was instrumental in arranging an event where Mandela spoke to 40,000 school children at Rogers Centre (then SkyDome) in 1998, and he was a member of the board of the Ontario Institute of Studies in Education.
In 2006, Brathwaite chaired a provincial task force examining student achievement and discipline by race, gender, first language, parental education and income. In each of these community-focused efforts, his primary goal was to help young people get the most out of their abilities.
"He really wanted everyone to succeed," Jennifer said, "so if he felt that he could contribute to someone else's success, he was absolutely for it."
That commitment was based on a personal belief that Jennifer characterized as: "Nobody gets where they are alone. Achievement comes with responsibility."
In many ways, Brathwaite's public roles reflected his personal life, where learning was also paramount. Jennifer recalled, "No matter what it was, he was always going to get every single, solitary piece of information or knowledge out of it."
If he had a motto, it was: "If you can learn, you can do." As a result, he would read extensively about every subject that interested him, filling his house with books and, later, with articles printed from the internet.
Growing up, Jennifer and her sister knew not to reveal their curiosity about too many subjects. "Don't dare express an interest in anything because the next day, he would have a book," she recalled.
Her father even brought his educator's hat to the card table, where he showed no mercy in playing gin rummy, insisting to his daughters, "You're only going to learn if you lose."
The honorary degree from McMaster adds to a long list of awards Brathwaite received for his contributions to the community and to education, including the Education Champion Award; the Canadian Black Achievement Award – Education; the Harry Jerome Award; the UNICEF Volunteer Award; the Urban Alliance on Race Relations Award; the Barbados Ball Canada Aid's Errol Walton Barrow Award; the Order of Ontario and several others.
To Brathwaite and his family, one of the most meaningful honours was the naming of the Harold M. Brathwaite Secondary School in Brampton, an experience Jennifer described as "surreal."
McMaster recognized Brathwaite twice in the 1990s, when he received the Distinguished Alumni Scholar Award and was inducted into the McMaster Alumni Gallery.
Brathwaite is survived by his partner Christine Shain and daughters Jennifer and Michelle.