Faculty of Humanities celebrates student award winners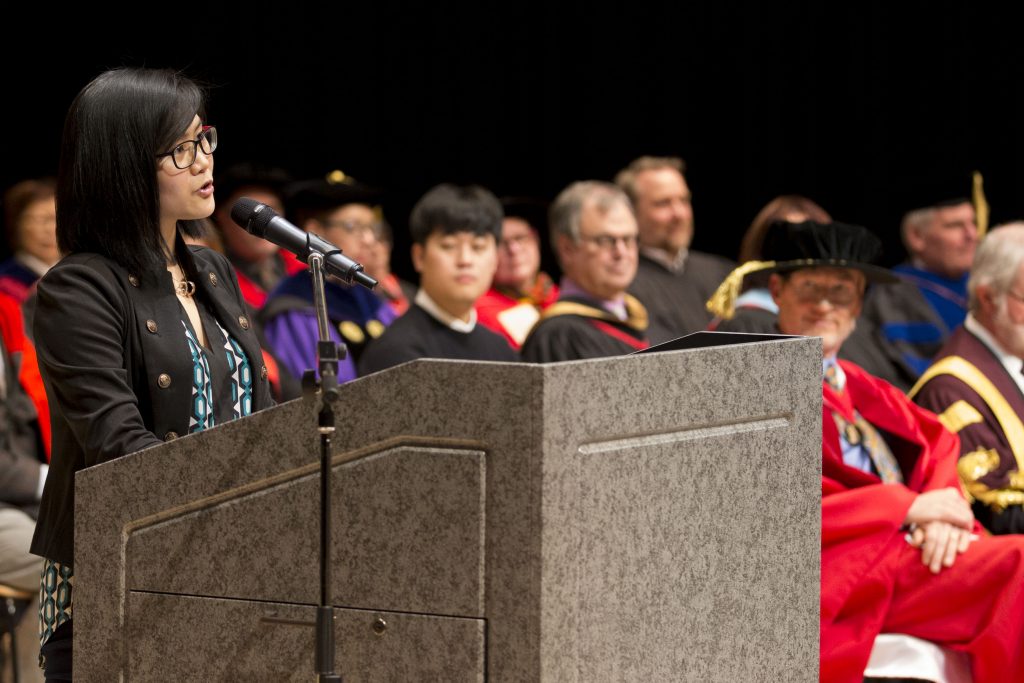 Speaker Alyssa Lai '12 addresses the audience at the 37th annual Faculty of Humanities Awards Assembly
---
The stage at the concert hall in L.R. Wilson Hall was softly alight with red, blue, gold and black academic dress as professors, students, family and well-wishers gathered for the recent Faculty of Humanities 37th Annual Award Assembly.
For Dean Ken Cruikshank – in red robes and a soft black "Tudor bonnet" – the colourful regalia was a fitting metaphor for the faculty as a whole.
"Our robes, you will see, are not all the same," he said, gesturing behind him. "Like you, we gather here at McMaster from many different places. We bring our experience and our learning from around the world, and as scholars, we are committed to creating an institution where there can be a free and respectful exchange of ideas."
This year, almost 300 students were recognized for their academic and research achievements, including more than 250 named to the Dean's Honour List.
The hour-long ceremony also featured a piano performance by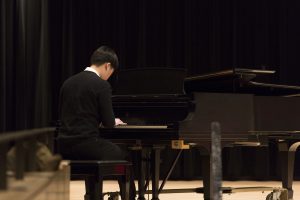 Jong wan Steven Hur, winner of the Reginald Bedford Award for Excellence in Piano Playing.
Alyssa Lai, a 2012 graduate of the Communication Studies and Theatre and Film Studies programs, addressed the audience, recounting her own experiences at McMaster and beyond. Lai, who has received a YWCA Hamilton Women of Distinction Award and a McMaster Hamilton Community Impact Award for her community work, spoke to the students, assuring them that even as she was anxious about her own success as a student, "it all worked out."
For Lai, who came to Canada from Malaysia as an international student in 2008, an education in Humanities gave her the tools she uses today as a communications professional for a number of Hamilton organizations.
"There's a place for you in this world that no robot or artificial intelligence can replace," she said. "And as a Humanities student, know that you have the skills, knowledge and tools to take on the world and be agents of change. Take it from someone who has been down this path."