Faculty of Engineering to mark 30th anniversary of shooting at École Polytechnique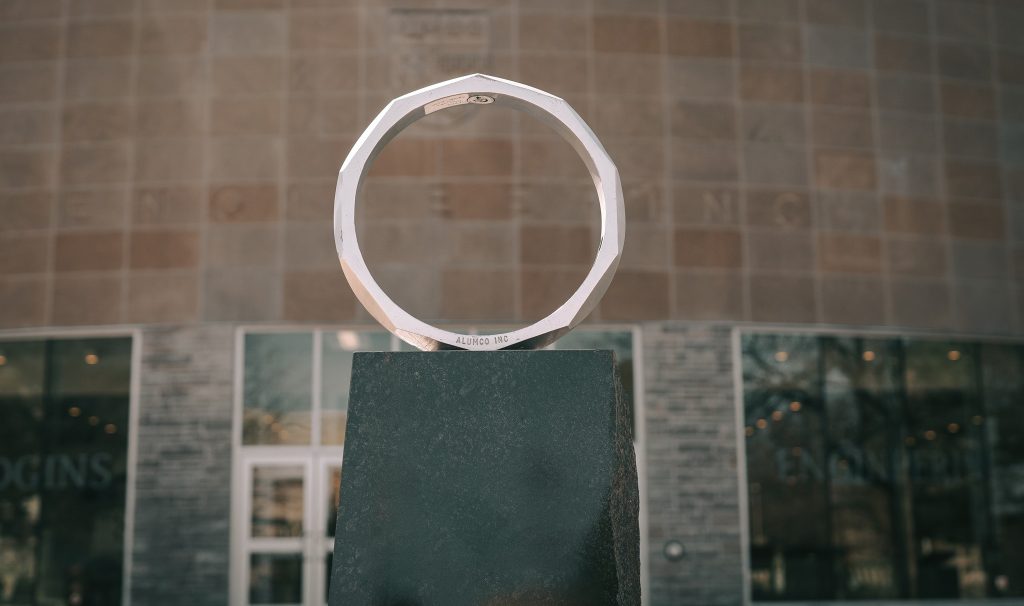 Photo courtesy of the Faculty of Engineering
---
A little after 5 p.m. on December 6 as darkness falls across campus, 14 engineering schools from Vancouver to Halifax will shine a beam of light into the sky.
The lights will stay lit until approximately 5:30.
Those 20 minutes will mark the 30th anniversary of the shooting at Montreal's École Polytechnique, where 14 women – 12 of them engineering students – were shot because the shooter hated "feminists" and believed women had taken his place at the school.
The lights are timed to mark the times the shooting started and stopped.
Fourteen beams of light have been a fixture of the commemoration by École Polytechnique, now called Polytechnique Montréal, since 2014, the 25th anniversary of the shooting.
That year, the beams shot into the sky from Mount Royal, shining two kilometres above the city for five hours. The ceremony has continued each year since then — a highly visible reminder to the city of Montreal that the tragedy and its victims are remembered and honoured.
This year, the lights will extend across the country, marking the National Day of Remembrance and Action on Violence Against Women, which was established by the Canadian government two years after the Montreal shooting.
"December 6 serves as the national day to remember all the lives lost through violent acts targeting women just because they are women or because they sought social and educational empowerment," says Arig al Shaibah, McMaster's associate vice-president of equity and inclusion.
McMaster's ceremony will begin at 4 p.m., and will include remarks from Hamilton city councillor Maureen Wilson, Ishwar Puri, dean of the Faculty of Engineering, Maureen MacDonald, dean of the Faculty of Science, and Melissa Cusack Striepe, president of the McMaster Engineering Society.
Kim Jones, a professor in the Department of Chemical Engineering and president of the Ontario Network of Women in Engineering, will be master of ceremonies.
Jones was a high school student in 1989, and was undecided about whether to go into science or engineering. Then the shooting happened.
"That broke my heart, but also made me incredibly determined to show that women belonged in those spaces, that women could earn those spaces, could thrive in those spaces," she says." It really contributed to my determination to become an engineer."
In 1991, the Canadian government recognized December 6 as the National Day of Remembrance and Action on Violence Against Women, providing an opportunity for Canadians to both remember the Montreal shooting and to reflect on the issue of gender-based violence generally.
To mark the day, McMaster's Equity and Inclusion Office will be hosting a commemoration ceremony at 11:30 in the morning, and a men's walk will be held before that. As well, 100 red dresses will be hung around campus to symbolize the more than 1,200 Missing and Murdered Indigenous Women in Canada.