Faculty of Engineering introduces the "new" Walter G. Booth School of Engineering Practice and Technology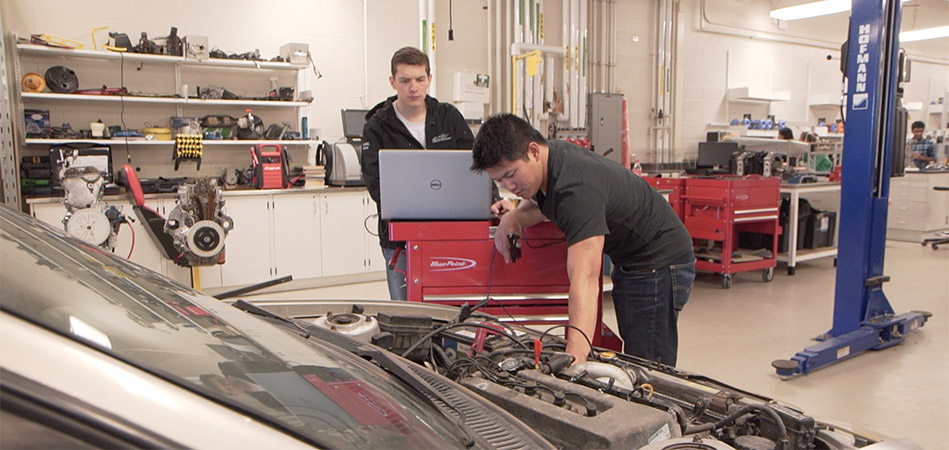 Remy Audel (left) and Callan Yan (right) graduated from Automotive and Vehicle Technology (B. Tech) this month and started the M.Eng. Design in January 2016.
---
Two McMaster powerhouses of practice-oriented engineering will soon come together to form one new school.
On July 1, the Faculty of Engineering's Walter G. Booth School of Engineering Practice, which offers graduate programs, and its School of Engineering Technology, home to the McMaster-Mohawk Bachelor of Technology Partnership, will become The Walter G. Booth School of Engineering Practice and Technology.
Walter G. Booth, a philanthropist, entrepreneur, and 1962 Faculty of Engineering graduate gave generously to McMaster, the only university willing to take a chance on his non-traditional route through the post-secondary education system.
The new W Booth School will bring together its existing strengths in practice-oriented engineering teaching and learning at both the undergraduate and graduate level to support McMaster's international reputation.
Retiring from his post as W Booth School of Engineering Practice Director, Dr. Art Heidebrecht said he is confident that the W Booth School will thrive under this new model.
"We are providing engineering education that is in line with industry and community needs. The unparalleled technical skills of Bachelor of Technology undergraduates and innovative capacity of our Master's students is a winning combination," Heidebrecht said.
W Booth students at the graduate and undergraduate level are connecting with the community, spending time in the lab, or working collaboratively with industry as part of their education. The unique program specializations focus on the cross-section of technology and society; in small classes, students work closely as groups to find creative solutions for a changing world.
"The coming together of the two Schools makes perfect sense," says School of Engineering Technology Acting Director Dr. Dan Centea. "The possibilities to build on already existing pathways for undergraduate to graduate studies are immense. W Booth School graduate programs are a popular choice for our B.Tech. alumni because of the similarity in program themes and approaches."
Ishwar K. Puri, McMaster's Dean of Engineering, said the joining of the two schools is a significant step in building capacity and resources for students.
"The New Booth School will foster synergies between our existing undergraduate and graduate programs and will leverage our strengths in engineering practice," Puri said. "I'm confident the school will thrive under this new model and I look forward to the many successes of the school's students and faculty members in future."
The opportunities for student collaboration between undergraduates and graduates in the School have already begun to blossom and will continue to grow over time. For instance, Callan Yan, a B.Tech. alumni now in his second term of the M.Eng. Design program, is part of a team working on autonomous vehicle technologies. They are designing an electric vehicle as part of their graduate level studies that will be used in the future as learning tool for future B.Tech students.
The W Booth School will continue to operate out of the Engineering Technology Building, with a satellite location at the McMaster Automotive Resource Centre for undergraduate studies in Automotive and Vehicle Technology and an incubator space for new Master's graduates in the School's Don Pether Centre within McMaster Innovation Park.
Starting in fall 2016, a series of 400/600 level courses will be offered to allow B.Tech. students to gain advanced credit in graduate school later on. In addition, proposed changes to the M.Eng. Manufacturing Engineering program that would broaden the scope of topics to more closely match B.Tech. fields of study are also under discussion.
While the administrative structures of the departments have changed, and a new Director will be appointed, the programs themselves remain distinct. Students can still pursue undergraduate degrees in seven Bachelor of Technology disciplines and five Master's degree programs.
Find out more about W. Booth School programs.