"Factory in a box" by McMaster Engineering improves access to wheelchairs in Uganda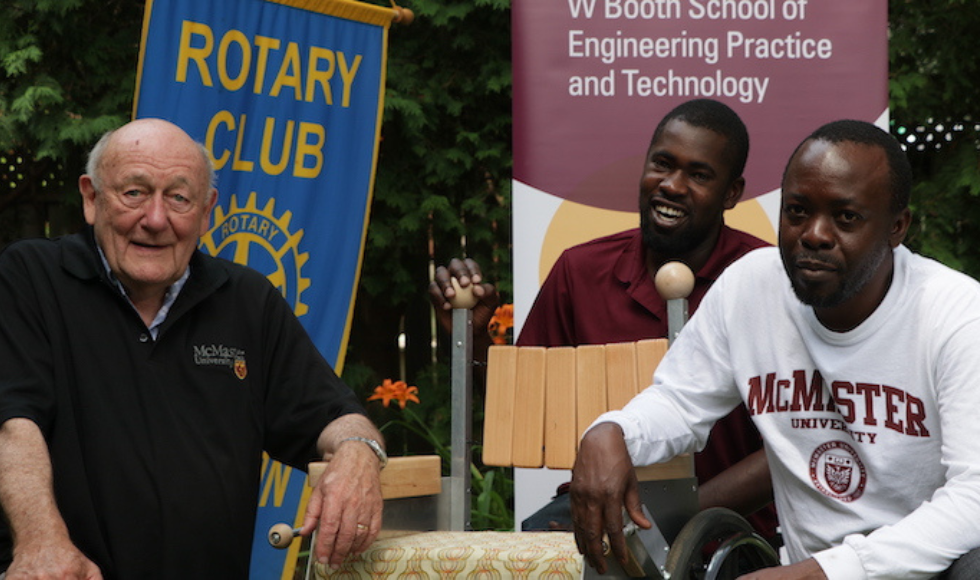 McMaster Engineering has teamed up with a Burlington organization to design a wheelchair built with materials that are readily available in Ugandan communities. 
---
McMaster Engineering has teamed up with a Burlington organization to design a wheelchair built with materials that are readily available in Ugandan communities. 
The project has been years in the making. Peter French, who is responsible for the international work of the Rotary Club of Burlington – an organization focused on uniting people and taking action to create lasting change – approached McMaster's W Booth School of Engineering Practice and Technology (SEPT) in 2017 with a challenge. He was determined to find a way to create a wheelchair design that could be replicated using the limited resources available in some Ugandan communities.
"Wheelchairs provide dignity to people living with disabilities," says French. His vision set in motion a lasting partnership with McMaster and resulted in the first wheelchairs rolling out of a Ugandan orthopedic clinic with a workshop that makes mobility devices in its nation's capital, Kampala, to be distributed to people in need.
As rewarding as the result has been for the team involved, as a former product designer, French would be the first to tell you the process of bringing this project to fruition is just as noteworthy.
Redesigning the approach
To accommodate for the fabrication and assembly of wheelchairs with limited materials and tools, Robert Fleisig, program lead in the Master of Engineering Design program, and a team of his colleagues and students had to stray from a Western design approach.
"Design thinkers – like the people in our W Booth School of Engineering and Practice – not only challenge the existing solutions or ideas but also how the problems are framed. This required questioning the assumptions of what a wheelchair looked like," explains Fleisig.
Aluminum, wood and pop rivets, 24 parts in total, make up the McMaster-designed wheelchair. All parts can be made using basic floor shop tools and a CNC Router for higher productivity and consistency.
Not only were the students designing a product, but manufacturing capacity was an essential part of their considerations. They coined their approach as creating a 'factory in a box.'
The project benefited from having several groups of students graduate from it, bringing fresh and diverse perspectives to the mix each year.
A 'collaborative dream project'
Perhaps one of the most significant outcomes of this project is the benefit of hands-on experience for everyone involved. McMaster students created global impact through a real-world engineering challenge, and Ugandan technicians now hone manufacturing skills to benefit their communities.
In the summer of 2022, technicians William and Akram traveled from Uganda to McMaster's Learning Factory– a world-class facility that simulates a factory of the future – to learn firsthand how to create the parts required to build wheelchairs using the students' design.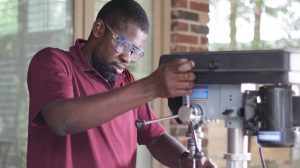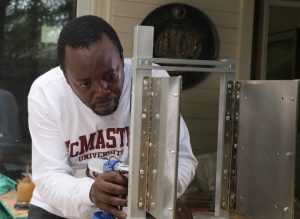 "It's a collaborative dream project come to life," says Ishwar Singh, adjunct professor in the School of Engineering Technology, who was inspired to get involved having seen his aunt in India struggle to get access to a wheelchair. His work on the project has been recognized by the Rotary Club with the presentation of the Paul Harris Award.
In addition, the more than 30 students from SEPT who have worked diligently on the project have successfully secured relevant positions in industry, Singh says.
"It was a great and engaging learning experience that not only aligned with my skill set, but also helped me develop new skills for my professional career outside McMaster," says student Tanmay Koche. "The entire project helped me broaden my understanding of project management, product design and prototyping."
Designing never stops
"There is no final or perfect design," says Fleisig. "We can always do better."
French points out that the current design for the wheelchair is targeted at use in urban terrain, but that's not the reality for many Ugandans who live in rural and remote communities, presenting the possibility for reimagining the design for rough terrain.
With experience designing a 'factory in a box, the W Booth School of Engineering Practice and Technology has a framework to adapt for future, complex projects involving multiple stakeholders.
Since being back in Uganda, William and Akram have produced a small batch of preproduction chairs and are now eagerly awaiting government approval, sourcing materials for a planned production of 100 chairs.
To support expediting the approval process, Singh is mapping out a phase two to the McMaster collaboration that focuses on a testing rig for the chairs.
"We not only designed a wheelchair but created a worthwhile learning experience," says Fleisig.