Externs help hospitals with nurse shortage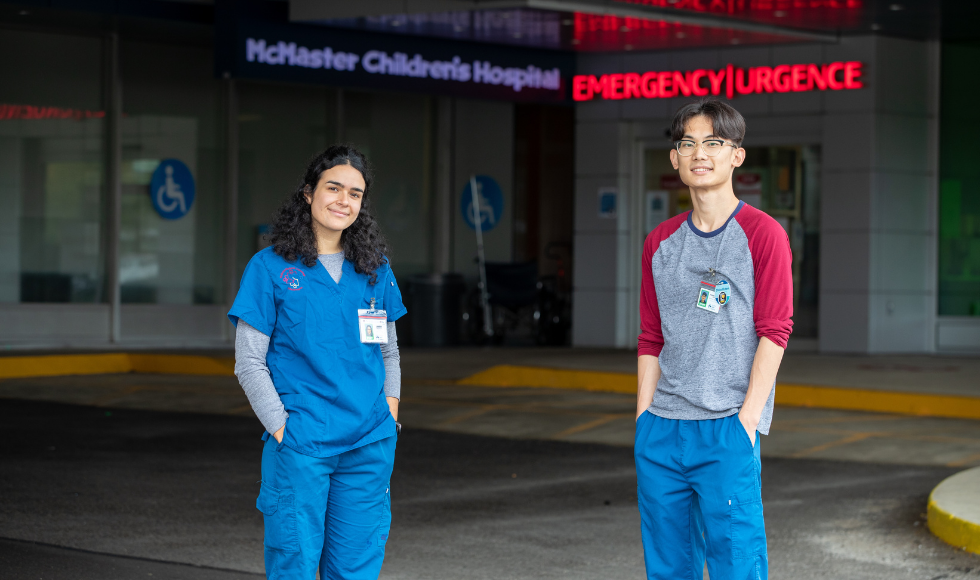 Nursing extern students Laura Saunders and Ivan Zhang. (Photo by Georgia Kirkos/McMaster University)
---
At first glance, Laura Saunders is just another nurse checking vital signs on the stroke ward at Hamilton General Hospital.
She is one of 87 McMaster nursing students working as externs in Hamilton's two hospital systems, helping with the hospital nursing shortage during the pandemic, while offering a pathway to full-time work after graduation.
The externships are paid roles for the students to supplement their work experience while finishing their program, but the work is not counted as part of their academic training.
As an extern, Saunders typically works 12 hours a week, balancing her job with her schooling. She will likely continue working full-time after graduation.
"The nursing team I work with is absolutely awesome and they really do need all hands on deck right now," says Saunders, a fourth-year student at the School of Nursing. "I love all the problem solving that goes on in nursing and I feel so excited and motivated to make this my career."
"Being in the hospital environment definitely helps me practice 'hard' skills like taking blood pressure, recording patient charts, or fixing an IV line, as well as my soft skills, as I'm interacting with patients all the time."
Ontario's Ministry of Health launched the extern program in February to support nursing capacity while the province responds to the pandemic. Most, including Saunders, are not working with COVID-19 patients.
Of the 87 McMaster externs working in Hamilton, 57 are working at Hamilton Health Sciences (HHS) hospital sites and the other 30 are at St. Joseph's Healthcare Hamilton hospitals.
In addition, 27 students from Mohawk College and another eight from Conestoga College are working as externs at HHS.
So far, HHS has hired 25 McMaster graduates who worked as externs.
While extern work does not count towards students' course credits, it has given Saunders and fellow student Ivan Zhang a massive confidence boost during the practical sessions of their program. School of Nursing students typically complete 12 practicum days during a Level 2 or Level 3 clinical course.
"I definitely feel more confident in my proficiencies and clinical skills in general, as well as communicating with patients," says Zhang, who works at the McMaster Children's Hospital. "I'm just more comfortable in the clinical environment as a whole."
For Zhang, effectively communicating with patients is vital as he works with parents and sick children, many of whom have cancer.
His young patients are often frightened and distressed when they come to hospital. It is up to Zhang to put them at ease, smiling and joking with them as they undergo cancer treatment.
"I look forward to really making their day and affecting them in a positive way, especially little kids," he says.
McMaster's hospital partners welcome the externs' contribution.
"As we encounter nursing shortages directly impacted by the pandemic, the presence of our nursing externs on clinical units brings unique value to our healthcare organization," said Erin Doherty, director of nursing practice at St. Joseph's Healthcare Hamilton.
"Externs' ability to contribute to care planning, and provide assistance to patients and families, permits our nursing staff the ability to complete other subspecialized, controlled nursing tasks. To date, we have successfully recruited 30 BScN students from McMaster University to work throughout our inpatient environments, inclusive of our emergency department and urgent care centre."
Charissa Cordon, chief of nursing practice at HHS, agrees.
"The extern program provides them with opportunities to strengthen their clinical and communication skills and be part of an interprofessional care team," Cordon says.
"We have received very positive feedback from leaders and clinical externs at HHS about the program. We have successfully transitioned many of our graduating externs into nursing positions at HHS."
Students in the regular four-year nursing program at McMaster may sign up for extern positions from their second year, says Joanna Pierazzo, assistant dean of undergraduate nursing programs at the School of Nursing.
Students completing the two-year accelerated nursing program may sign up halfway through their second year.
"It's incredible to be able to support the extern program. As a SON leader, it is so wonderful to help our learners transition from students to practice. It is a fantastic continuum."
"This is a perfect fit, as learners who signed up as externs and later succeed in becoming full-time nurses will definitely help plug the nursing shortfall in Ontario. I am impressed with how many externs are now full-time nurses."