Extended library hours, quiet study rooms and more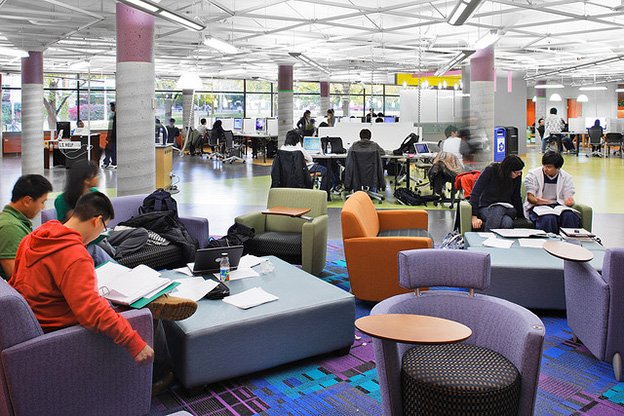 Thode Library, one of many places to study on campus. The facility is now open 24/7.
---
This year you will once again have lots of options when it comes to late night studying during exams.
Thode Library will be open 24/7 from December 2nd to December 19th.   The Reactor Café will be open December 6th-18th from 10am to midnight. Don't forget there is an ATM to Thode so you will have easy access to cash for use at the café and the vending machines.
The lower level of Thode is the Quietest Study Area in the building. In addition there is a small Silent Study room on the lower level.
Mills Library moves to extended hours next week – the main library will be open 8am to 10:45pm, 7 days per week.
The Mills Learning Commons (2nd floor) is open 24/7 until December 19th.
The entire 6th floor of Mills is designated as a Silent Study Areaand we will do our best to patrol this area.  Feel free to send an email to quiet@mcmaster.ca or use the online form if students in the area are not respecting the Silent Study guidelines (no talking, no socializing, no cell phones, no music). A large area on the  4th floor is  designated as a Quiet Study Area. During exams, all seating areas on the upper floors (3rd – 5th) are considered Quiet Study Areas and will be signed as such.
Innis will also move to extended hours next week – Monday to Friday 8:30am to 10:45pm / Saturday 10:30am to 5:45 pm / Sunday 1pm to 7:45pm.
You will find more information on the various study spaces available in our libraries here.
All libraries have bookable Group Study Rooms.  Please remember that these are to be used by groups of 2 or more, and cannot be booked for more than 2 consecutive hours by one group. The library reserves the right to remove bookings which do not follow these guidelines.
Food and beverage vending machines in all libraries will be stocked daily during exams.