Exploring the intersection of music, art and ideas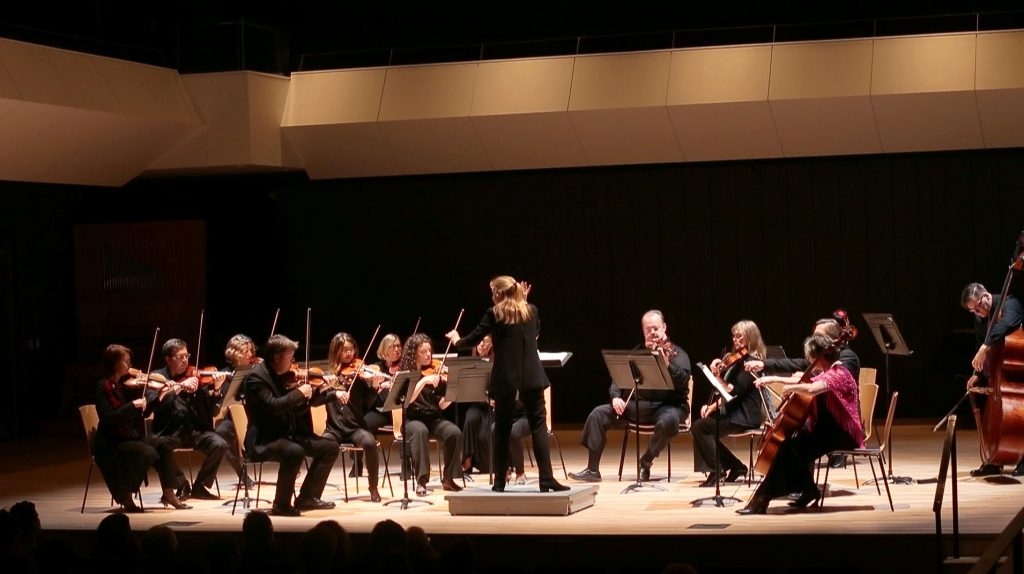 ---
McMaster's Socrates Project – a two-year campus-wide initiative that explores contemporary issues through a liberal arts lens – partnered with the Hamilton Philharmonic Orchestra and the Art Gallery of Hamilton recently, presenting a concert that incorporated contemporary music, art and a panel discussion on the role of both.
"I had a great conversation with Diana Weir, the executive director of the HPO, and we came up with the idea for a panel discussion," explains Rina Fraticelli, the Socrates Project's new director. "Why do we need art? Don't we need more practical material assistance? What's the value of abstract art? In such urgent, critical times, it can be hard for people to understand the place of the 'formal' arts in society."
The concert, held in the new L.R. Wilson Concert Hall, juxtaposed music from the twentieth and twenty-first centuries with slides of contemporary artworks selected by Tor Lukasik-Foss, the AGH's director of programs and education. Works included String Sinfonietta by Vivian Fung (paired with art by Catherine Burgess, Jaime Angelopoulos, Joyce Wieland and K.M. Graham), Zipangu by Claude Vivier (paired with art by Kazuo Nakamura), and Shaker Loops by John Adams (paired with art by Eric Cameron).
"This program is about rituals, freedom of expression and abandonment, striving for (perhaps) unattainable dreams and visions," wrote HPO artistic director Gemma New in the evening's program. "In listening to this music, one will open themselves up to an incredibly interesting range of colours, moods, light and energy."
The HPO's composer-in-residence, Abigail Richardson-Schulte introduced each piece and joined Lukasik-Foss and Weir in the panel discussion, which took place during intermission and was open to audience questions and feedback.
The concert is one of the first events associated with the Socrates Project, which has also recently launched a series of discussions at the McMaster Centre for Continuing Education, examining the impact of Donald Trump.
"Our world is changing so quickly, and that creates an enormous amount of tension and stress – we want to turn that tension into a creative force and that stress into an energy," says Fraticelli. "We want to get away from the idea of a university as a place of packaged information or received wisdom, and move towards a place of questioning and dynamic engagement. As President Patrick Deane puts it, this is an intervention – bringing the power and the lens of the liberal arts into the larger questions of society."