Exceptional Student Neighbour Awards honour community-minded students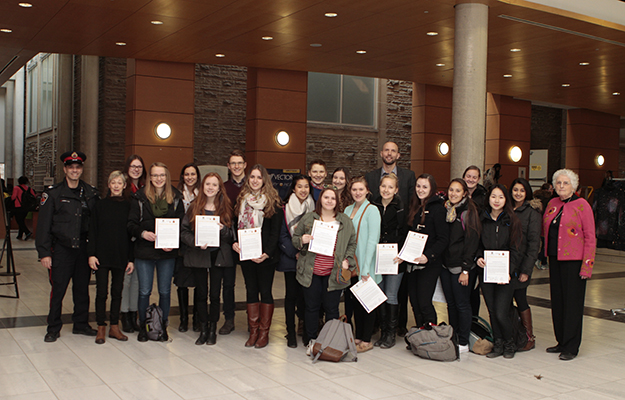 Leading by example: McMaster students received Exceptional Student Neighbour Awards on Monday, March 23 for their efforts to foster good community relations. The awards were presented during a morning ceremony in MUSC.
---
Betty Bechtel didn't know what to expect when Nathan and Joel Gamble began frantically waving at her car.
She just knew she had to act quick.
Bechtel was on her way to the MacSeniors facility for an exercise session when the brothers and McMaster undergraduate students called on her for help.
An international student from China had just fallen on a patch of ice near the Sterling Street entrance to campus. At first glance, it looked like she had suffered a broken arm.
With all three students in tow, Bechtel drove to the Urgent Care Centre on Main Street West to seek treatment. The siblings, both trained First Responders, had already wrapped the injured student's arm in a temporary sling using Joel's thick winter scarf.
"One of them supported her arm and helped her in and out of the car and care centre, while the other made arrangements," said Bechtel.
"They were very solicitous of her health. They asked her questions about feeling and movement in her hand. I was very impressed with the care and concern Nathan and Joel gave this injured girl."
Facing a difficult language barrier at the Urgent Care Centre, the brothers patiently discerned that the injured student had health insurance through the University. All told, they were on hand for nearly three hours until the student's friends arrived to take her home.
Impressed with the calm composure of the brothers and their willingness to drop everything and help a fellow student in need, Bechtel wasted no time nominating them for an Exceptional Student Neighbour Award.
The awards are presented annually by McMaster University, Hamilton Police Services, the Ainslie Wood/Westdale Community Association (AWWCA) and the City of Hamilton, in recognition of those who enhance the residential communities surrounding campus.
"We were just doing what we hope anyone else would do in that situation," said Joel, a 20-year-old Health Sciences student. "We're very grateful to Mrs. Bechtel for the nomination."
His brother Nathan is a 21-year-old Health Sciences student in the final year of his program.
The Gamble brothers were among 31 students — nearly double the amount from last year — who received Exceptional Student Neighbour Awards. A reception for the award winners took place Monday morning in MUSC.
All of the students were nominated by residents like Bechtel in the Westdale and Ainsle Wood areas, many of whom delivered glowing letters of commendation to the organizing committee. Many of the students were recognized for their day-to-day efforts, such as shovelling snow during the winter, being polite and outgoing and maintaining a clean and quiet home.
Award winners were presented with a letter signed by McMaster president Patrick Deane, Hamilton mayor Fred Eisenberger and Glenn De Caire, chief of police, Hamilton Police Services.
Sean Van Koughnett, associate vice-president (Students and Learning) and dean of Students, was on hand to recognize the winners, along with Shelli Eisenberg, student liaison with the AWWCA.
This year's award winners are: 
Natalie Somerville
Sarah Kleiboer
Kelly Nguyen
Annie Nguyen
Varda Siddiqui
Ali Mroz
Jasmine Gould
Sheena Sisavath
Katie Mines
Ajandha Kumaresan
Cole Marsh
Taya Burzynski
Eva Mueller
Monica Karlovic
Jackie Fossenier
Hellene Dhillon
Sarah Shaikh
Elaine Kan
Jacqueline Baker
Erica Coulson
Tania Bhogal
Jordyn Miller-Burko
Cora Loeblein
Caitlyn Zavitz
Nathan Gamble
Joel Gamble
Robert Pasquini
Rhett Amin
Colton Homewood
Tom Walczak
Stefanie Smith