Everything you need to know about the McMaster Nuclear Reactor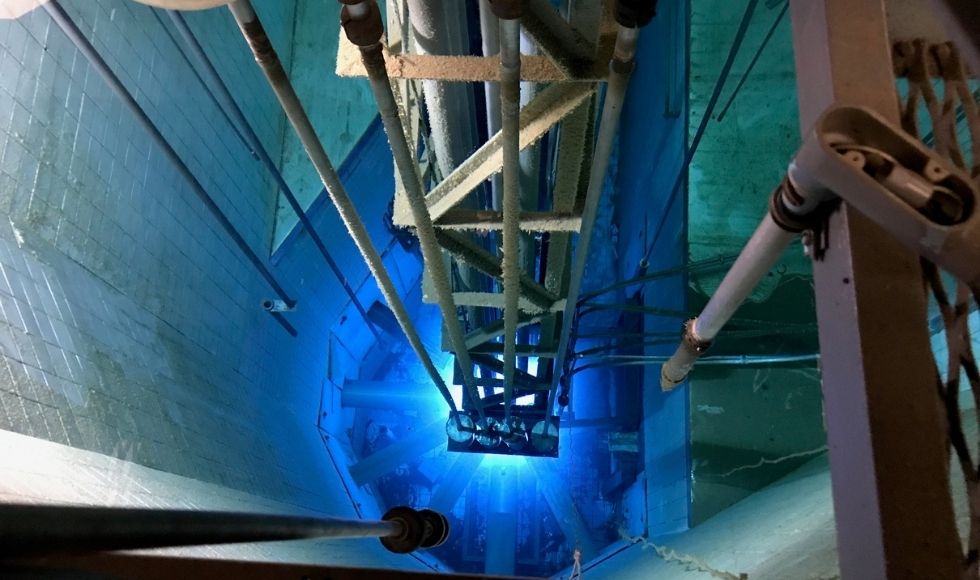 Does it generate power? Does it glow? Can I take a tour? Learn some fun facts and test your knowledge of the nuclear reactor on campus this Nuclear Science Week.
---
It's international Nuclear Science Week — a time learn about and celebrate nuclear science research and education, including our very own research reactor on campus.
Here's a handy guide to the McMaster Nuclear Reactor (MNR), as well as a list of events and resources to learn more.
What it is
McMaster Nuclear Operations & Facilities houses a unique suite of world-class nuclear research facilities anchored by the MNR — Canada's most powerful nuclear research reactor, which provides neutrons for medical isotope production and scientific research on clean energy, medicine, nuclear safety, materials science and more.
How old is it?
Built in the 1950s, MNR was the first university-based research reactor in the British Commonwealth.
What's it used for?
MNR is a world leader in the production of medical isotopes for more than 70,000 cancer treatments a year and remains Canada's only major neutron source. Neutrons are used for nuclear dating and quality assurance testing of aircraft components, among other applications.
Does it generate power?
While MNR is not used to generate power, McMaster is evaluating the possibility of hosting a Small Modular Reactors (SMR), a central part of Canada's Net Zero Plan to provide safe and affordable low-carbon energy, particularly to remote areas. Learn more here.
Why does the core glow?
MNR's core glows blue because of a process known as Cherenkov radiation. In the reactor pool, radiation causes particles to travel faster than light can travel through water. These fast-moving particles excite the electrons of the water molecules, which release energy in the form of photons, or light, creating a blue glow.
Did they really use it to discover art?
Yes. Using neutrons from the MNR, researchers discovered a painting by Van Gogh concealed one of his earlier compositions beneath it. Researchers on The Unvarnished Truth project used nuclear technology to examine nine historical paintings from the McMaster Museum of Art's collection, including van Gogh's Untitled, Still Life: Ginger Pot with Onions. They found what appeared to be an abandoned painting underneath the work. Van Gogh was known for recycling canvases.
Who is Bertram Brockhouse?
McMaster professor Bertram Brockhouse won a Nobel Prize in 1994 for his research on neutron scattering. Brockhouse designed a triple-axis neutron spectrometer that earned him the Nobel Prize in Physics in 1994. This device revolutionized materials research and is still used today at neutron scattering centres around the world.
What are those buildings beside the reactor?
The two rectangular buildings next to McMaster Nuclear Reactor are cooling towers, which remove heat from the reactor pool water and release this heat into the atmosphere.
---
Nuclear Science Week events
Graduate Student Nuclear Research Symposium
October 19 | 12 p.m. – 2 p.m.
Nuclear Operations & Facilities is celebrating the amazing nuclear research being done by McMaster grad students. Check out MNR's website and LinkedIn after the event for interviews with the presenters.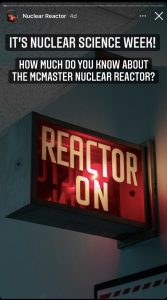 Behind-the-scenes reactor tour
Nuclear Operations & Facilities will be taking over McMaster's Instagram stories for Nuclear Science Week. Head over to @mcmasteru later this week for a tour of McMaster's nuclear facilities.
Learn more about Nuclear Science Week on Twitter, Facebook, or Instagram.