"Everybody's got a story"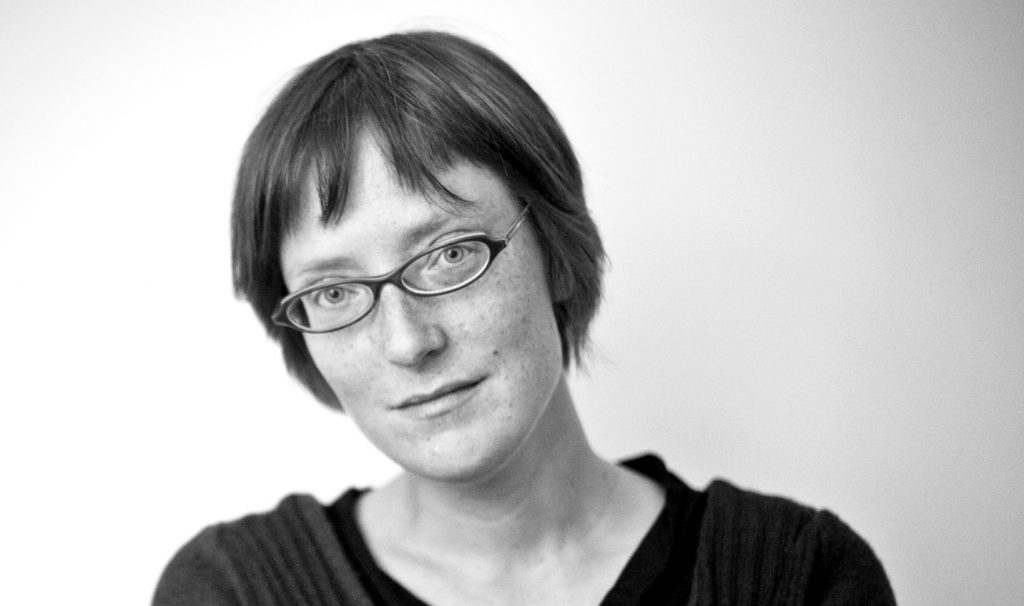 ---
As the 2018-2019 Mabel Pugh Taylor Writer-in-Residence, fiction writer, poet and playwright Kate Cayley is a resource for aspiring writers, offering feedback and advice in a program jointly funded by McMaster and the Hamilton Public Library.
From now through December, she will have on-campus office hours on Tuesdays and Thursdays from 9 am until 2 pm in room 312 of Chester New Hall. Starting in January, she will have office hours at the Central branch of the Hamilton Public Library.
Interested writers in both the McMaster community and the general public can make an appointment to meet with Cayley by contacting her at englwir@mcmaster.ca.
Here, she shares some thoughts on her work, her writing process and the role of art in a politicized world.
Becoming a writer
That was a really slow process. I started a theatre company straight out of university and worked as a director pretty consistently for 10 years. We were creating work as a collective, so I was writing a lot – plays and poetry that were terrible – and slowly realizing that my emphasis was wrong. That was a slow burn, because we had this theatre company that had funding, and we were making a go of it. I was more or less making my living in theatre – but I still felt like things weren't right.
I realized I needed to get serious about writing for a few months, so I went to Halifax, worked as a TA and just wrote every day.
Everything I wrote then was just … so bad. None of it survived, but that was still the moment of saying that I was actually going to be serious about it. It wasn't a frill, and it wasn't a hobby.
Being a writer
I still feel like I don't know how to write. It's a bit of a cliché, but I feel like every time I start something I've forgotten my first principles – I'm more proficient, I have more technical knowledge, but that doesn't actually help much. Every time I start something I'm starting for the first time.
The thing I always forget is that the beginning of anything is usually terrible, and that remains true for me. So much of the shape of a piece comes from re-writing and re-conceptualizing, and that's just a slog. The longer I go the more I realize what a slog it is – the ideal where you're working in sharp, intense bursts, where things come to you whole maybe happens a couple of times in your life. Most of the time I'm just constructing.
That being said, some people do have bursts. The writing process is so particular to each individual that I'm suspicious of blanket statements or advice about how to write. If you get the work out, I don't think any one rule of thumb is useful.
The relationship between art and politics
I find myself thinking a lot about the difference between politics and ideology. It seems critically important to me to draw that distinction, especially now – politics is an alive-ness to what's going on the world. To say you're not interested in politics is itself a political statement – it's a luxury not to be interested in politics. On the other hand, ideological positions have political usefulness, but you can't make art from them. You can make propaganda, but the older I get the more suspicious I am of anything that feels like propaganda.
W.H. Auden is one of my favourite poets. There were people in North America and the United Kingdom who felt that he'd had this wonderful blaze of socialist possibility that he then rejected in favour of writing about friendship, Shakespeare, limestone other things. But he was incredibly important to poets in Eastern Europe because they saw writing about the private life as intensely political – they were living under regimes in which having a private life was almost impossible.
The question of identity
I feel like there's a political aspect to looking at domestic life. I'm a queer writer, so I'm interested in the texture of queer domestic life – but I want it to feel lived in, not like advancing a position.
I'm very ambivalent about the question of "identity." I'm not even sure I know what "identity" means – it always feels like something imposed on you from the outside, even if you've imposed it on yourself. And yet… it's a way of understanding yourself and it's a way of saying that something's important, that it's real, that it exists in the world. It matters to me in that I would like it to be part of the lived experience in my writing in a way that feels comfortable and lived in.
I just finished reading Her Body and Other Parties, which is a collection of stories by Carmen Maria Machado. I've never read a collection that was so intentionally queer. It was saturated, it was assumed. It wasn't positioned in a confrontational relationship to the "straight" world – all the worlds were dissolved, which seems closer to the experience that everyone lives. You can't live in your categories.
Mentoring aspiring writers
I feel like an important thing a mentor can offer you is a risk-free way of feeling what it's like to be edited – what it's like to have someone from the outside tell you what they got or didn't get out of your work. One writer I knew who was also an editor said that what separates amateur from professional writers is the willingness to be edited, so I try to teach people to accept feedback and criticism when it's offered in a good spirit.
The Writer-in-Residence program
The Writer-in-Residence program is open to McMaster students and to the general public, and I'd encourage people to come see me, because I wish there had been a position like this when I was starting out. It's an opportunity to talk to a writer about anything you want to know about – your process, the logistics out of making a career out of writing. I like practical questions – what programs are out there, what grants are available, how you get someone to read your stuff.
While I don't have time to read an entire manuscript, I can read part of one, and can give honest feedback on section of a work.