'Every second counts'— McMaster students share how you can help support the people of Ukraine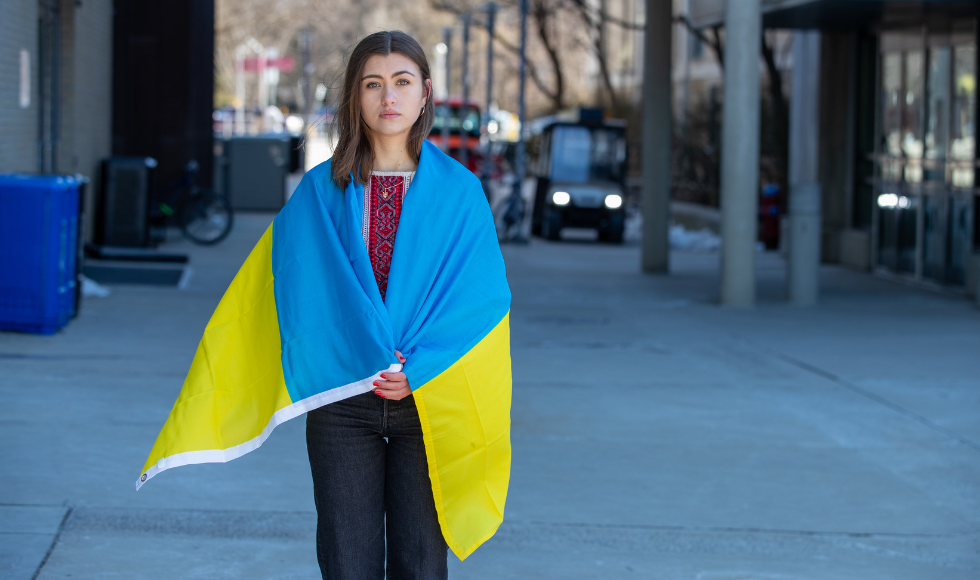 Emilia Pasternak, fourth-year nursing student and MUSA co-president, says there are many rallies, events and other opportunities to support the people of Ukraine. Photo: Georgia Kirkos
---
"I think it's really important for the McMaster community to understand what's going on in Ukraine because, for a lot of people across campus, it touches home. I know there are many McMaster students who have faced war in their hometowns, and this is no different. It's important that we all come together as a community to make a difference."
– Orest Benko, fourth-year commerce student and
co-president of the McMaster Ukrainian Student Association (MUSA)
Since Russia's invasion on February 24, the UN High Commissioner Filippo Grandi reported that 1.2 million people have fled Ukraine, seeking refuge in neighbouring countries.
As the war escalates, Benko and other members of the McMaster Ukrainian Student Association (MUSA) share ways the campus community can support each other and the Ukrainian people.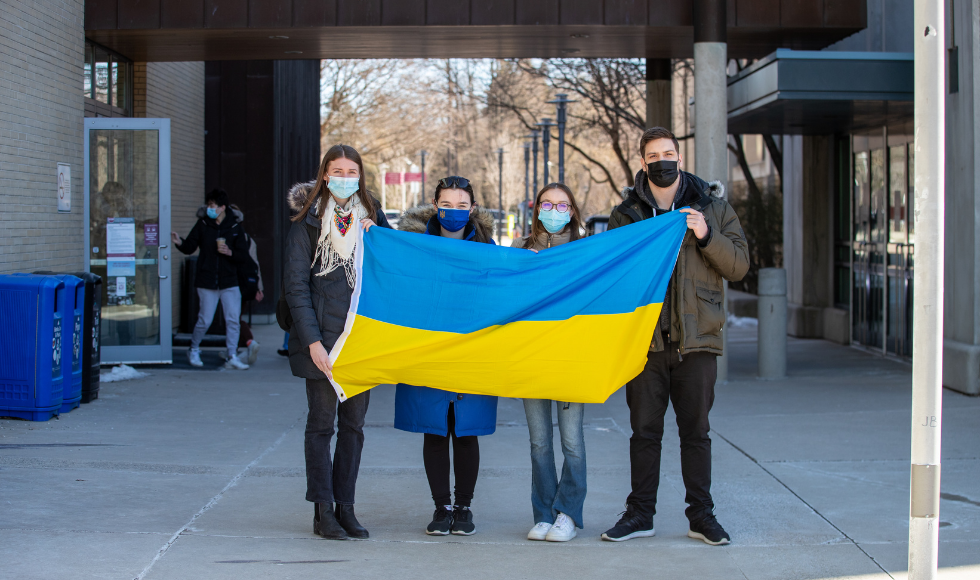 Join rallies and events
Earlier this week, Emilia Pasternak joined over 30,000 people in Toronto to march in support of Ukraine. The fourth-year nursing student and MUSA co-president says that even though people might not see the immediate value of rallies or events, the experience in Toronto reminded her that a show of support can make an impact.
"My friend's dad took some videos at the rally and sent them back to family in Ukraine, who then passed it onto some gentlemen fighting in the war right now," Pasternak says. "It brought them to tears just to see our support – it fuels their pride and energy to keep fighting and they know what they're fighting for. So, I encourage everyone to go and show your support if that is something that you are able to do and want to do."
Pasternak adds that there have been more rallies across Canada and they continue to happen. A good place to learn about when the next one could take place is via SUSK, the Ukrainian Canadian Students' Union.
Donate to trusted sources
Larisa Hemon, third-year Honours Life Sciences student and MUSA member, says that donations of any kind are critical right now.
"There are innocent people dying every day and they need our help," says Hemon. "Every hour, every minute, every single second counts right now. If you're able, donating money, goods or supplies is extremely helpful."
Included in MUSA's recommendations of places to support is the Ukraine Humanitarian Crisis Appeal through the Canadian Red Cross. 
Check in on your friends
"If you don't know where to start, even simple things like reaching out to Ukrainian friends with a message of support is helpful," says Laryssa Pichocki, third-year commerce student and MUSA's vice president, social.
"One example if you're reaching out is to say «Слава Україні» pronounced 'Slava Ukraini' — an important saying to us, which means 'Glory to Ukraine.'"
Hemon adds that another way to support those friends and colleagues is to take the time to educate yourself and learn more about the context behind the events unfolding in Ukraine.
Be aware of disinformation
Benko stresses the importance of following credible sources to get information on the evolving situation in Ukraine.
"There's a lot of disinformation circulating online, coming from bots and trolls and fake news sources," says Benko. "People should really look into what they're reading, who they're sourcing and where they're getting their information from."
For guidance on identifying misinformation and disinformation online, visit the Canadian Centre for Cyber Security website. 
'Don't blame the Russian people'
All of the student leaders of MUSA stress that people across Europe are affected by the war, including the Russian people.
"Do not blame the Russian people as decisions made by the Russian government are not necessarily reflective of the beliefs of all Russian people," says Hemon.
"Ukrainians are very strong, resilient people—this has been going on for years," adds Pichocki. "There are a lot of Ukrainians in Hamilton and McMaster and I think the only way to get through this is by working together."
---
Follow MUSA
MUSA's main source of information is through social media. Follow them on Instagram or on Facebook to stay up to date on any future events, rallies and fundraising efforts
Mental health and wellness resources
If you need to talk or are looking for support, please don't hesitate to reach out for help. Students who may need support during this time are encouraged to reach out to the following resources:
Faculty and staff can find support through the Employee & Family Assistance Program:
Contact Homewood Health through their website (www.homeweb.ca) or by phone toll-free, 24 hours a day, 7 days a week to book appointments, or access any EFAP service