Evening of Accolades honours Michael G. DeGroote, longtime friend of McMaster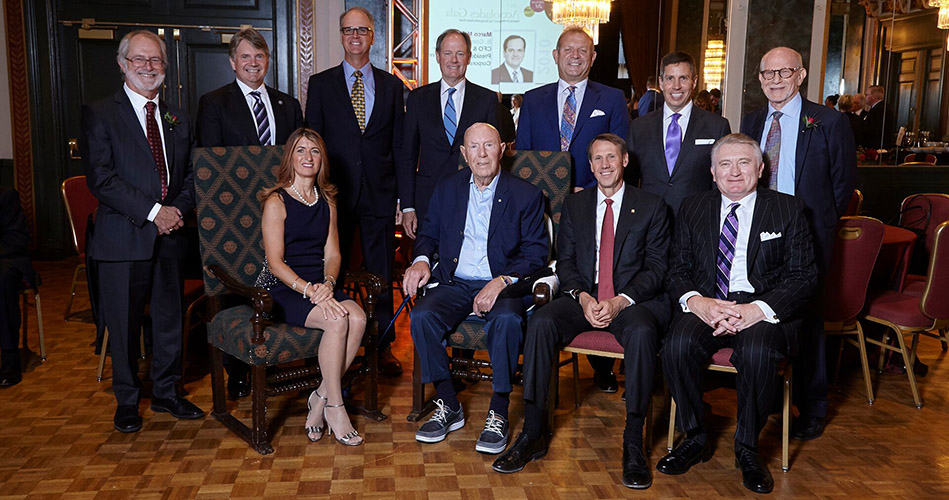 Celebrating the Wayne C. Fox Distinguished Alumni Award tradition with past recipients: Back row from left: McMaster President Patrick Deane; David Feather, MBA '89; Neil Skelding, MBA '88; Paul Allison, MBA '81; John Marinucci, B. Com. '80; Gino Scapillati, B. Com. '81, Len Waverman. Front row from left: Teresa Cascioli, B. Com. '83; Michael G. DeGroote, Hon. Doc. '92; David Williamson, B. Com. '83; Ed Minich, MBA '74.
---
Twenty-five years ago, the DeGroote School of Business became the first named business school in Ontario with the unveiling of a brand new building at McMaster University. The man behind that building was none other than Michael G. DeGroote.
To mark the School's silver anniversary, DeGroote was presented with the 2017 Wayne C. Fox Distinguished Alumni Award, one of the University's highest honours, during the annual Evening of Accolades gala. The event took place at the Fairmont Royal York in Toronto.
His path to success is both inspiring and remarkable. Born in Belgium in 1933, DeGroote immigrated to Canada with his parents as a young teenager. He left school in Grade 9 to work the tobacco fields in Southwestern Ontario, in order to help his family make ends meet. At 18, he acquired a used truck and established a small trucking firm, carting farming supplies around the region.
After moving to Hamilton in the late-1950s, DeGroote purchased Laidlaw Transport Ltd. In the years ahead, he would grow the company into the largest school bus operator and third-largest waste management company in North America. He was made an Officer of the Order of Canada in 1990, and was awarded an honorary degree from McMaster in 1992. He currently resides in Bermuda.
A longtime friend and supporter of McMaster, DeGroote made global headlines in 2003 following a landmark $105 million gift to the University. The gift established a number of medical research centres, and facilitated completion of the Michael G. DeGroote Centre for Learning and Discovery (MDCL). The McMaster School of Medicine was renamed the Michael G. DeGroote School of Medicine in 2004.
A decade later, graduands of the School of Medicine were surprised when DeGroote took to the stage during Convocation to announce a new $50 million gift. The latter supports an increased focus on national and international health leadership at McMaster, and prompted the forming of the Health Leadership Academy (HLA) – jointly overseen by the Faculties of Business and Health Sciences – among other resources and research endeavours.
A number of senior McMaster leaders, past and present, were on hand during the Evening of Accolades gala, including: President and Vice-Chancellor Patrick Deane; President Emeritus Alvin Lee; Chancellor Suzanne Labarge; Chancellor Emeritus Mel Hawkrigg; Provost David Wilkinson; Mary Williams, Vice-President, University Advancement; and DeGroote Dean Len Waverman. Members of DeGroote's extended family were also in attendance, along with several past award recipients. DeGroote's son, Gary, spoke on his behalf.
The DeGroote School of Business at 25:
In recent years, the School has unveiled groundbreaking academic programs such as the Executive MBA in Digital Transformation (EMBA), Health Leadership Academy (HLA), and Integrated Business and Humanities (IBH) program, to complement its suite of undergraduate, graduate, and Executive Education offerings. DeGroote's student body is also larger and more diverse than ever before. At 15.1 per cent, it maintains the highest percentage of international students of any faculty at McMaster.
Outside the classroom, providing an exceptional student experience has become a top priority. Student leaders oversee nine active Commerce student clubs, including the DeGroote Commerce Society, as well as nine MBA student clubs and interest groups, including the MBA Association. Students at all levels have many opportunities to travel across Canada and beyond for case competitions, academic exchanges, and service learning missions. DeGroote is also proud to work with dozens of leading Canadian and international employer partners, who provide valuable co-op and internship opportunities to students.
On the research front, the School is committed to making a transformative impact on business and society. The depth and breadth of the School's research is driven by the varied expertise within the faculty, including: food security, supply chain analytics, transportation, mental health, data analytics, refugee labour, and entrepreneurship. Nine new full-time faculty members have been hired within the last 15 months.
The School is also more engaged with external communities than ever before. In 2016, more than 2,700 guests attended DeGroote events in Hamilton, Burlington, Toronto, New York City, and further afield. Since opening in 2010, Burlington's Ron Joyce Centre has served as a hub of business and community activity in Halton. It's home to DeGroote's redesigned MBA program, as well as a number of academic, research, and event spaces.
For more than a decade, DeGroote has maintained accreditation from the Association to Advance Collegiate Schools of Business (AACSB), joining the likes of Harvard Business School, London Business School, the MIT Sloan School of Management, and other top-ranked business schools in 53 countries and territories worldwide.