Engineering's Hatch Centre will offer students design bays, work space and more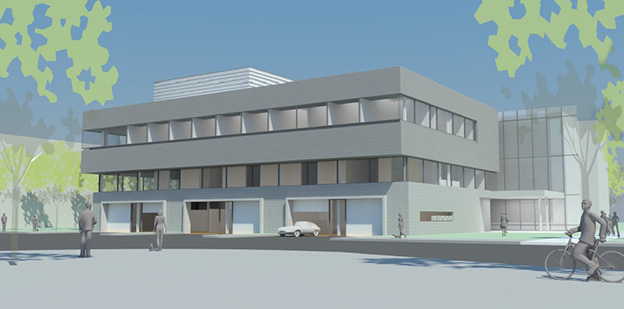 'This is the final draft where we were able to make all the constraints acceptable,' said Ryan Rogers, McMaster Engineering Society VP of External Affairs. 'It's on budget, serves the students and the faculty well, and there's space for everyone. It's a good feeling.'
---
A new McMaster engineering building designed to foster hands-on learning and nurture big ideas is on track for a fall 2016 completion date.
The first architectural renderings of the 24,000-sq. foot Gerald Hatch Centre for Engineering Experiential Learning were revealed recently to a group of faculty, staff and students.
Designed by award-winning Diamond Schmitt Architects, the $11-million, three-storey centre adjoining the John Hodgins Engineering Building will offer studios, a lounge, meeting and work spaces to students.
"We have made excellent progress on this exciting project," said Ishwar Puri, McMaster's Dean of Engineering. "The Hatch Centre will be the central hub for student-focused experiential learning. Not only will the centre provide much-needed space for students to collaborate with one another, by using it, they will also be able to actively take charge of developing their skills and competencies as future leaders in engineering, entrepreneurship and innovation."
The release of the design puts the project on schedule to start construction this fall, with the goal of opening the building in late 2016.
Named for the late Gerald Hatch, founder of global engineering consultancy Hatch Inc., the centre will house student clubs, including the McMaster Engineering Society. Special design bays will offer space to work on larger projects such as solar cars and prepare for competitions such as bridge building.
While the initial concept was aimed primarily at students, staff who provide front-line services, including academic advisors and co-operative education support, will also have offices in the centre.
An additional $2.5 million was added to the original $8.5 million budget to offset the cost of the newly-added staff offices.
Engineering student Ryan Rogers said it's exciting to see the project come to life after years of planning. Engineering students contributed $2 million through a special levy.
"This is the final draft where we were able to make all the constraints acceptable," said Rogers, McMaster Engineering Society VP of External Affairs. "It's on budget, serves the students and the faculty well, and there's space for everyone. It's a good feeling."
Funding for the project was provided by Gerald Hatch ($2 million), Kurt Strobelle, chair of Hatch ($500,000), and the Hatch company ($500,000); $1.5 million from Former Gennum Corporation CEO Doug Barber and his wife, June; $1 million from Walter Booth and $1 million from other donors.
Grant money is being sought from the Canadian Foundation for Innovation to fund research on leading-edge sustainable building technologies. CFI is expected to make a decision on the grant application this spring.