Engineering researchers named to 2018 Class of Influential Researchers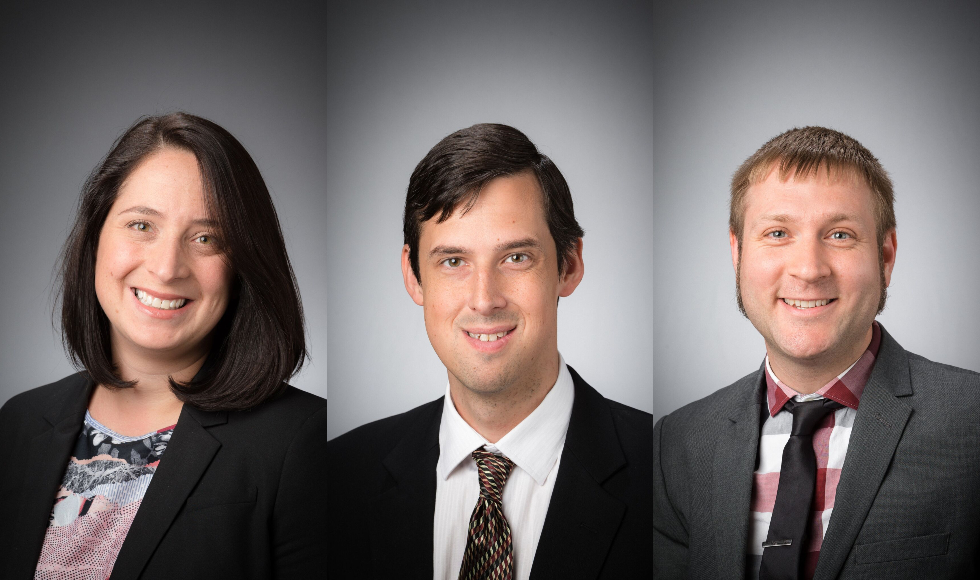 Researchers Emily Cranston (left), Todd Hoare and Tom Adams have received recognition for their work from the journal Industrial and Engineering Chemistry Research
---
Three researchers in McMaster's Department of Chemical Engineering have been selected by the editors of Industrial and Engineering Chemistry Research, a publication of the American Chemical Society, as members of the 2018 Class of Influential Researchers.
Emily Cranston, Todd Hoare and Tom Adams are three of 29 researchers from institutions across North America, Europe, Asia and Australia to be named to the group of early-career researchers whose work is of high quality and has had a large/major/considerable impact in their discipline.
While the three researchers all work in the same department, their work is very different.
Cranston, the Canada Research Chair in Bio-based Nanomaterials, works with nanocellulose, a lightweight, strong, biodegradable material made from wood fibres that has a wide range of potential applications – everything from body armour to ultra-flexible electronics screens.
Hoare's research focuses on using hydrogels – networks of absorbent, flexible polymers that swell in water – for biomedical applications, such as growing on-demand tissue patches and speeding up the discovery of new drug therapies. Hoare is currently the Canada Research Chair in Engineered Smart Materials.
Adams, who is the associate chair of the Department of Chemical Engineering, focuses his research on creating chemical processes for sustainable energy systems – converting one form of energy to another to create more efficient processes and reduce the environmental impact of creating and using energy.
McMaster is the only Canadian university on the list, and the only institution to have three researchers named.
"McMaster Engineering has assumed responsibility for hosting some of the world's outstanding scholars in a number of areas," says Ishwar Puri, dean of the Faculty of Engineering. "Drs. Cranston, Hoare and Adams are outstanding examples of success through this core value. Their inclusion in this important list confirms the foundational work that these exceptional researchers have provided for their peers and future researchers across the world."