Eating healthy at school and work is SMPL!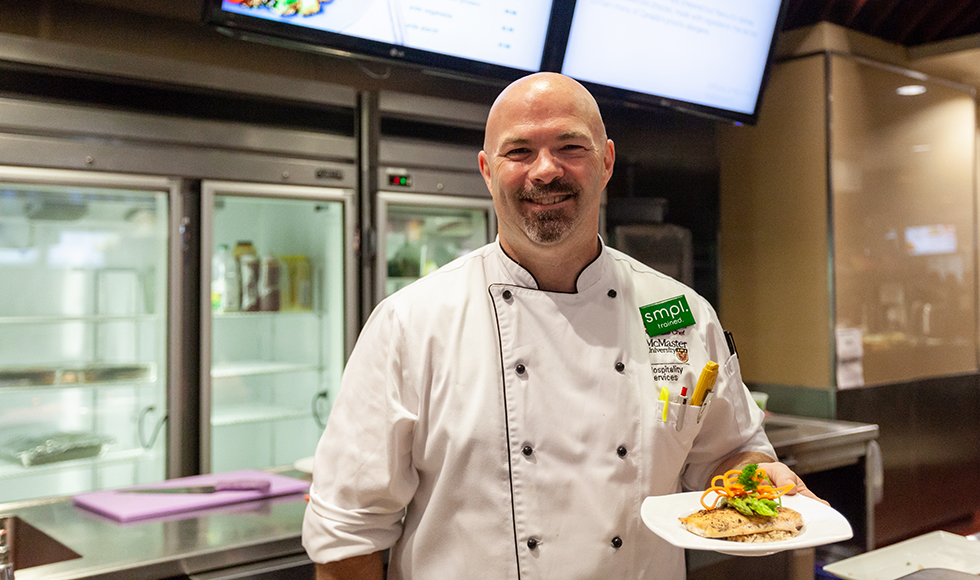 ---
Tucked away on the northeast side of campus is a little-known secret – Centro in the Commons Building. While many residence students frequent Centro because of its close proximity, many don't know about the newest station there – SMPL.
SMPL offers lunch and dinner options prepared without the use of preservatives or any of the top 10 allergens in Canada (milk, eggs, wheat, soy, sesame, mustard, shellfish, peanuts, tree nuts, gluten). It also happens to be delicious.
McMaster is only one of four universities in Canada with an allergen-friendly food concept. The Hospitality Services team has worked tirelessly to ensure that students with allergies have a safe place to eat and enjoy their meals. They've developed their own strict protocol on everything from required training, to recipes and execution. The team has established a separate invoicing and delivery system to minimize risk of cross contamination when ingredients are brought onto campus by vendors. The food prep area is sanitized twice daily, and those who have received specialized training wear badges that are easy to identify. In fact, only those armed with a SMPL badge can cross the yellow line that divides SMPL from the other stations in Centro.
"More and more students with allergies have told us they are selecting schools based on how their dietary requirements can be accommodated," says Liana Bontempo, Hospitality Services Dietitian. "SMPL ensures most students with allergies have healthy options everyday."
There is a 28-day menu rotation, that always includes two protein options (including plant-based) and multiple sides that can be purchased as part of a combo or individually. The variety alone is one reason many without allergies eat at SMPL daily. The balanced menus appeal to everyone from athletes to faculty members.
Additional information about SMPL and all other campus dining options is available on the MacEats App that can be downloaded for free on the Google Play store and the Apple App Store.