Down With Webster, Shad, Hollerado to play #MacWW2014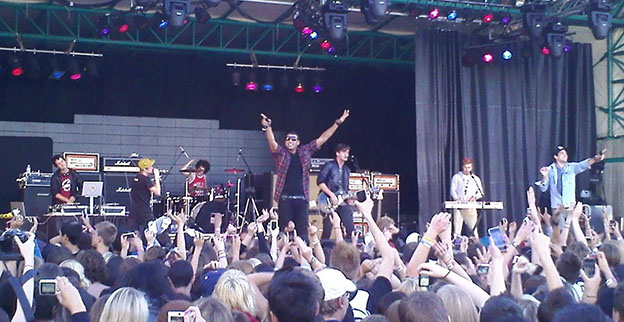 Down With Webster performs at Edmonton's Capital Ex. The rap-rock band will headline this year's Welcome Week concert at Faculty Hollow.
---
Three acclaimed Canadian acts will play a free concert during this year's Welcome Week.
Toronto rap-rock band Down With Webster will get support from Juno Award-winning hip-hop artist Shad and indie rockers Hollerado at the show, scheduled for Sept. 6 in Faculty Hollow.
Down With Webster attracted the attention of record labels and the world after winning the "best unsigned band" recognition from Rogers Mobile. Creating their own flavour of genre-bending sounds, they have been described as "the second coming of the Beastie Boys".
Shad is highly regarded for his humour, honesty and intelligence. His passion for music can be heard in all three of his albums which continue to attract international interest.
Hollerado is from Ottawa, Ontario where they won The Big Money Shot, a battle of the bands competition hosted by radio station Live 88.5. Garnering interest on an international scale, and travelling alongside many acclaimed bands, they were nominated for the Best New Group Award at the 2011 Juno Awards.
Location: Faculty Hollow
Time: Gates open at 7:00 p.m.
Admission: Must bring free printed ticket from MSU Campus Events facebook page, as well as a valid McMaster student card.
How do I receive a FREE ticket?
Step 1: Make your way to: facebook.com/MSUCampusEvents
Step 2: Click "Like" on the page, as well as selecting "Get Notifications" on the drop down bar
Step 3: Once you have clicked "Like" the page will load the ticket image + (ctrl + print screen) to print and provide the ticket at the entrance of the concert. This concert is for McMaster students only.
Step 4: Arrive to Faculty Hollow early (gates open at 7:00PM) present your McMaster student ID along with printed ticket from step 3. All students must have their student cards present at the gate.
Already a fan of MSU Campus Event on facebook or lost your ticket?
Make your way to facebook.com/MSUCampusEvents and click the 'FREE CONCERT TICKET' tab. The page will load a ticket + (ctrl + print screen) to print and provide the ticket at the entrance of the concert, along with your student card.