Digital scholarship centre will revolutionize research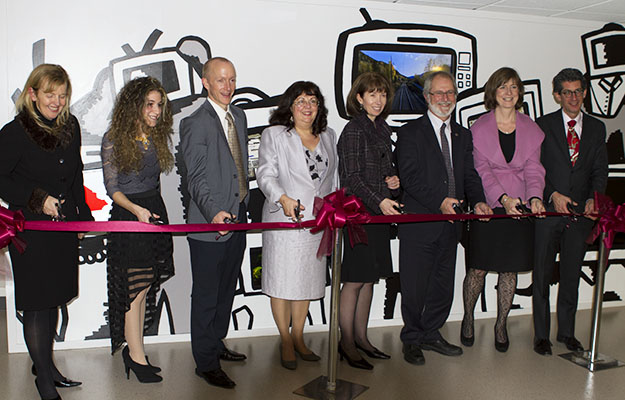 Cutting the ribbon on the Lewis & Ruth Sherman Centre for Digital Scholarship. From L-R: Mary Williams, Katrina Camilleri, Dale Askey, Suzanne Crosta, Vivian Lewis, Patrick Deane, Paddy Torsney and Ben Gould.
---
An emerging form of scholarship is getting a running start at McMaster, with strong support from a forward-looking couple who had a special understanding of the power of learning.
With an official opening celebration Friday, the Lewis & Ruth Sherman Centre for Digital Scholarship formally begins its work, helping graduate students and faculty members process huge amounts of data to reveal new information that would not have been possible to find even a few short years ago.
The centre, located in a renovated space in the first floor of Mills Memorial Library, is home to information specialists who can guide researchers through the challenges of searching vast stores of data using technology that can instantly scour and compare information from digitized maps and books, electronic databases and other sources.
The facility was made possible by a $2.5 million gift from the Lewis & Ruth Sherman Foundation – the largest private donation in the library's history.
The Sherman name is already familiar at McMaster, in part because of the Lewis and Ruth Sherman Fireside Lounge, another legacy of the couple's support for the university.
Lewis Sherman was the owner of Allan Candy and a dealer in rare books. His wife Ruth worked in various roles at the McMaster library, including service in the library's technical services division.
Both were committed to education and both were forward-looking, said Paddy Torsney, a friend of the Shermans and now a board member with the Lewis & Ruth Sherman Foundation.  Torsney said the centre is an ideal realization of their vision, and that the couple would be thrilled to see it.
Already, projects are under way on subjects ranging from Sanskrit to music downloads. Associate university librarian Dale Askey, administrative director of the Sherman centre, emphasizes that scholars from a range of disciplines will make use of the centre's resources.
Digital scholarship, he said, promotes a collaborative approach to research, and allows researchers to think big. Making materials publicly available in digital form also promotes the democratization of research, which is in the public's interest, Askey said.