Digital Music Lab on the 'cutting edge' of humanities research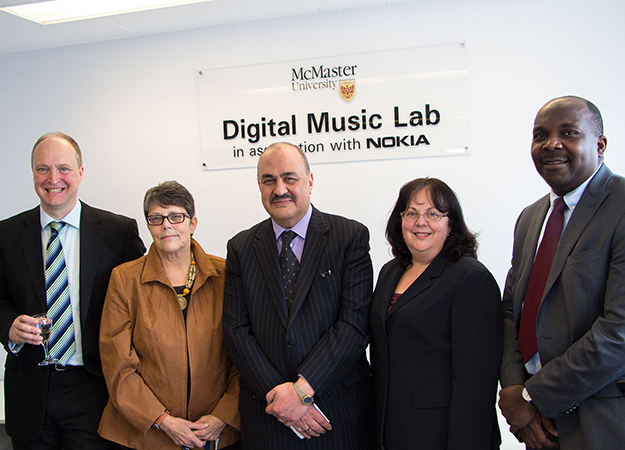 McMaster's new Digital Music Lab in Togo Salmon Hall officially opened on March 25. The facility will mine Nokia's entire global music-download data set for information related to a number of research areas. From left to right: Matthew Woolhouse, Virginia Aksan, Mo Elbestawi, Suzanne Crosta and Bonny Ibhawoh.
---
Assistant professor Matthew Woolhouse is a self-described "Bach buff." He lives for the classics, and lusts for anything with a rich choral element in the composition.
Catch him on a different day, however, and you may hear the syrupy wail of Jimmy Page's Les Paul guitar screaming through his desktop computer speakers.
Such is the complexity of individual musical taste. Although seemingly random and seldom predictable, Woolhouse knows that individual tastes – when examined as part of a massive online data set – can be a virtual goldmine of information.
"You can infer a great deal from the way music is being used," says Woolhouse, seated across from a glistening upright piano in McMaster's brand new Digital Music Lab, which will open March 25. "We're on the cutting edge of digital humanities research here."
Thanks to a five-year data sharing and cooperation agreement with Nokia, the new space in Togo Salmon Hall will have access to the company's entire global music-download data set, which will be used to examine sociological, cultural and musicological trends around the world.
Woolhouse and his team of researchers can study everything from the sleep patterns of Scandinavians living above the Arctic Circle to the influence of American slang in rural Russia – all based on the genre, style and language of the music being consumed, and the time and location of each download.
"In the Russian example, they've appropriated New York hip-hop and made it their own. It's almost like 'forbidden fruit' from the United States," he explains.
The research possibilities are endless: Which country is the most welcoming of other global cultures? Which is the least? What new languages are being learned in different parts of the world? What are residents listening to during the height of a political uprising?
The lab's initial research will be bolstered by a $75,000 Social Sciences and Humanities Research Council Insight Development Grant, along with a $7,000 Arts Research Board grant. Over the next several years, Woolhouse hopes to attract students from all faculties at the University – so long as they have a keen sense of inquiry and a passion for research. It doesn't hurt that "everybody loves music," he adds with a chuckle.
"The Digital Music Lab represents a tremendous step forward for research innovation at McMaster," says Suzanne Crosta, dean of the Faculty of Humanities. "In the years ahead, students and faculty alike will be able to benefit from this incredible resource, and their findings will undoubtedly be of great value around the world."
SHARCNET – the academic research consortium providing back-end support for the lab – also congratulated Woolhouse on the new space. "Supporting the rapidly-growing demands for high-performance computing in the digital humanities is an exciting new direction for SHARCNET," says scientific director Hugh Couchman. "We are delighted to be a part of this initiative with McMaster and Nokia."
Interestingly, Nokia President & CEO Stephen Elop is a McMaster alumnus. The native of Ancaster, Ont. earned a degree in Computer Engineering in 1986.
Below, Matthew Woolhouse addresses a complex and perhaps unanswerable question: How do we create and define beautiful music?