Digging to the CORE with Hamilton youth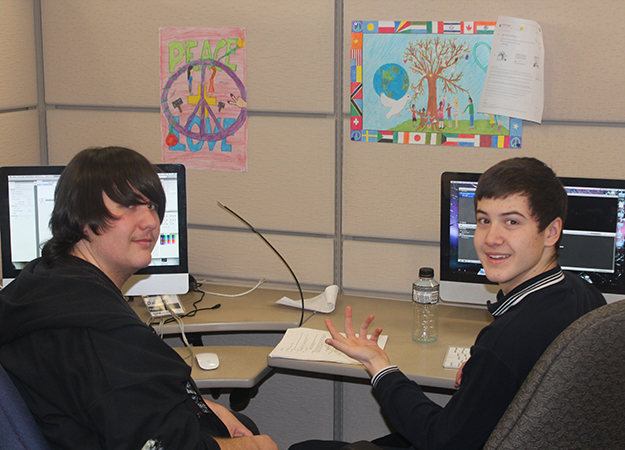 Matthew Atkinson (left) and Dalian Bledea work on their personal interest projects in media arts as part of the CORE program, which officially opens Jan. 16
---
Discover a young person's passion and bring together existing opportunities to help him or her learn, develop job skills and enhance self-esteem through the arts.
That's the focus of Community Organizations Reaching Everyone (CORE), an innovative Hamilton initiative that will officially launch on Wednesday at McMaster Innovation Park.
Through the involvement of various university, college and community groups, the program will help introduce more than 30 local high school dropouts, homeless youth and young adults on social assistance to new and meaningful activities, all while learning through the arts. Current high school co-op students and returning students can also gain high school credits with their CORE art studies.
The program is one of McMaster Nursing professor Gina Browne's priority intervention projects in the Systems of Prevention and Care program, funded by Ontario's Ministry of Health and Long-Term Care. The CORE Centre offers placements in media arts, visual arts, music, literary arts, dance and cultural heritage.
"What I'm trying to emphasize as a nurse is how powerful it is to empower our vulnerable and not-so-vulnerable youth through natural opportunities in the community, as opposed to professional treatment," says Browne, who is also director of McMaster's Health and Social Service Utilization Research Unit. "This is the most creative and multilevel intervention … that I've ever been a part of. It's a cascade of youth helping youth, using the city as the classroom."
"This program honours and celebrates the essence of all aspects of each person. Everybody has a strength and everyone has a talent, they just might not know it. We hold a mirror up to the person so they see that," says Patricia Gough, CORE's executive director. She added the program is an alternative way of learning for those who don't learn through traditional approaches in school.
For example, a student with an interest in culinary arts may learn about nutrition and cultures of the world, while improving literacy skills through reading menus; mathematical skills through dealing with fractions and measurements in recipes; computer skills in searching for recipes; and interpersonal and problem-solving skills in working with others. The student then shares their knowledge with others by preparing food for neighbourhood elementary schools, daycare centres, retirement homes or youth groups.
According to Browne, the program is important because re-engaging students leads to reduced school dropout rates, which may help reduce poverty in Hamilton. "It really does take the youth to raise the village," she says.
The official CORE launch event is being held on Wednesday, Jan. 16 from 4:30 to 6:30 p.m. at McMaster Innovation Park.