Demo Day at the Clinic empowers health innovators to transform ideas into impact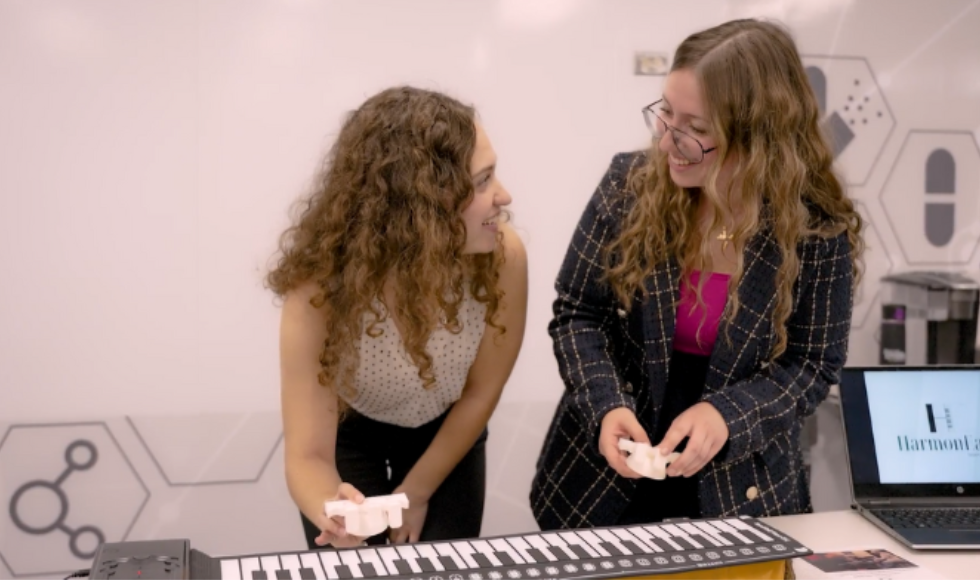 HarmonEase founder Deena Al-Sammak, right, with IBioMed grad and award-winning startup founder Lianna Genovese at The Clinic's Demo Day.
---
Nestled within the Health Sciences Library sits the Clinic – a 3,000-square-foot creative hub that serves as an epicentre of health innovation and entrepreneurship.
On this Wednesday afternoon, the Collision Room inside the Clinic is abuzz with the voices of passionate entrepreneurs showcasing the results of their journey through the certificate residency program.
This is Demo Day, the culmination of nine months of hard work and determination. It's an opportunity for the innovators to share their health-care innovations with the community and members of the McMaster innovation ecosystem.
While their work varies wildly — from therapeutics to assistive devices —there is a common thread of passion and the belief that these innovations can, and will, help improve the lives of the end-user and impact health care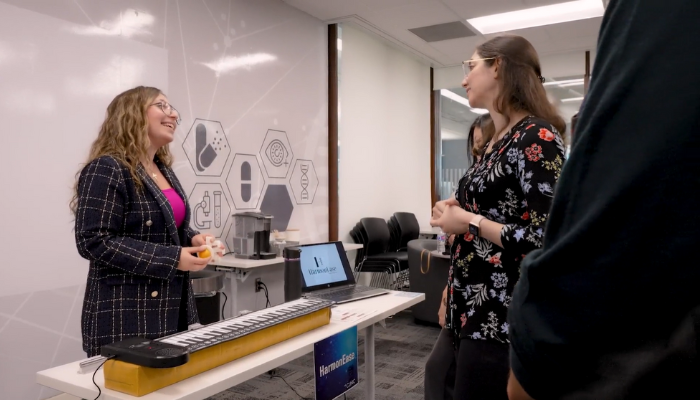 For third-year Integrated Biomedical Engineering & Health Sciences (iBioMed) student Deena Al-Sammak, the desire to become an entrepreneur was sparked by a series of experiences — like hearing a person describe how an assistive device helps them work out, or seeing a child's face light up when an assistive device allows them to use their hand to draw or paint.
Hearing a pianist with limited hand mobility playing her favourite song was especially meaningful for Al-Sammak, a pianist herself and the founder of HarmonEase Innovations Inc, which is developing an assistive device for piano players who have limited hand mobility and finger dexterity.
"There are certain things that you can't put into words – music allows you to do that," she says.
Music is a way to communicate, something anyone with an interest should have access to, Al-Sammak says.
She began with a simple question: How can I lower the barrier for people with limited hand mobility so they can access musical instruments?
Al-Sammak first joined the Health Innovation Bootcamp, which she describes as a "crash course to entrepreneurship in health care."
She then entered the Residency certificate program with a prototype in mind, but no idea of how to create it or where to begin. She turned to her coach and mentor, Lianna Genovese, a graduate of the iBioMed program and a Clinic alumna.
"She really helped me figure out where I fit into the grand space of entrepreneurship," says Al-Sammak. "Working with her was amazing. She has a wealth of knowledge."
Genovese is now a program ambassador and innovation coach at the Clinic and an instructor in the Master of Biomedical Innovation program at McMaster University. Her own experiences as founder and CEO of ImaginAble Solutions Inc. have helped make her an invaluable coach.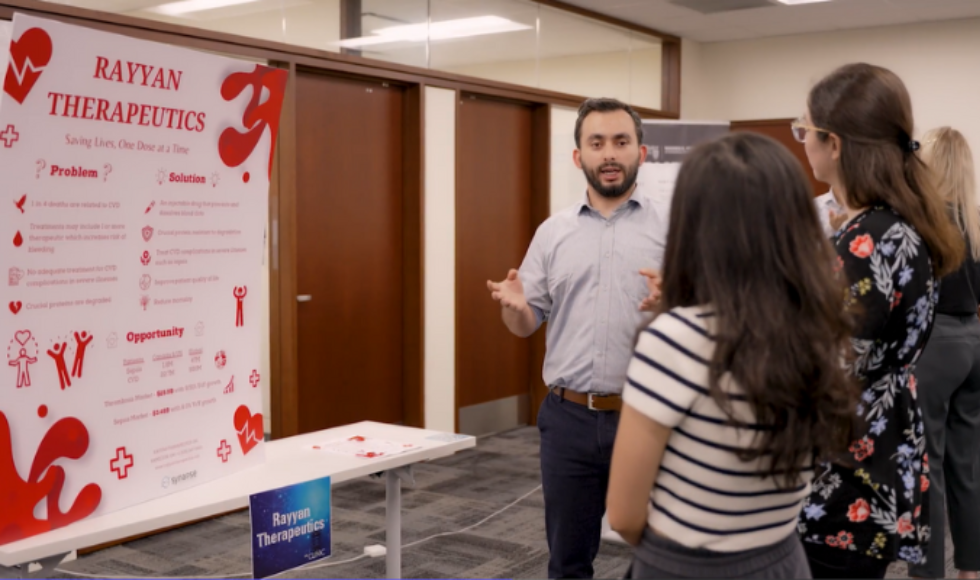 A transformative experience
The Clinic at McMaster University officially opened in June 2022, with the support of generous gifts from Michael G. DeGroote and Marnix and Mary Heersink, in partnership with the Faculty of Health Sciences.
It supports not only undergraduates like Al-Sammak, but also clinicians or researchers looking to commercialize their labs' discoveries.
Hasam Madarati, a graduate of the Medical Sciences PhD program and co-founder of Rayyan Therapeutics Inc., found his time at the Clinic transformative.
After volunteering in several hospitals and spending almost 10 years doing research, Madarati wasn't sure where he fit within the health care industry.
Of the roles he considered — scientist, consultant, medical science liaison, regulatory affairs, clinical trials — none was quite what he wanted. Then, at the Health Innovation Bootcamp, he discovered a role that contained elements of each: "To be an entrepreneur, you have to understand all these different roles to enter the pharmaceutical space," Madarati explains.
With Genovese's encouragement and the support of his former PhD supervisor and Rayyan Therapeutics co-founder Colin Kretz from the department of Medicine and the Thrombosis and Atherosclerosis Research Institute (TaARI), Madarati decided to take what he had discovered in the lab during his PhD research and commercialize it.
Rayyan Therapeutics aims to develop a therapeutic product that targets cardiovascular complications in severe illnesses.
"As scientists, we are trained to do experiments, to identify trends in the literature and ask new and interesting questions – and are often left behind when it comes to things like thinking about the next steps and commercialization," explains Kretz.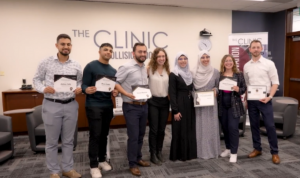 Programs like the bootcamp and residency give health innovators a playground to learn about what it takes to build a company and commercialize discoveries made in the lab, Kretz notes.
"To see that you can take what you've studied and what you've majored in throughout your whole life and you can turn that into real-world impact, as a scientist, it's an ecstatic moment," Madarati says.