DeGroote students win first place in Ted Rogers Ethical Leadership Competition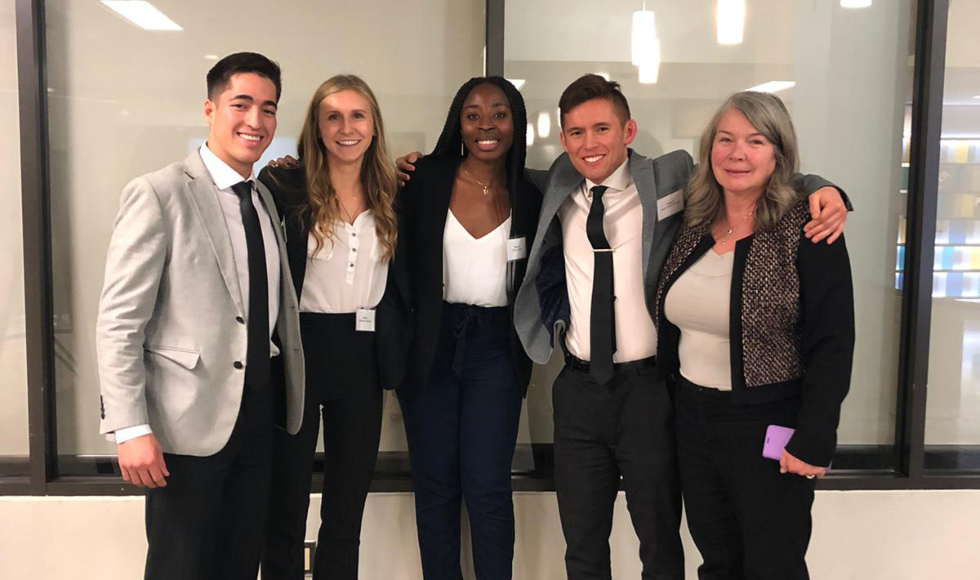 From left: Juan Ortiz, Maddy Woodley, Ojima Ocheje, Owen Angus-Yamada, and Linda Stockton (faculty advisor)
---
A team of DeGroote School of Business undergraduate students won first place, and the $4,000 grand prize, in the fourth annual Ted Rogers Ethical Leadership Case Competition this past weekend.
Only eight teams from across Canada were invited to participate: HEC Montréal, McGill University, McMaster University, Ryerson University, University of Calgary, University of Manitoba and York University.
The case for the competition featured a company that was contracted to install a water purification system for a First Nations community and discovered a defect in the system. The company had an operational issue to resolve or they would lose the whole contract.
The eight teams from business schools across Canada had one week to analyze the case and prepare their presentation to a jury of top business leaders.  After presenting their plan to the first set of judges, four teams from McGill University, HEC Montréal, University of Manitoba, and McMaster University advanced to the finals.
"We looked at the ethics through two ethical approaches (rules and consequences) and tried to give grounded and realistic recommendations," said Owen Angus-Yamada, competition team member with McMaster. "We also aimed to keep our presentation clean and concise. It amounted to a real, simple solution, which sometimes is all you need."
The teams were then given a "twist" – a new fact or turn of events on the business case – that needed to be resolved in the finals. They were given a few hours to revise their plan before presenting to a new panel of judges.
The DeGroote students' plan of action involved taking the perspective of the person in the ethical dilemma. The team considered both the personal values of the company employee and the company's perspective. They also addressed the changes to the timeline of the plan to address the urgency of the company's need to protect their reputation and brand.
"This is a unique undergraduate case competition that challenged our students to examine ethical principles and moral problems that can greatly impact the way we do business," said Linda Stockton, assistant professor and faculty advisor. "Their understanding of leadership went beyond the classroom, which set them apart in the competition."