Dean Puri honoured with Engineering Excellence award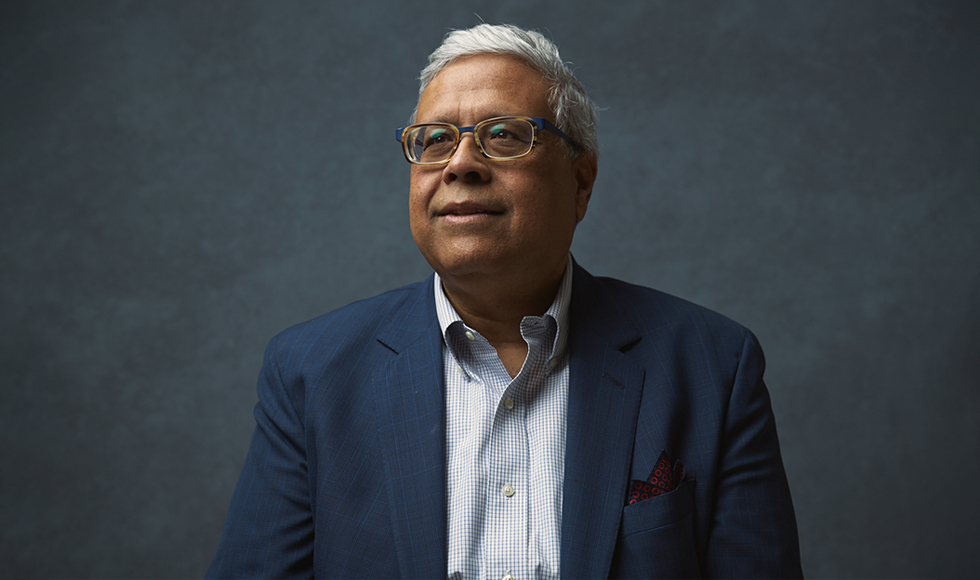 Photo by: Jin Lee
---
A noted innovator, exceptional educator, visionary researcher and, above all, an engineer.
These are just some of the ways colleagues, friends and supporters describe McMaster Engineering Dean Ishwar K. Puri, the recipient of this year's Engineering Excellence award.
The Ontario Professional Engineers Awards acknowledges professional engineers who have made outstanding contributions to their profession and community. The Engineering Excellence award is the highest honour.
"Ishwar Puri is an outstanding engineer, citizen to the profession and a passionate champion," says Susan Tighe, McMaster's provost and vice president (academic), civil engineer and lead nominator. "He has made novel and transformative contributions as an engineer, educator, researcher, inventor, and leader to establish, maintain and advance standards of knowledge and skill for engineers."
Among the highlights of Puri's career include visioning and creating several experiential learning programs and initiatives for students collectively dubbed The Pivot, including the launch in Fall 2020 of an innovative project-based curriculum for more than 1,100 first-year engineering students — the largest program of its kind at any public university.
During his tenure at McMaster, Puri has overseen the creation of a new five-year program — Integrated Biomedical Engineering and Health Sciences — that successfully brought together the strengths of two world-class faculties. He has driven the charge for digital credentials, successfully launching the first digital degrees at any university in Canada, and partnered with innovative digital education company, Quanser, to create unique experiences for students.
"As a past CEO, COO, CIO, and Vice President of major global corporations, I have worked with many academic leaders both at McMaster and around the world," says engineering alumnus Stephen Elop, a business leader, Dean's Advisory Board member and strong champion of McMaster Engineering's new approach to education. "The Pivot is a transformative curricular change in engineering education. I am convinced that the curriculum, which has received significant global attention, will change how engineers are educated and trained in future across the world."
As well, he nurtured the creation of a new Minor in Innovation and championed an engineering-led co-curricular experience for students across campus: MacChangers, which gives teams the opportunity to work with the community on real-world problems. He also developed a Grand Challenges Scholars program, an internationally recognized program that weaves together experiences inside class and out to prepare students to meet the challenges of tomorrow.
"Ishwar is committed to engineering education that produces creative engineers who design human-centred solutions and integrate multiple disciplines to solve challenging open-ended problems," says Doug Barber, former President and CEO, Gennum Corporation, Dean's Advisory Board member and strong supporter of MacChangers. "He recognizes that innovative solutions must have an underlying business case and students need to be trained to work in multicultural and diverse teams to address global grand challenges by formulating locally relevant solutions for their communities."
Puri was also lauded by his peers for his research endeavours, both in his lab and for shepherding Canada's largest undergraduate research program. Puri is ranked among the top two percent of scientists worldwide by the Meta-Research Innovation Center at Stanford University. His inventions range from a facile 3D printer for human cells and tissues to a novel "1U" heat exchanger that can be directly mounted in computer racks in data centres. He's also a founder of Celerite Labs, an Ontario startup that  uses magnetic 3D printer to print tissues and organs.
"Ishwar has made tremendous contributions not only to McMaster but also to Canada at large through his leadership and active engagement with several organizations including the Natural Sciences and Engineering Research Council, Engineering Deans Canada, Engineering Deans Ontario, and as Fellow of the Canadian Academy of Engineering," says David Wilkinson, former McMaster provost and Materials Science & Engineering professor. "He has made a lasting and meaningful imprint on the engineering educational and research landscape."
Puri says he is humbled with the award and hopes to continue evolving engineering education and research.
"I always say that I stand on the shoulders of giants and have learned so much from my mentors, peers, colleagues and friends over the years," Puri says. "I have been fortunate to have had rich experiences throughout my career that have given me the opportunity to help shape engineering education and research. This award renews my commitment to the engineering community, mentoring the next generation of citizen scholars and to guiding innovation to meet the challenges that lie ahead for our world."
An awards ceremony for all OPEA 2021 recipients is November 20, 2021.