David Braley Health Sciences Centre opens in downtown Hamilton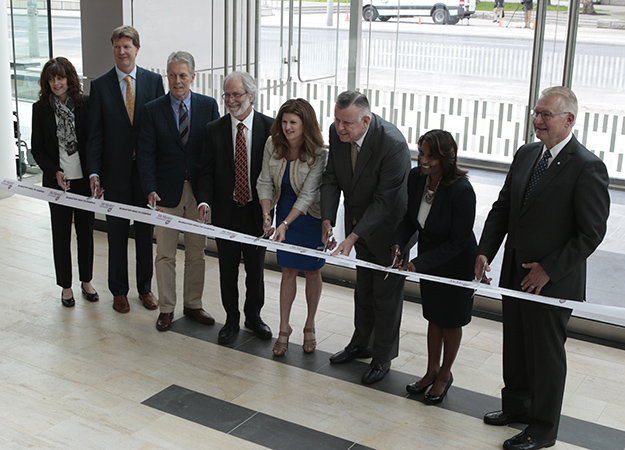 'The University has a strong commitment to deepen our relationship with our community,' said Patrick Deane, McMaster's President (fourth from left). 'I know we will enhance the future of health care in Hamilton and far beyond by putting our roots down in the city's centre.'
---
McMaster has officially opened the $84.6M David Braley Health Sciences Centre at the downtown Hamilton McMaster Health Campus.
The 192,000-square-foot facility will be home to the Michael G. DeGroote School of Medicine's Department of Family Medicine as well as the City of Hamilton's Public Health Services.
About 4,000 students will take part in events and attend some classes throughout the year and its Family Health Centre will see more than 54,000 visits by more than 15,000 Hamiltonians currently without a family doctor.
"The University has a strong commitment to deepen our relationship with our community," said Patrick Deane, McMaster's President. "I know we will enhance the future of health care in Hamilton and far beyond by putting our roots down in the city's centre."
John Kelton, dean and vice-president of the University's Faculty of Health Sciences, added: "This is a beautiful landmark reflecting Hamilton's growing importance in the provincial and national health sectors. We're known for our excellence and innovation in health sciences education and research, and this building is designed to support those initiatives."
The six-storey facility is also to be a community space open to the public, with a café, public meeting and lounge space. It will also be a base for major research and education initiatives by McMaster's Faculty of Health Sciences.
The project has been funded by a large group, including McMaster University, the City of Hamilton, the Province of Ontario and Hamilton businessman David Braley.