Convocation 2022: Students share their journeys to the finish line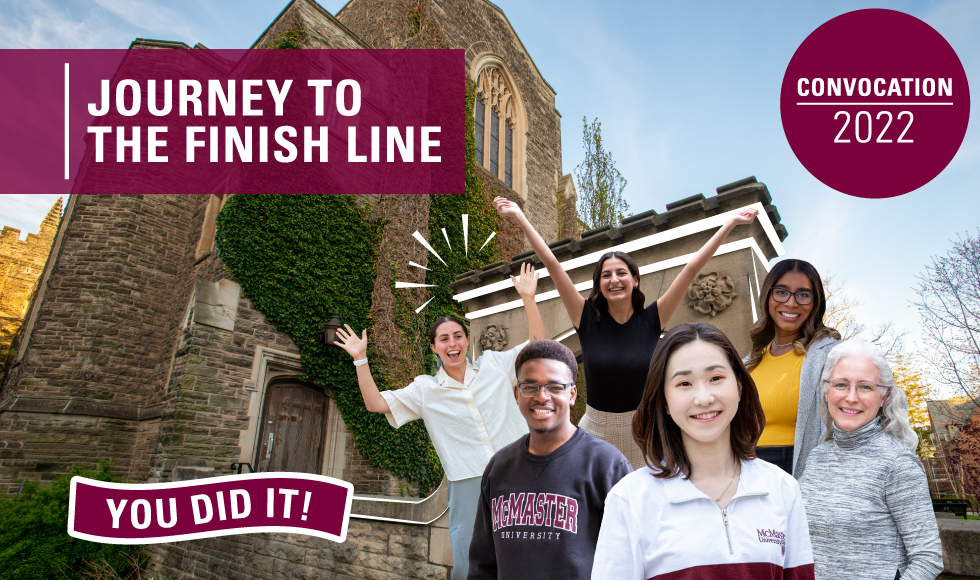 ---
"Every finish line is the start of an exciting new journey. Wherever yours take you next, we'll be cheering you on." – David Farrar, president of McMaster University
McMaster summer Communications Assistants, Estrella Lo and Brandon Bernard, sat down with graduates across all six faculties to hear about lessons learned and memories they'll take with them as they cross this finish line and start their own exciting new journeys.
From making an impact in extracurriculars to informing a Faculty's strategy, each of these grads made their mark at McMaster and we wish them, and all 2022 graduates, all the best in whatever lies ahead.
---
Cheikh Tchouambou Youmbi, Faculty of Health Sciences
As he crosses this finish line and embarks on a new educational journey, Cheikh Tchouambou Youmbi says he is proud to have contributed to efforts to increase Back representation in healthcare during his time at McMaster. Hear how the Bachelor of Health Sciences graduate intends to build upon those efforts in life after Mac, and why it's good to be "forever young."
Tracy Beazley Clark, Faculty of Humanities
When Tracy Beazley Clark crossed the stage to receive her degree, it was a moment 21 years in the making. Hear how Beazley Clark handled motherhood, a full-time career and international travel while completing her degree, and the lessons she learned from taking a little extra time to get to the finish line.
Seina Yamada, Faculty of Humanities
Seina Yamada says she is leaving McMaster with so much more than a degree. Hear how the Humanities grad's journey to the finish line included some extra hurdles – like moving to a new country, making a new set of friends and mastering the English language.
Lauren MURPHY, DEGROOTE school of business
Lauren Murphy says she leaves McMaster happy to have made a lasting impact on the university through her work advocating for student mental health supports. Hear why the DeGroote School of Business grad says she's so proud of her classmates as they join her in crossing this finish line. 
Sage Hartmann, Faculty of Science
Sage Hartmann says she is most proud of providing opportunities for people to hear Indigenous voices and perspectives during her time at McMaster. Hear how the fifth-year psychology, neuroscience & behaviour graduate is planning to continue that work after she crosses this finish line.
Claudia Meneguzzi, Faculty of Social Sciences
Looking back at her time at McMaster, Claudia Meneguzzi says she will always be proud of the work she did to support the mental health of her peers. Hear how the Social Sciences' graduate intends to continue giving back as she crosses this finish line and embarks on a new educational journey.
Leisha Fernando, Faculty of Engineering
Leisha Fernando says she's most proud of having had the chance to represent McMaster at numerous conferences and competitions. As she crosses this finish line, hear how the engineering grad is using those experiences to launch a career.