Convocation 2021: More stories from spring Mac grads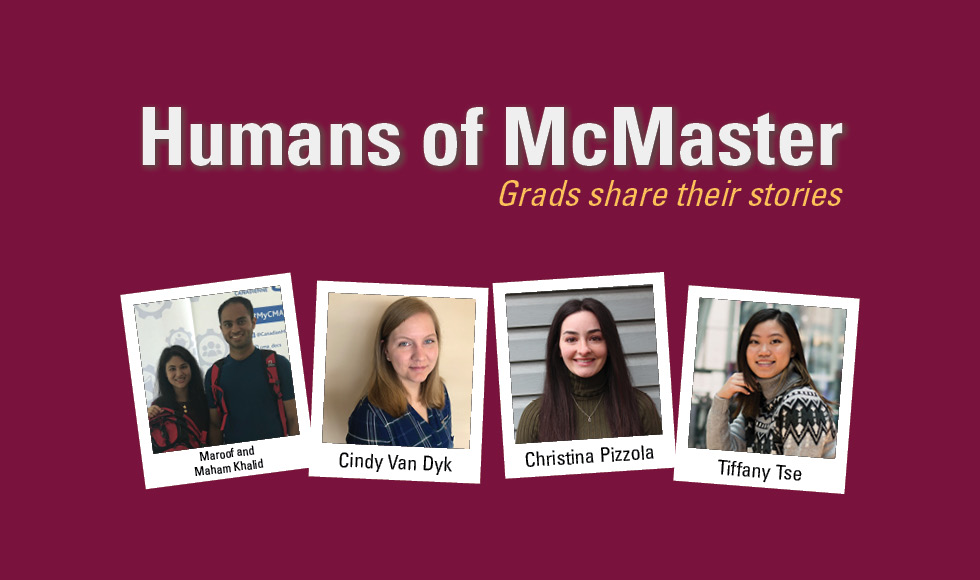 To celebrate spring convocation week, Mac graduates reflect on their university experience in their own words.
---
To mark convocation week, Mac graduates reflect on their university experience in their own words. From the obstacles they overcame to get to graduation day to the friendships they forged, read on to learn about the unique paths of McMaster students.
For more grad stories, visit the Humans of McMaster photo album on McMaster's Facebook page. We'll add a new reflection each day throughout convocation week. Congratulations to all spring 2021 graduates— you did it!
Cindy Van Dyk, 
Medical Radiation Sciences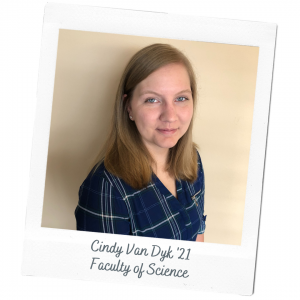 In 2016, I applied to McMaster as a second-degree student just to see if it would be possible. To my surprise, I got in! Unfortunately, around the same time my mother was diagnosed with Idiopathic Pulmonary Fibrosis. At the time, she was still relatively healthy, and we were positive we were going to push through this together. I would begin my four-year educational journey into becoming a sonographer, and she would courageously battle a terminal illness with inspiring fierceness.
As I progressed through the program, I was challenged intellectually with the courses, and physically and emotionally at home. My mother's illness had slowly taken hold of her, and I became her primary caregiver. As the pandemic hit in my third year, so did the full severity of her illness and she began to require constant care. The switch to online learning, though challenging for others, was a silver lining for me; I was able to be home with her to provide full care while also working on my studies online.
Sadly, in the fall of my fourth year, my mother succumbed to her disease. She was a fighter and inspired me to do the same. I fought hard in my final year to continue my pursuit of sonography, even though there was a crushing and debilitating ache of loss. Yet I knew she would not want me to give up, and that drove me to continue on and make it successfully to graduation day.
Tiffany Tse,
Bachelor of Engineering in Electrical Engineering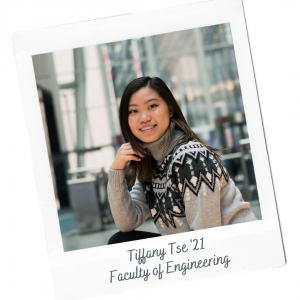 McMaster has been my home for the past 5 years, and if I had to sum up my experience with one word, it would be "growth". As a classical pianist with a love for engineering, I constantly struggled to embrace my two passions and felt the need to choose just one.
These last 5 years have really been pivotal in shaping my world and providing me with challenges that allowed me to mature. I've been able to discover more deeply who I am as a person and as an engineer, and who I aspire to be. My journey to graduation allowed me to realize that engineering has influenced the way I think, analyze and problem-solve, helping me with my music, and that the many years of dedication I put into my music translates very well into the perseverance needed in my engineering program. Instead of picking one of my passions, I realized that both of these things make me unique, and make up who I am.
Christina Pizzola,
Faculty of Science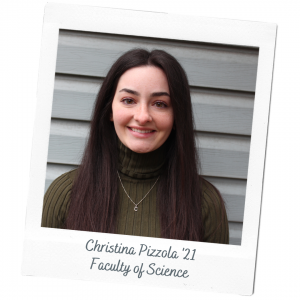 Over the past 4 years as a kinesiology student, I have gained a specific interest in cardiovascular health which has motivated me to pursue clinical and research-based experiences in this field. Through my undergraduate thesis in the Vascular Dynamics Lab (VDL), I was able to investigate the effects of heat therapy on cardiovascular outcomes. 
Originally, I planned to focus on arterial stiffness as my main outcome measure, however, due to COVID-19, I pivoted my thesis to focus on cardiorespiratory fitness, a measure that could be determined at home. Although running the study remotely was a time crunch, with many hours dedicated to literature review, data collection, and analysis, I felt very thankful to have been chosen as a recipient for a national research award.
I highly recommend getting involved in research in your undergrad. It is a great way to contribute to research in the scientific community and collaborate with individuals in academia, which is something I have always valued about my experience in the VDL. I am grateful to be continuing in the VDL with my graduate supervisor, Jem Cheng, throughout the summer and starting in the Fall once I begin my Master's of Science in Global Health at McMaster. 
Maroof and Maham Khalid,
Faculty of Health Sciences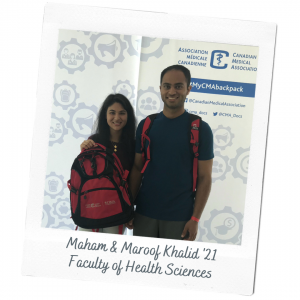 Written by Maham Khalid:
Flashback to May 2018, I remember the day before medical school acceptances came out feeling anxious and scared, unsure of my next steps if I didn't get in. I tried to stay awake all night so that I would wake up later on in the day. Thankfully we were both very lucky that application cycle and accepted McMaster's offer together – mainly based on its proximity to home as well as the fact that McMaster offered both of us a spot. Like in Mulan, devotion to family is a core value we were brought up with, and we could not have gotten this far without our family's and each other's support.
This has been a constant theme throughout my schooling – from last-minute stressed-out phone calls for help on assignments or exam preparations to tips on which courses to take and with which professors, I have relied on my brother's support and guidance. I guess that's the benefit of being a younger sister, you'll never be the first to go through something, haha. Medical school shifted the dynamic a little bit, with both of us going through it simultaneously.
Now the phone calls and texts were both ways – "I think I messed this up…how do you do that…was Dr. X nice as a preceptor…is there something I should do to stand out…what were common questions you were asked…what should I do to prepare." Having someone to call and rely on for the most minor questions or things you may be embarrassed to admit to anyone else was a HUGE help and lessened the stress and anxiety of medical school and clerkship. Honestly, I would 10/10 recommend doing medical school with a sibling if you can, as there is no judgement, just advice or teasing.