Convocation 2021: McMaster graduates share their stories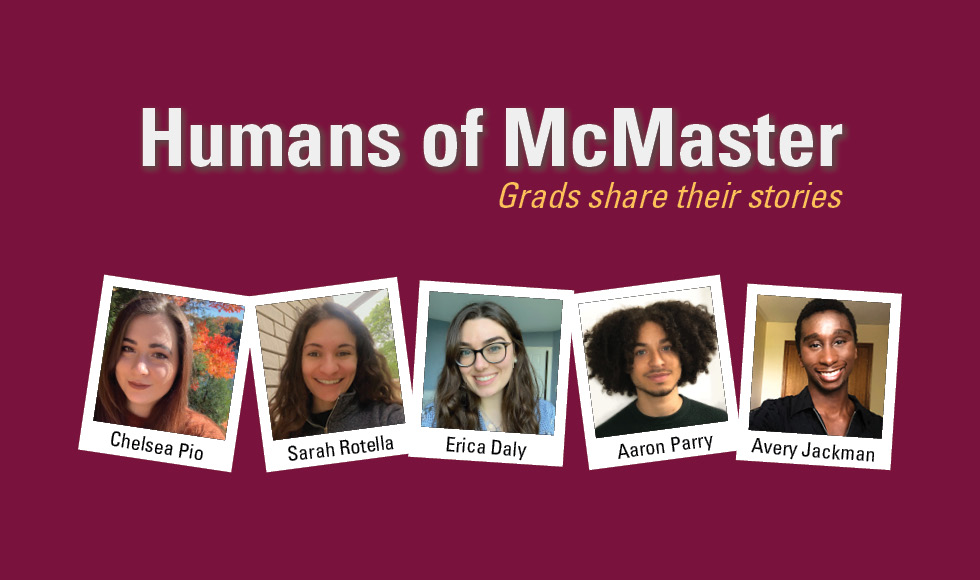 ---
To mark convocation week, Mac graduates reflect on their university experience in their own words. From the obstacles they overcame to get to graduation day to the friendships they forged, read on to learn about the unique paths of McMaster students.
For more grad stories, visit the Humans of McMaster photo album on McMaster's Facebook page. We'll add a new reflection each day throughout convocation week. Congratulations to all spring 2021 graduates— you did it!
—
Avery Jackman, 
Honours Bachelor of Arts in Health and Society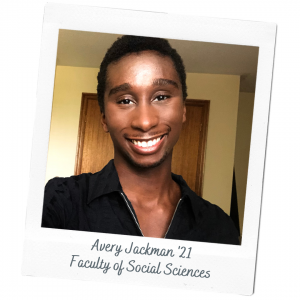 My time at McMaster has taught me what it truly means to be resilient. There were many times throughout my undergrad where I faced obstacles that seemed impossible however, I always somehow managed to preserve and overcome them.
I had the privilege of experiencing McMaster as a student, as a volunteer, and as an on-campus employee for three years. Each position so different from the next taught me so many life lessons that I am grateful to take with me into the 'real' world. I feel loved knowing I am still the best of friends with the people I met in residence in my first year and the friendships I met along the way even up until my final semester. Special shoutout to Professor Geraldine Voros for being such an amazing support system particularly in my final year as my thesis supervisor.
Looking back at these past four years, I would not change a single thing because each moment; good and bad, grew the person who will be graduating with the class of 2021 and proudly becoming a McMaster Alumni. It's been real McMaster, it's been real.
Chelsea Pio,
Faculty of Humanities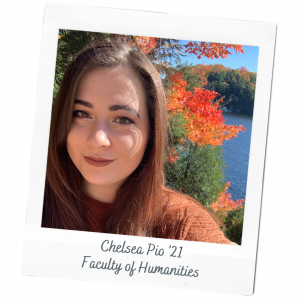 It would be safe to say that my journey towards graduation at McMaster University was one of not only intellectual growth but personal growth as well. Throughout my years at McMaster I encountered various obstacles including my own health struggles that made studying at times seem unachievable, the loss of loved ones and the troubles that many of us students have come face to face with as a result of the COVID-19 pandemic. At times it felt as though graduation would never come and even seemed unachievable with all I had to bear. However, here I was able to pick up my GPA and am graduating with my B.A. in English and Cultural Studies. It occurred to me that everyone's path in life is different. McMaster taught me that we should not be as hard on ourselves as one semester does not define us. With enough determination and persistence we can achieve our goals. I feel truly blessed to have had the opportunity to experience what I have at McMaster. It has made me a stronger person and ready for the opportunities that lay ahead.
Sarah Rotella,
DeGroote School of Business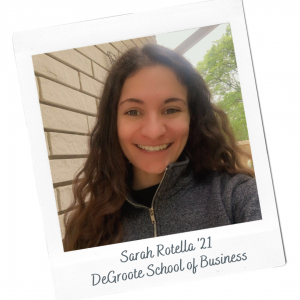 I remember my first day of university vividly – nervous, but excited – little did I know then how great an impact my time at McMaster would have on me. DeGroote and McMaster encouraged me to push myself outside of my comfort zone and taught me how to master a balance of academics and extra-curriculars. They amplified my passion for being involved in the community, while driving my dedication toward academic success as a member of the Dean's Honour List.
Up to graduation, I have continually had the opportunity to make connections with staff, students, and faculty along the way through the experiences that have shaped the person I am today; leading student clubs, mentoring others, recruiting incoming students, and more. It was my goal to give back to the McMaster community in the same way that it has given so much to me, and through that, I have grown immensely both personally and professionally. Looking back on the past four years, not only have I gained a Bachelor of Commerce degree, but I have discovered my passions, built lifelong friendships, and made memories that will last a lifetime.
Aaron Parry, 
Honours Anthropology and Indigenous Studies
­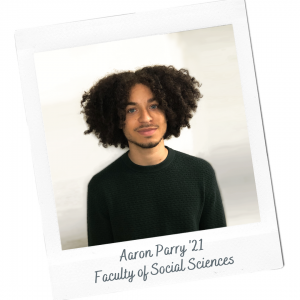 My education at McMaster enabled me to foster a deeper interest in aspects of African and African Diasporic history, culture, and contemporary issues. Majoring in Indigenous Studies and minoring in African & African Diaspora Studies, I found that I could dually connect with my own African-American and Afro-Caribbean roots through my coursework, while also learning vital knowledge concerning the local Indigenous lands that my ancestors and community have occupied for generations and have been cared for by sovereign Indigenous Nations since time immemorial.
My interest in Afrocentric perspectives was also greatly forwarded by supportive Black staff and faculty that provided mentoring to me and ensured that I was able to pursue my interests through coursework, research positions, and community programming.
I am also forever indebted to the many fellow students who I will always see as my kin due to our constant collective engagement in Black student clubs, community work, and cultural events at Mac. They have been a genuine source of strength, unity, healing, and support to me throughout my degree and have allowed me to see the true value of studying the vital knowledge and ways of being originating from our communities. Shoutout to my Black Mac fam.
Erica Daly,
Integrated Business and Humanities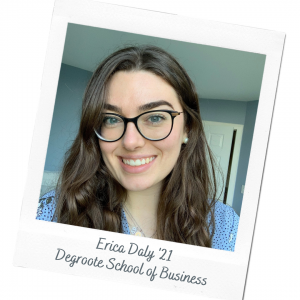 Four years ago, I joined a brilliant group of individuals in what would be the inaugural class of the Integrated Business and Humanities (IBH) program. As I began to work alongside this group of students, I often found myself thinking it was pure luck that got me there. I was sure that it was just luck because it seemed that my IBH peers were so much smarter than I was that they undoubtedly deserved to be there.
Over time, however, and fostered by the nurturing community of the IBH program, I began to test that thought by raising my hand in class. I asked questions and offered opinions. I realized I had a voice and the same knowledge as the students around me and I owed it to myself to be heard. After all, I had been accepted into the program the same as everyone else. I deserved to be there just as much as they did. So, as I look back on my McMaster chapter, there is one thing I now know for sure: you will always end up where you are supposed to be.