Continuing Education grad's mission is to give back to others struggling with addiction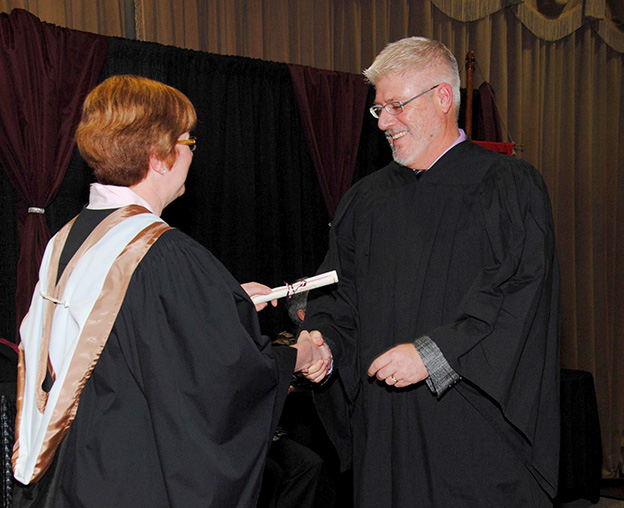 'I have a message – there's always support for you out there,' says Derek Pollock '14, a recovering alcoholic who has graduated with an Addiction Careworker Diploma from McMaster's Centre for Continuing Education.
---
Over the past three years, Derek Pollock '14 has completely turned his life around.
From a self-described "guy who almost drank himself to death" to an award-winning graduate of McMaster's Centre for Continuing Education – his is an inspiring come-back story.
"I was living a normal life," says Pollock, "but drinking changed that life." He was always a social drinker, but as the years went by, he began to drink more and more – both to alleviate stress and anxiety and to accommodate his lifestyle as a traveling salesman.
By the time he had been drinking non-stop for five years, he knew he was addicted. His health was so bad it was a matter of life or death. "I surrendered," says Pollock, who checked into rehab, thanks to the help and support of his wife, Angela. "There was no alternative."
He loved rehab. "I felt good for the first time in years. It's amazing what your body will do if you treat it well."
He not only thrived, he also made sure to observe the professionals who were treating him.
Eventually, this led him to enrol in CCE's Addiction Careworker Diploma program.
At first, it was hard. He was 49 years old and hadn't been in school for 27 years. "I didn't even know how to write a paper," he says.
He must have learned how. At his graduation ceremony in November, Pollock received the Award of Excellence for the highest grade average in his program.
He also won a MAPS Centennial Award, which recognizes part-time students who have demonstrated either outstanding achievement in extracurricular activities – or who have overcome "particularly adverse circumstances" before attending McMaster.
He now works as an addiction counsellor in Guelph and also volunteers his time to speak with residents at his former rehab centre. One of his goals is to help remove the stigma surrounding addicts and addiction.
"For the first time in my life, I really have passion for something," says Pollock.
Grateful for all the support he has received, he knows his mission is to give back to others who are struggling with their own addictions. "I have a message – there's always support for you out there."
This spring, he and his wife will celebrate their 25th wedding anniversary with a trip to Hawaii.
"My life couldn't be better."