'Connection is important' — How COVID-19 has affected gender-based violence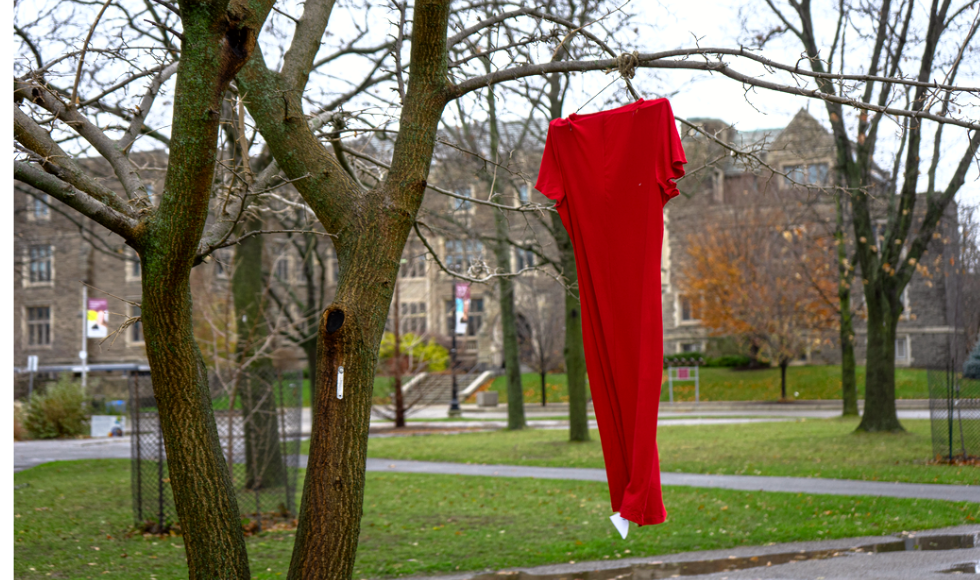 As in previous years, red dresses were placed in prominent spots around McMaster's campus, as part of the REDress Project, an installation to honour murdered and missing Indigenous women and girls, begun in 2010 by artist Jaime Black. (Photos by Christian Braun)
---
"What did the pandemic bring? Lockdown. Isolation. A tool of power and control that abusers use."
–Jessica Bonilla-Damptey
SACHA — The Sexual Assault Centre for Hamilton and Area
A virtual panel discussion on the effect of the pandemic on gender-based violence offered startling insights and pragmatic solutions from experts who continue to support survivors even as COVID-19 has exacerbated existing problems.
The discussion, organized by the university's December 6th Committee, was part of the McMaster community's commemoration of the National Day of Remembrance and Action on Violence Against Women.
It's a day to honour the lives and legacies of those lost to and affected by gender-based violence, including more than 1,200 murdered and missing Indigenous women and girls, the 14 women killed in the 1989 École Polytechnique shooting in Montreal, and victims and survivors of gender-based violence worldwide.
As in previous years, red dresses were also placed in prominent spots around McMaster's campus, as part of the REDress Project, an installation to honour murdered and missing Indigenous women and girls, begun in 2010 by artist Jaime Black in Winnipeg.
"After decades of advocacy by family members and loved ones and by Indigenous women's organizations, the violent deaths of Indigenous women and girls are only very recently beginning to receive the national attention and commemoration they rightly deserve. To try to draw attention to this issue, red dresses are displayed around campus today." — Prof. Vanessa Watts
Today, the dresses can be seen in cities across Canada, and are a reminder of those lost or harmed by gender-based violence locally and around the globe.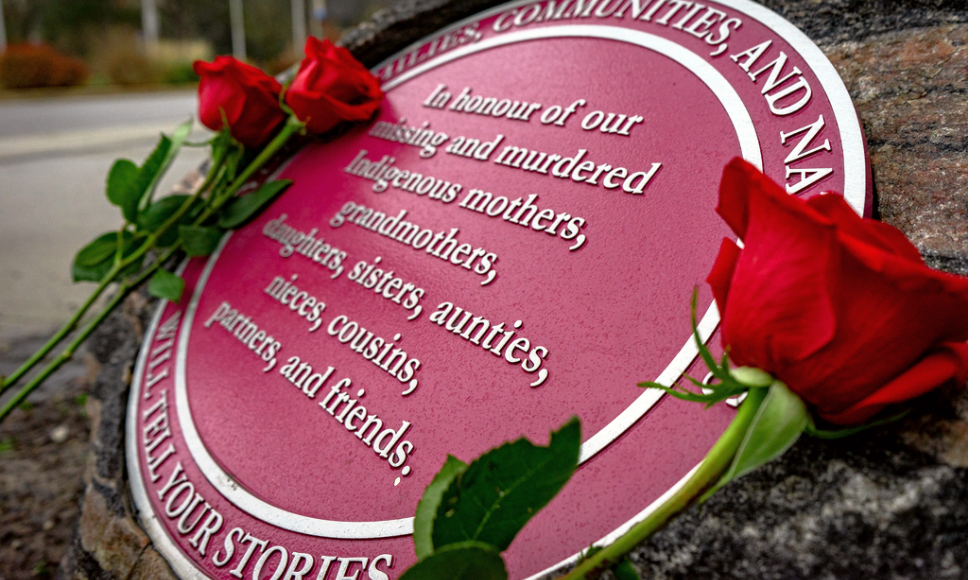 "As we know, remembrance is just the beginning. On its own, remembering is not enough," Provost Susan Tighe said in opening remarks at the panel discussion.
"To truly honour the women we've lost, we need action: Action to eliminate the inequality that is the heart of gender-based violence. Action to help women and girls get access to the opportunities they should rightfully have.
"And then we need to give them the continued support they need to succeed."
The panel
Chaired by professors Vanessa Watts and Amber Dean, the panel discussion featured Sandra Montour from Ganohkwásra Family Assault Support Services; Jessica Bonilla-Damptey from SACHA — The Sexual Assault Centre for Hamilton and Area; Debbie Owusu-Akyeeah from the Canadian Centre for Gender and Sexual Diversity; and Neha Shah, from the McMaster Students Union's Women and Gender-Equity Network.
The discussion covered the ways in which COVID-19 had deepened inequities and impacted gender-based violence, the role of racialization and other intersectional factors; how organizations that support survivors and victims have had to adapt over the course of the pandemic, and the anticipated long-term impacts of the pandemic on gender-based violence.
"Proclaimed the 'Shadow Pandemic' by the United Nations, gender-based violence, particularly domestic and intimate partner violence, has increased during COVID. The reasons are not surprising to those who have long been trying to end this violence: the pandemic has exacerbated all forms on inequality. Today's panel features advocates working to address this shadow pandemic about the impacts of COVID-19 on gender-based violence." — Prof. Amber Dean
During lockdown, vulnerable individuals no longer had access to supports, placing them in great danger, panelists said. Gender-based violence and partner abuse have risen as isolation, stress, a lack of coping mechanisms, and an overwhelming lack of connection and support takes its toll.
The pandemic and lockdowns "broke routines and safety mechanisms women had in place," Bonilla-Damptey said. Unable to take kids to school, or go to the grocery store, all their routines outside of the house were taken away, making it more dangerous for them, she noted.
Montour agreed. "It was eerily quiet across shelters," at the start of the pandemic, she noted. Abuse was still happening, but suddenly, women and vulnerable individuals were cut off from their access to support.
The same was true for other vulnerable individuals, like LGBTQ2S+ youth, Owusu-Akyeeah said. Lacking crucial peer support during lockdown, many young people were left alone and unsupported as they faced hostility and abuse.
For the students Shah and the WGEN support, financial stress, a lack of in-person support networks and a sense of isolation have been difficult.
The panelists also described some of the challenges and rewards of navigating a world that abruptly went virtual, adapting to new circumstances and finding creative ways to support vulnerable individuals.
For SACHA support workers, that meant accompanying clients over the phone instead of in person as they went to the hospital or navigated a police report. At WGEN, Shah and colleagues have adapted resources for students. Classroom programming has shifted to more easily accessed online modules at the Centre for Gender and Sexual Diversity, where Owusu-Akyeeah said a new queer history project has reached 20,000 young people.
The Chiefs of Ontario have organized a forum next month for First Nations families and survivors of Missing and Murdered Indigenous Women and Girls. Just as isolation has worsened gender-based violence, forging more and stronger connections is the key to address it.
"Connection is very important," Montour said. "We need each other."
Other events
The annual Men's Walk was also held on Monday. Male-identifying members of the community made four stops across campus, laying flowers at each stop to honour those affected by gender-based violence.