Connection. Empowerment. Community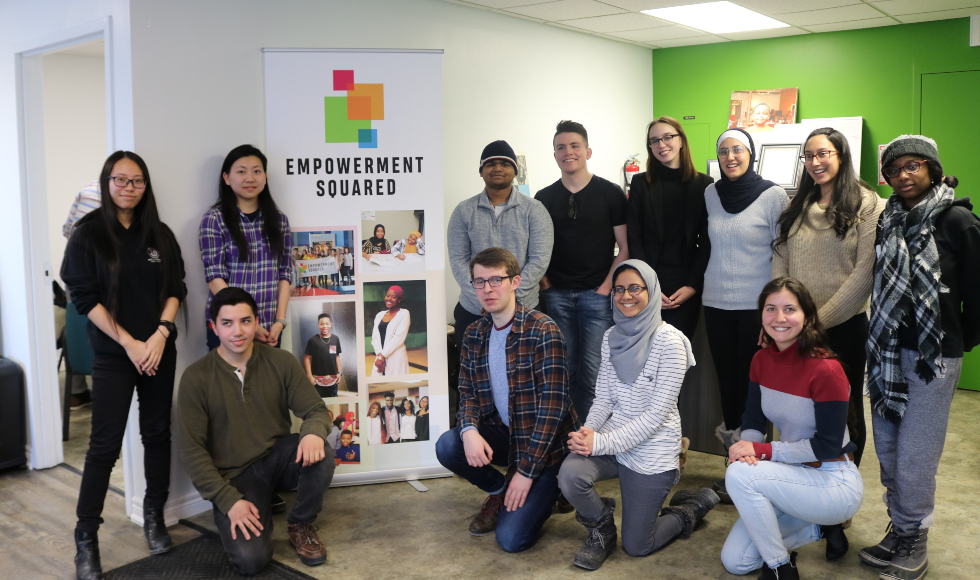 Empowerment Squared volunteers, pre-pandemic
---
The connections between McMaster and Empowerment Squared run deep. Very deep.
The community organization started life in 2007 as an MSU club founded by political science student Leo Johnson. Before coming to Hamilton, he had spent eight years in refugee camps after fleeing civil war in Liberia in 1998.
He began Empowerment Squared as a way to help marginalized children and youth, many of them newcomers to Canada, achieve success through mentorship, educational support, access to information about postsecondary education, and community activities like sports and recreation. And that's what it's continued to do for 13 years.
"Since we've started, we've supported more than 2,000 young people, helping them to meet their educational goals, whether that's attending college or university, or accessing the trades," says Joana Fejzaj, Empowerment Squared's manager of community development and partnerships, and a McMaster graduate from the School of Social Work.
'There's a big need in the community'
Now, because of the pandemic, the programming – academic mentoring, which supports students as they do homework, and a program to get kids moving at home – has now moved completely online. That's presented a particular challenge, says Fejzaj, since they've found that the homework club now needs two mentors per student to make sure everyone gets the support they need.
She's hoping folks will step up to meet that need.
Fejzaj is looking to the McMaster community to help a growing list of young people waiting to receive support. Right now, volunteers are most needed to help out with Empowerment Squared's Zoom-based academic mentoring, or their E-Movement exercise program.
"There's a really big need in our community right now," she says. "Young people are at home, they don't have access to their teachers in the same way that they did, and they don't have the resources available – so the services of Empowerment Squared have become more important than ever. We need more hands on deck."
Thirteen years of working together
The majority of Empowerment Squared's volunteers – called mentors – are Mac students. And because more than 20 MSU clubs have had volunteers working with Empowerment Squared over the years, an "umbrella" club, Empowerment Squared @ Mac, was formed this year to streamline volunteer opportunities and coordinate efforts.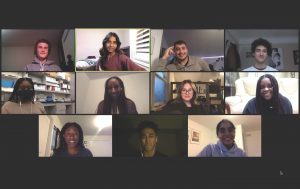 Archana Thurairajah, a fourth-year biology student, is Empowerment Squared @ Mac's new president. She says the students who volunteer enjoy seeing the tangible and immediate impact of their work.
"We're so proud of the progress that Empowerment Squared students can make with a little extra help and support," she says. "I love that we can help provide support for students who need it and may not be able to access it in other ways."
Empowerment Squared has also worked with McMaster's Office of Community Engagement (OCE) on a number of projects, from helping to secure a grant to cover the cost of volunteers' criminal background checks, to a research project exploring why the non-profit has such a high volunteer retention rate, to a campaign to increase their roster of volunteers.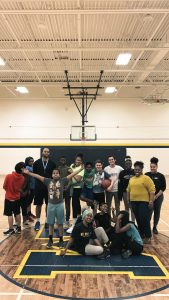 Celeste Licorish, the access program manager within the OCE, has office hours at Empowerment Squared, helping students interested in attending college or university navigate the processes to do that.
"There are real, meaningful outcomes, both for students with Empowerment Squared and McMaster students," says Sashaina Singh, is a community partnership developer with the OCE.
"For Empowerment Squared students, having a connection with a McMaster student is significant – representation matters and to feel supported and be able to see someone that looks like you in University opens the pathway to postsecondary as a real opportunity for you."
Now, making those connections are more important than ever, as demands for Empowerment Squared's services grow as pandemic restrictions continue.
And, of course, it's not just young people that benefit from working with E2. Thurairajah points out that McMaster students gain just as much from the experience.
"Not only are you a mentor and giving back to the community, but you have so many opportunities to be a leader with E2," she says. "You're doing something fulfilling, and you get to develop your own leadership skills."
To find out more about volunteering with Empowerment Squared, go to their website. For more information on partnerships with Empowerment Squared, contact Joana Fejzaj at joana.fejzaj@empowermentsquared.org.