Community partnership sees graduate students enhance K-12 classroom learning opportunities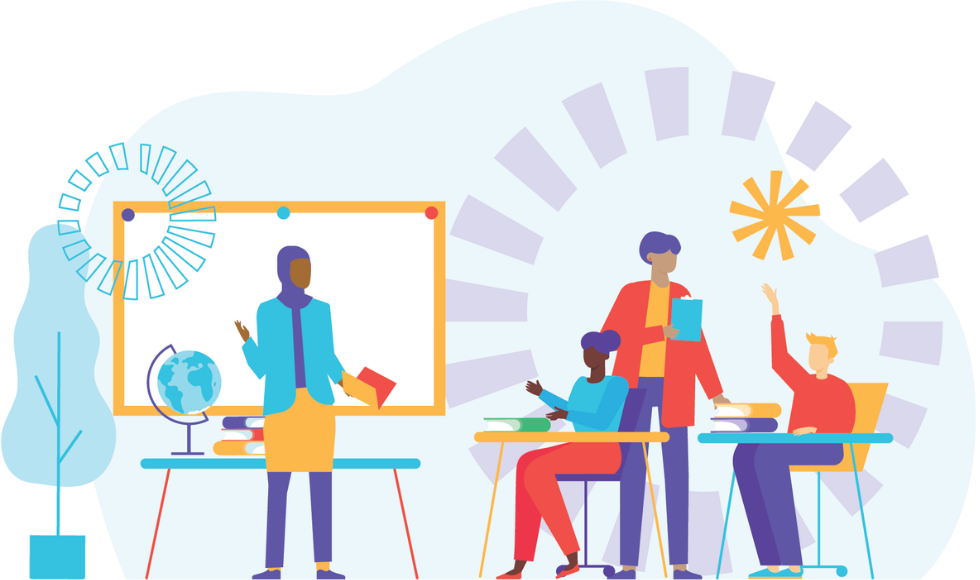 The/La Collaborative, a McMaster-based initiative, is expanding its program to connect graduate student subject experts with K-12 teachers who are conducting inquiry-based activities with their students.
---
When Mr. Miyagi agrees to teach Daniel LaRusso karate in the 1984 martial arts film The Karate Kid, Daniel doesn't expect to be painting Mr. Miyagi's house, sanding the wood floors and waxing his car.
Daniel gets angry. He wanted to learn karate. Why is he doing chores?
But when Mr. Miyagi suddenly attacks, Daniel instinctively uses the movements he's been using while doing the chores to defend himself.
"That's what humanities does – it teaches us foundational, transferable skills more or less clandestinely," says Sandra Lapointe, professor of philosophy at McMaster and director of The/La Collaborative, a McMaster-based initiative that provides opportunities for those in the humanities, social sciences and arts to contribute to innovation and social impact.
Now, The/La Collaborative is expanding its program to connect graduate student subject experts with K-12 teachers who are conducting inquiry-based activities with their students.
Their new graduate cohort will provide a unique opportunity for graduate students in the Faculties of Humanities and Social Sciences to amplify and add to the foundational skills they've developed as part of their education, including critical thinking, problem solving and communication.
"It's like opening office hours to the community," Lapointe says. "We're training graduate students around collaboration and consulting and asking them to apply what they learn in the context of a collaboration with a teacher and their classroom."
"This is a real need teachers have and which we scholars can help meet."
The community partnerships increase teachers' capacity around inquiry methods and offers an enhanced learning experience to K-12 students, as well as an experiential opportunity for graduate students to showcase their discipline and knowledge.
K-12 students get to engage with a subject matter experts and receive support for class projects, while the graduate students build transferable skills like strategic leadership and mentorship.
Articulating foundational skills
Jessica Hider, training and research coordinator at The/La Collaborative Inquiry, is a graduate student in the Department of Anthropology at McMaster studying ancient DNA. She first got involved with The/La Collaborative through one of their ongoing initiatives, the Canadian Forum on Social Innovation, which brings together non-profit organizations, researchers and community leaders to discuss Canada's social innovation ecosystem.
She points out that the Graduate Cohort program will also support students in developing skills literacy – recognizing and articulating the skills they already have.
"In our lab group, after graduation most students go on to do more coding and lab work, but students in Social Sciences and Humanities also have other skills, like creativity and cultural competency," says Hider. "We're so immersed in our research that we don't always know how to articulate the other skills we're getting."
The/La Collaborative works with stakeholders like the Canadian Association of Graduate Studies, SSHRC and Mitacs to develop the training that graduate students will receive. Their projects are funded by the Social Sciences and Humanities Research Centre (SSHRC) and the Future Skills Centre. 
Get involved
The/La Collaborative is currently recruiting social sciences, humanities, and arts (SSHA) graduate students to join its 2023-2024 Graduate Cohort.
Potential participants can register for an upcoming information session, offered both virtually and in-person, and apply by October 18, 2023.
Questions about the program? Reach out to Jessica Hider at info@yourcollaborative.org.