Coming to campus? Don't forget to bring your own water bottle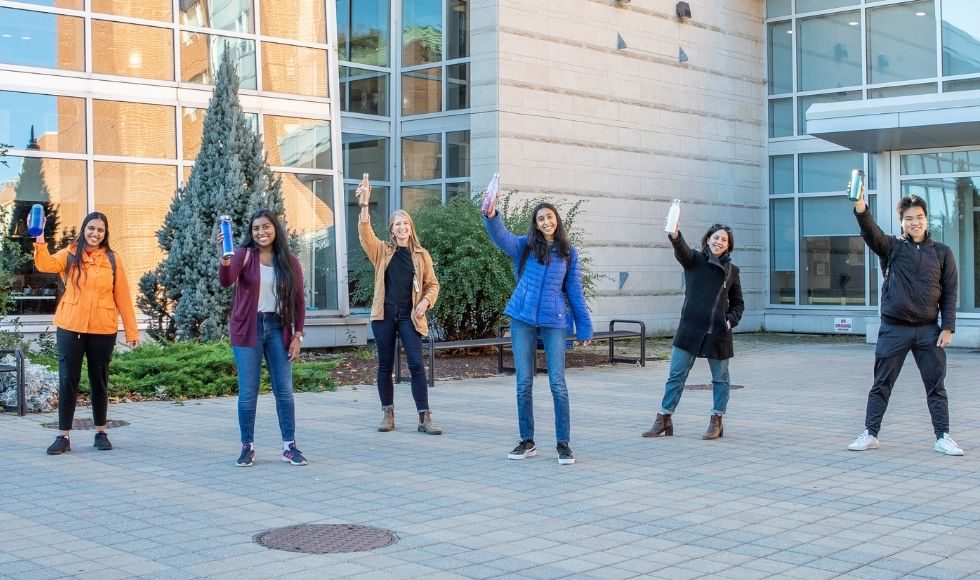 Sustain 3S03 undergraduate students with their Community Project Champions Monica Palkowski, living learning coordinator, Housing & Conference Services and Liana Bontempo, wellness and sustainability manager, Hospitality Services. From left to right: Guneet Mahal, Raagavi Ramenthiran, Monica Palkowski, Neha Dhanvanthry, Liana Bontempo and Gallant Shang
---
A working group of students, faculty and staff have banded together to reduce single-use plastic water bottles by encouraging the McMaster community to use the water bottle filling stations located throughout campus.
The group developed a university-wide campaign, Bring Your Own Bottle, that includes a web page to explain the benefits of water bottle refilling. This summer, the campaign will expand with new signage and a digital map of all the 200-plus water refilling locations across campus and in residence. Before students arrive at their residence in the fall, the committee will inform them about the wide-spread availability of free, filtered water on campus.
"We know that a bottle of water can cost around $3 and that less than nine per cent of single-use plastic is properly recycled. We also know that our campus has easy access to fresh water. The message encourages students, faculty and staff to do the right thing for their wallets, the environment and their health," says Adrianna Diab, undergraduate student researcher.
"This project satisfies my passion for sustainability, interest in collaborating with diverse stakeholders, and my iSci independent research project."
This summer, Diab will take on a new role as the working group's student staff member. The position was made possible through McMaster Okanagan Special Project Funding, which aims to support projects that advance health and well-being at McMaster.
The working group is combining research and action. A 2019 survey of residence students found that 80 per cent of respondents regularly purchased bottled water. Comments suggest that students would refill if they had greater access to filtered water. In response, Facility Services installed filtered water faucets in several residence building kitchens. After installation, a follow-up survey found that only 30 per cent of residence student respondents were regularly purchasing single-use water bottles, but students were still asking for greater access. The working group's communications efforts will be measured in future surveys.
"As a signatory of the Okanagan Charter, McMaster is committed to embedding health into all aspects of campus culture, across the administration, operations and academic mandates. We know human health is interconnected with the health of the planet," says Dr. Paul O'Byrne, dean and vice-president of the Faculty of Health Sciences and the chair of the McMaster Okanagan Committee, which hosts the new web page and the working group.
"With complex problems involving behaviour change, like encouraging water bottle refilling, it helps to collaborate across disciplines and to see solutions from multiple perspectives."
Water bottle refilling efforts on campus are not new, with the first batch of refilling stations installed in 2009. The working group will continue its efforts into the fall and beyond, using data as a guide and benchmark. Success will be based on the actions of everyone on campus, and our collective actions add up.
Shelir Ebrahimi, a McMaster researcher and chemical engineer who has studied the long life of micro-plastics, is on the working group.
"Plastic bottles never die," says Ebrahimi. "Buying water in a plastic bottle has a cost, and not just to the individuals, but to the health of our ecosystems. Plastics in landfills, lakes, water and wastewater treatment processes contribute to environmental issues from different perspectives.
At McMaster, we want to be a part of the solution. I encourage everyone to grab a reusable bottle and get involved."
The Bring Your Own Bottle campaign aligns with McMaster's first-ever Sustainability Strategy theme of promoting reuse and with the United Nations Sustainable Development Goals (UN SDG) related to health (3), water (6) and responsible consumption (12).