College-university partnership creates diploma-to-degree program for Indigenous Studies students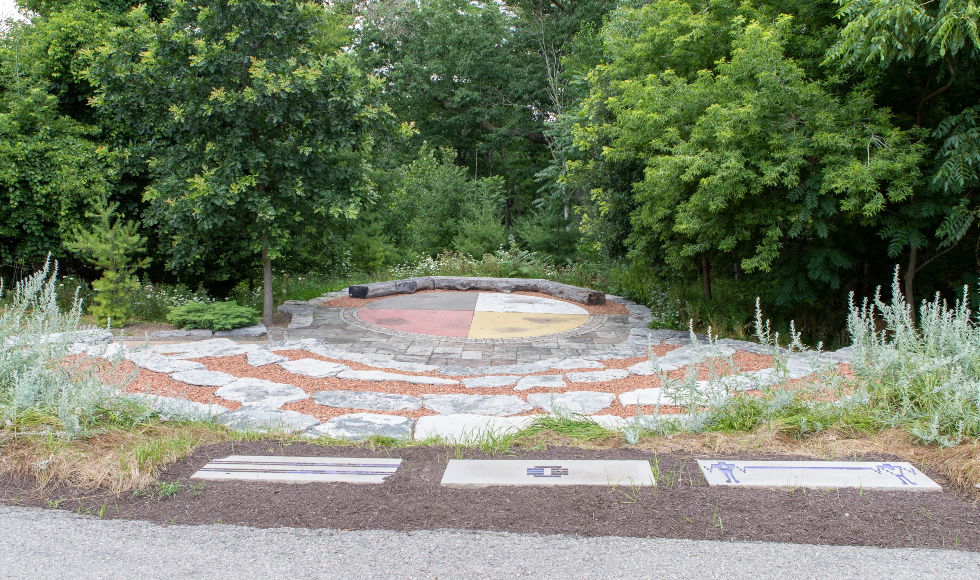 McMaster's Indigenous Teaching Circle
---
College students taking Indigenous studies courses now have a chance to turn their two-year diploma into a four-year degree with the launch of a new partnership between McMaster and three other Ontario postsecondary institutions.
McMaster has partnered with Mohawk College, Lambton College and Wilfrid Laurier University to launch a program that enables students at Mohawk and Lambton who take two years of Indigenous-focused college courses to continue their studies at Wilfrid Laurier or McMaster for an additional two years to complete an honours university degree.
Students in the program who come to McMaster will graduate with an Honours BA in Indigenous Studies, as well as a college diploma.
"This is an exciting collaboration for the Indigenous Studies Program at McMaster alongside our partner institutions," says Vanessa Watts, the Paul R. MacPherson Chair in Indigenous Studies, who was closely involved in the development of the agreement. "This initiative provides an accessible pathway for students to learn in multiple environments and focus their studies on diverse ways of knowing."
McMaster has an existing pathway program with Six Nations Polytechnic, which allows students to complete the first year of a general BA within the Six Nations community, then transfer to one of six universities in the province for their remaining three years. This summer, McMaster renewed the agreement for a further five years. The program is intended to improve education completion and employment opportunities, and support community control of post-secondary education, for the Six Nations community. Since its inception, more than 250 students have successfully completed their undergraduate degrees through the program.
The new "2 by 2" college/university program expands access to postsecondary education even further, explains Shylo Elmayan, McMaster's director of Indigenous student services.
"This program will really make a difference in encouraging learners who are pursuing Indigenous studies to expand their postsecondary education," she says. "Our population of learners is diverse – people are different ages, with different family responsibilities and work obligations. The flexibility to complete a college program in two years, potentially work or take a break, then come back to do an additional two years at a university is a structure that could open doors for them."
While the program is open to students from any background who are pursuing Indigenous studies, it is particularly significant for Indigenous students, who continue to be considerably under-represented at Canadian post-secondary institutions, especially universities.
"The more opportunities we can provide for Indigenous students to be successful at every level, the better," says Adrianne Xavier, the new acting director for McMaster's Indigenous Studies Program. "They deserve every tool we can give them."
The initiative has been partially funded by the Ontario Council on Articulation and Transfer.