Collaboration is key to face global challenges, Canadian and U.K. military medical reserves say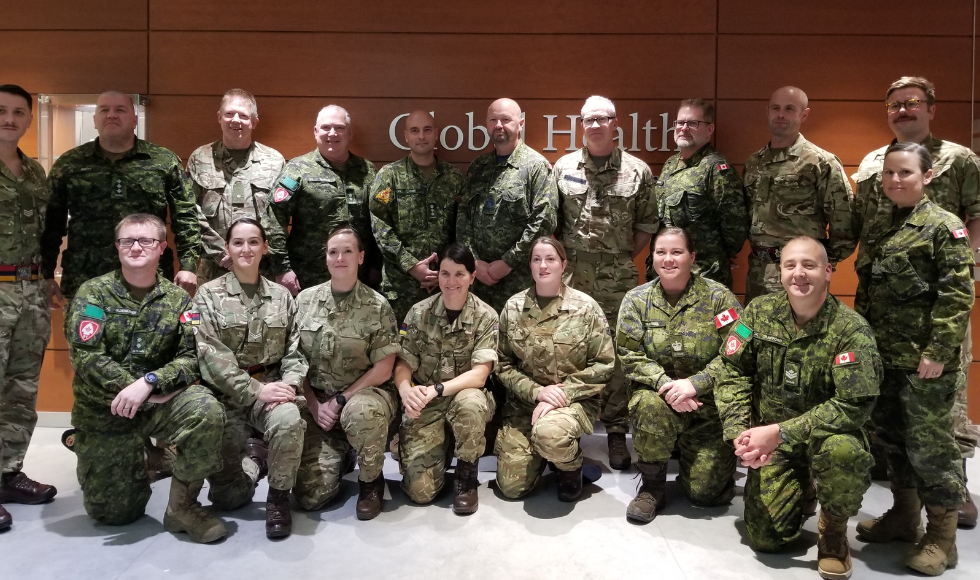 The Canada-U.K. Medical Reserve Exchange health forum explored pressing themes of health and health systems, including the long-term care crisis, disaster and rescue medicine, Arctic health and climate change.
---
McMaster's Global Health Office, in partnership with the Canadian Armed Forces Medical Reserve, held a health forum last week with members of the United Kingdom Medical Reserve to collaborate, share knowledge and explore expert perspectives on health and health systems.
The Healthcare in Challenging Times — Military & Civilian Provider Perspectives forum kicked off a week-long visit in which Canadian and U.K. military reserve personnel shared knowledge and training.
"As global engagement is a response to the complex ways in which globalization has changed the world in which we live, we see the many challenges of the contemporary and future world as requiring a form of global commitment for international security and health equity for all," Dean of Health Sciences Paul O'Byrne said in his welcoming address.
Global solidarity and collaboration was a recurring theme during the day's events: Canada, its allies and partners all face some of the most serious challenges in decades, and collaboration is key to resolving them, said Bryan May, parliamentary secretary from the office of the minister of National Defence.
Presentations throughout the day included expert perspectives on health and the health system, in different Canadian contexts and geographical landscapes.
Topics included the long-term care crisis, disaster and rescue medicine, Arctic health and climate change — some of the most pressing issues of our time.
"As the Covid-19 pandemic, war, and climate change have brought extraordinary changes to our daily lives, raising significant concerns across the world, implications are seen at the global, national, regional, and local levels — which has tested resilience at multiple levels," said Andrea Baumann, Vice-President of the Faculty of Health Sciences, Global Health.
Platforms to share knowledge such as this offer a transdisciplinary look at key global challenges and opportunities that highlight McMaster's commitment to international collaboration, shared knowledge exchange and the United Nations Sustainable Development Goals.