Clean Team, assemble!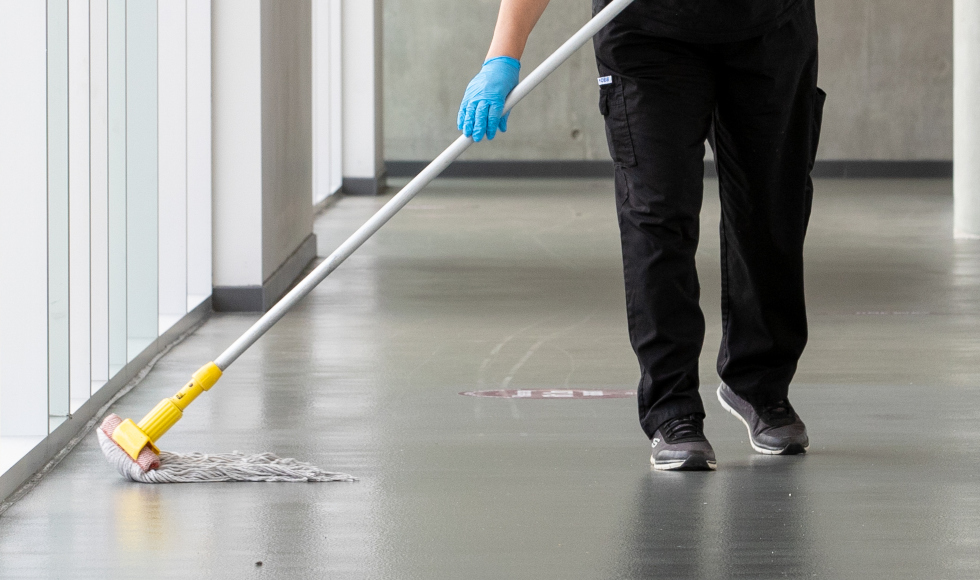 ---
McMaster's Rapid Response Clean Team plays a critical role on campus, ensuring a rigorous cleaning protocol is followed daily and any time there is a confirmed or probable COVID-19 case on campus.
While most staff, faculty and students are not currently on campus, this group of custodians manage the cleaning of in-use spaces at McMaster so they're safe for those who do need to be here.
This includes increased cleaning in high-traffic areas, daily cleaning of all in-use classrooms, labs and research areas, and making hand sanitizer available at all elevator lobbies.
The team of 13 custodians have volunteered to be on call evenings and weekends and are contacted immediately when the University is notified of a probable or confirmed case of COVID-19 on campus.
The team then assesses the areas of prolonged contact, determines potential access and travel routes, and facilitates a prompt, thorough clean in those areas. The affected space may also be temporarily closed until cleaning is completed and leadership is notified.
"From increasing cleaning frequencies to new sanitizing technologies like electrostatic disinfection sprays, our custodial staff are working diligently to keep campus safe and clean for those who need it," says Carlos Figueira, director of Custodial, Grounds, Logistics and Mail Services.
To date, there have been two  confirmed cases of COVID-19 on campus.
Anyone coming on to campus is required to wear a mask indoors, complete mandatory COVID-19 Awareness Training, and complete the pre-screening tool in the McMaster Safety App. These measures in addition to provincial restrictions will help to keep the McMaster community safe.
If you feel ill, please do not attend a McMaster facility and you are encouraged to seek medical advice. Any McMaster employee or student who tests positive for COVID-19 is asked to contact the university. The protocols for how students, faculty and staff should report any case of COVID-19 can be found here: