McMaster's partnership with CityLAB to continue as experiential learning hub made permanent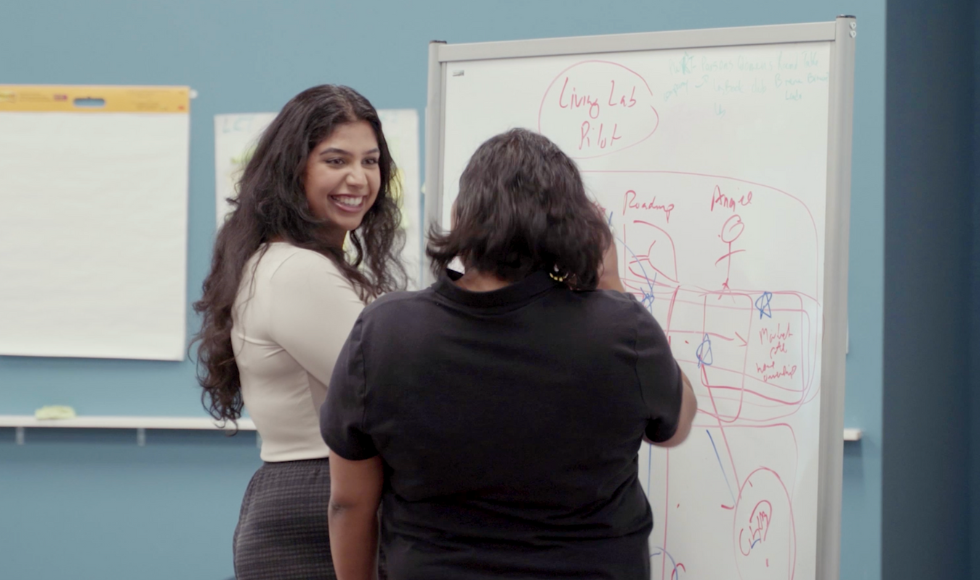 McMaster graduates Diya Jhuti (left) and Karthiga Thevaseelan both undertook community-based research projects during their time at CityLAB, a pilot project and experiential learning hub that has has been made permanent.
---
A rich and meaningful opportunity to have McMaster University students learn while effecting positive changes in the community has been made permanent as CityLAB Hamilton's funding will continue on an ongoing basis.
Launched as a pilot project in 2017 to provide a hub for collaboration and innovation, CityLAB brings together students and faculty from three post-secondary institutions, community stakeholders and City of Hamilton staff to consider solutions to challenges and opportunities faced locally. Over that time, more than 158 community partnerships have been formed.
"CityLAB has been an exciting and beneficial partnership for all of the collaborators, bringing us together through our shared community and our students," says Kim Dej, vice-provost, Teaching and Learning.
"Students appreciate the value of the lived and learned experience of others and bring their own perspectives from their academic programs as they take on this opportunity to turn their learning into impact now."
Nicole Harris, who graduated from McMaster's Integrated Business and Humanities program, collaborated with CityHousing Hamilton to research security measures for the social housing provider that go beyond policing.
"Working at CityLAB widened my perspective of what community safety is," Harris says. "I feel like I was able to do meaningful research at the undergraduate level involving staff at other municipalities and community groups."
Harris found that empathy and community support are important aspects when it comes to introducing security measures. She presented her findings at CityLAB's year-end showcase alongside other student researchers from McMaster, Redeemer University and Mohawk College.
CityLAB's central location in downtown Hamilton has facilitated integration with the surrounding community.
Diya Jhuti was introduced to CityLAB while working toward a Bachelor of Health Sciences with a minor in community engagement at McMaster.
"My time at CityLAB taught me first-hand what it takes to do community-based research," Jhuti says. "I was able to build on previous studies that show BIPOC entrepreneurs disproportionately face barriers when it comes to having access to funding and information. I hope that our recommendations will be a first step in helping BIPOC entrepreneurs thrive in Hamilton."
Jhuti credits learning about the histories of different peoples in Hamilton through formal community engagement training with helping prepare her to interview local BIPOC entrepreneurs. She used knowledge gained in the classroom to create an ethics package to guide her when building rapport and to answer questions directly to ensure research participants understood how their information would be used.
Karthiga Thevaseelan is an alumna of McMaster's Master of Engineering Design program. She now works as a highway designer for an engineering company. She says the experiences gained at CityLAB reinforced the human element of any design process.
"When you get out of the protective bubble of the classroom, you get to see how different people react to ideas," Thevaseelan says.
"We researched sustainable campus parking solutions which required interpreting and integrating different kinds of data and different opinions before we could suggest solutions, not only for what users need today, but also for what they will need in the future."
The dedication to CityLAB has been impressive. In all, 60,000 hours have been contributed by 2,531 students, in partnership with 88 City of Hamilton staff and 68 faculty members from McMaster, Mohawk College and Redeemer University.
"CityLAB speaks to the spirit of collaboration in Hamilton, providing students who are eager to make a difference in their communities with the opportunity to not only contribute, but also work with, local decision makers and municipal government, says Patrick Byrne, project manager at CityLAB. "It's great that we will continue working with McMaster and our partners across the city to make Hamilton a more vibrant, healthy and sustainable community."