CIHR ranks McMaster students top in the country for master's awards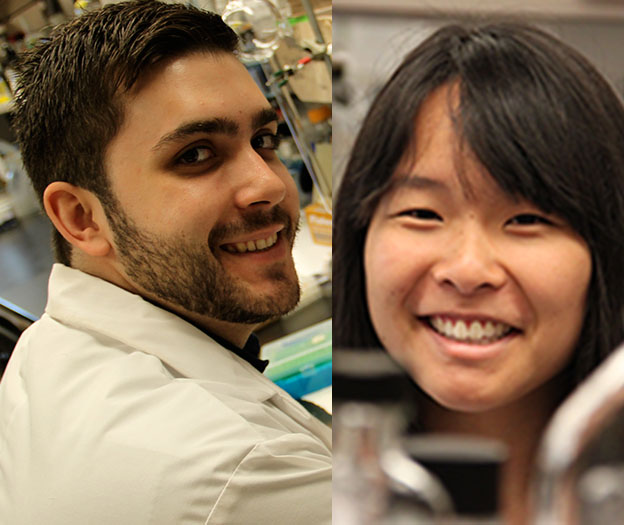 Jon Stokes, entry PhD student in Biochemistry, and Amanda Lee, first-year Master's student in Pathology and Molecular Medicine have received a Master's Award from the Canadian Institute for Health Research
---
Two McMaster students have been given a confidence boost in their research programs after receiving Master's Awards from the Canadian Institutes for Health Research.
Not only did Amanda Lee, a first-year Master's student in Pathology and Molecular Medicine, and Jon Stokes, a direct entry PhD student in Biochemistry, receive the awards that recognize students with an exceptionally high potential for future research achievement and productivity, they were ranked first and third, respectively, of 135 successful applicants across the country.
"This is an incredible achievement," says Lee's supervisor Ali Ashkar, member of the Michael G. DeGroote Institute for Infectious Disease Research and McMaster Immunology Research Centre and Associate Professor in the Department of Pathology and Molecular Medicine. "It demonstrates that we have exceptionally gifted students who have the ability to alter the future of science. What is so impressive is that Amanda was ranked first in her category and received a nearly perfect score from the reviewers, which is highly unheard of. She has a real gift for science and this award is a true testament to her talents."
Lee's project studies the antiviral mechanisms of natural killer cells – cells that are part of the innate immune system and the first responders to infection. "I look at how these cells are activated in response to viral infections, in particularly genital mucosa and HSV2 infection."
Lee's passion for virology and immunology sparked as an undergraduate in McMaster's Bachelor of Health Sciences (BHSc) program. "The BHS program has a lot of really interesting programs in immunology and virology and I took as many of these courses as I could. Our immune system is used in so many ways throughout the body, not just to fight infection but also it has a role in obesity and fighting cancer. It has so many applications and it is a fascinating field to be involved in."
This was the first external scholarship that Lee applied for. She said the results have inspired her and have given her confidence in what she studies. "It's nice to know that reviewers and external peers believe in the future of our work. I really was completely shocked that I had won because not a lot of people get this award and the ranking itself completely blew my mind."
Stokes, also a BHSc grad, adds that the CIHR award has given him confidence that there will be an investment in those making new discoveries in the future. "It will take decades for any of these discoveries to make their way into the clinic," he says, "and to know that the CIHR has the confidence to make such a long-term investment in this research project is extremely moving. It lets me know that people outside of my field care about what we do in the lab."
Stokes' research quest is to find new ways to kill bacteria, specifically to discover novel small molecules that inhibit a cellular process called ribosome biogenesis.  "Given that antibiotic-resistance has reached crisis proportions, this area of research is tremendously important as it has the potential to improve human health on a global scale," says Stokes, who works in the lab of Eric Brown, member of the IIDR and Professor and Chair of the Department of Biochemistry and Biomedical Sciences.
"The success of these awards truly demonstrates the exceptional talent of our students," says Brown. "They should feel confident that their research can make a difference and I encourage them to continue to work hard and follow their passion. I'm sure this is just the beginning of many great success stories in their future."
The CIHR Master's awards are worth $17,500 for one year of funding.