Changing the weather: Mac grad backs a new musical about Newfoundland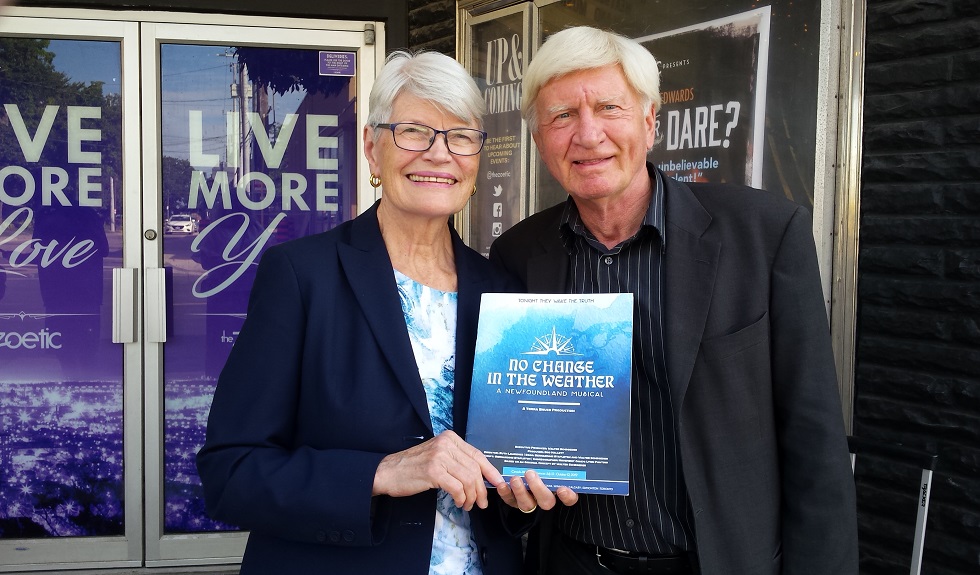 Maria and Walter Schroeder outside Hamilton's Zoetic Theatre, where "No Change in the Weather" was performed in late August. The show is now on a cross-Canada tour. (Photo by Allyson Rowley.)
---
Ask Walter Schroeder, MBA '69, how he feels about Newfoundland music and his answer is clear: "It's some of the most beautiful music in the world."
He's taken that passion and combined it with his business acumen to back an original musical production about Newfoundland, now touring across Canada.
"No Change in the Weather" presents the best of Newfoundland music with an impassioned lesson on the current state-of-affairs of Canada's 10th province. Not only that, the show offers a concrete solution for Newfoundland and Labrador's current economic woes.
"I'm interested in sticking up for the underdog," says Schroeder, who was inducted into the McMaster Alumni Gallery in 1989. As founder and president of Dominion Bond Rating Service (DBRS), Schroeder frequently travelled to Newfoundland and Labrador over the course of some 30 years working in the credit rating business.
"I was always impressed by the culture of Newfoundlanders and Labradorians," he writes in the show's program notes. He's equally impressed by their resilience in the face of constant adversity — not to mention their legendary generosity, charm, and sense of humour.
Fast forward to 2017 and Schroeder, now retired, had an idea. Why not take a bunch of Newfoundland songs and write a musical around them? Working with Bob Hallett (of "Great Big Sea" fame), Schroeder obtained the rights to about 40 songs and started sketching out a plot.
They ultimately chose 18 songs, many humorous, some heartbreaking, others romantic, and a few that celebrate the breathtaking beauty of The Rock. A production company was formed to create a professional touring production.
Playwright Bernadine Stapleton came on board to shape the script. (Schroeder describes her work as "magnificent.") The show takes place in God's Back Pocket, a fictional Newfoundland town. Family and friends gather on a foggy night for the wake of their beloved 96-year-old matriarch.
Through the course of their evening together, the characters "revisit their past, settle old scores, and try to find a way home again." Equally as important as their personal histories, though, is the story of the province's controversial entry into Confederation, the saga of Churchill Falls, and the misguided decisions and compromises of the past that affect Newfoundlanders and Labradorians to this day.
The show opened in July and August to sold-out houses in St. John's and Corner Brook, then moved to Kitchener and Hamilton, where it was performed at the Zoetic Theatre on Concession Street. The production is now touring to Ottawa, Winnipeg, Calgary, and Edmonton, before closing in Toronto from October 2 to 12 at the Jane Mallett Theatre in St. Lawrence Centre.
Schroeder's main stipulation for his backing was that everyone involved had to be from Newfoundland or Labrador. The show is directed by Ruth Lawrence, with musical direction by Paul Kinsman. The band includes renowned Newfoundland musician Kelly Russell on fiddle, bouzouki, and tin whistle. The production employs some 30 creative artists, performers, and technicians. Following in the musical footsteps of "Come from Away," the goal is to eventually get to Broadway.
Schroeder himself crafted the show's solution to Newfoundland and Labrador's current financial predicament. "It's a moral issue for Canada," says Schroeder. He notes the province helped keep the country together from 1967 to 1995. "Quebec nationalism was rampant during that time," says Schroeder, "and Lester Pearson [Canada's prime minister at the time] asked Newfoundland and Labrador to not exercise their right to demand a transmission corridor into Quebec for their Churchill Falls project." Pearson wanted to avoid fueling Quebec nationalist feelings. And as a result, Newfoundland and Labrador lost out on a multi-billion-dollar industry. Now, it's Canada's turn to help them, Schroeder says.
Read more about the story behind the story and Schroeder's proposed financial solution for Newfoundland and Labrador's debt crisis.
As he writes in the program notes, "… there is hope, there is a solution, a chance to rewrite history, and a chance to bring a change in the weather in last."
He has another reason for why he's involved: "I just like good music."
To learn more about the show, go to nochangeintheweather.com.