Champagne taste on a campus budget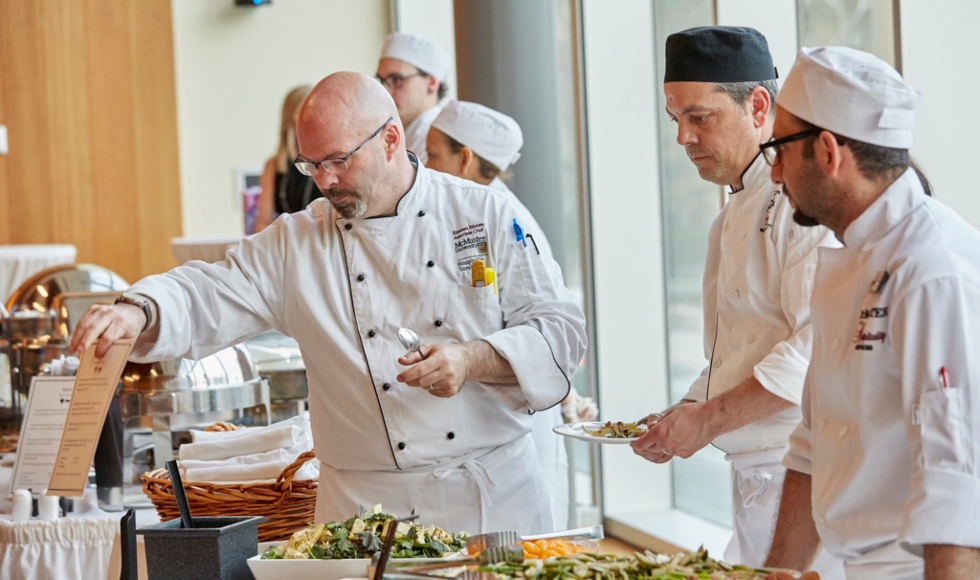 Associate Chef Steve Strom, Chef Manager David Fisher and Hospitality staff at the Department of Family Medicine's 50th anniversary. Paradise Catering is now McMaster Catering Services.
---
Betty Chung is a self-professed "foodie." So, when she coordinates 40 events and meetings on campus every year, her standards are sky-high. Her go-to partner for meals and meetings? McMaster's own Catering Services.
"They just take it up a notch," says Chung, Manager of Strategic Faculty Events and Engagement in the Faculty of Health Sciences. "That's important to me. I'm always looking for innovation. Food is a really important part of any event, whether we're working with donors, faculty or students. I wouldn't want to use anybody else."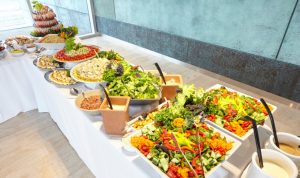 McMaster Catering Services, formerly Paradise Catering, served more than 5000 events last year, from intimate lunch meetings to galas with hundreds of guests.
This September, they're rolling out a new menu to go with the new name. It includes more vegetable-based dishes, in keeping with the department's emphasis on wellness and sustainability practices, such as pulled-carrot sliders, Sriracha Kung Pao Brussels sprouts and a plant-based lunch buffet. Meals also include increased vegan, halal and gluten-free options.
For receptions with alcohol, Lagershed beer has been added as one of the standard selections. Lagershed is a product from Dundas-based Shawn & Ed Brewing Co., owned and operated by McMaster alumni.
When clients select disposable items, they'll be supplied with compostable coffee cups, plates and cutlery instead of plastic. China service is available as well.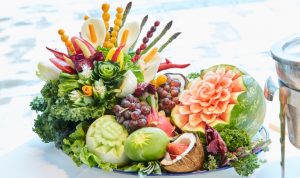 Also new this fall is online ordering for basic catering such as coffee service or lunch for 20 people.
"We're moving forward with new menu items and new services to go with our new name," says Chris Roberts, Director of Hospitality Services. "It's important for people to know we're an internal department, and as part of Hospitality Services, we contribute right back to the university operating budget. Being on campus also allows us to be more flexible in terms of menus and delivery times."
Alex Coldwell, executive assistant to the vice-president, administration, is another satisfied customer. She organizes meals which sometimes include guests from other universities, "and they're always wowed."
"I find the pricing really reasonable, especially compared to hotels or conference centres," she says. "And they take out all of the guesswork. I've been pleasantly surprised by how thoughtful the staff can be, even providing fresh flowers at events where I wouldn't have thought of that."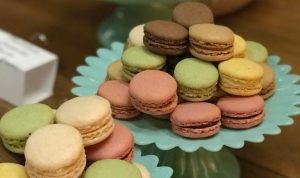 Chung and Coldwell both emphasize that the best way to work with Catering Services is to talk about the purpose and theme of the event, the budget for food and then let the chefs work their magic.
"People don't know what they're capable of," says Chung. "Once I found out that a donor's favourite dessert is gelato. Chef Paul and his team actually made gelato right at the event. It was awesome. Another time, I requested a version of poutine bites I had seen at an off-campus event I attended, and they worked with me until it was right. We've had an indoor picnic, a cocktail event with lamb chop lollipops and my new favourite set-up for large events is pairing food and beverage stations. Give them the info they need and then trust them."
Updated menus and services are available on the new Catering Services website. To customize catering at your next event, contact manager Larry Marsh.