Celebrating the wonder of science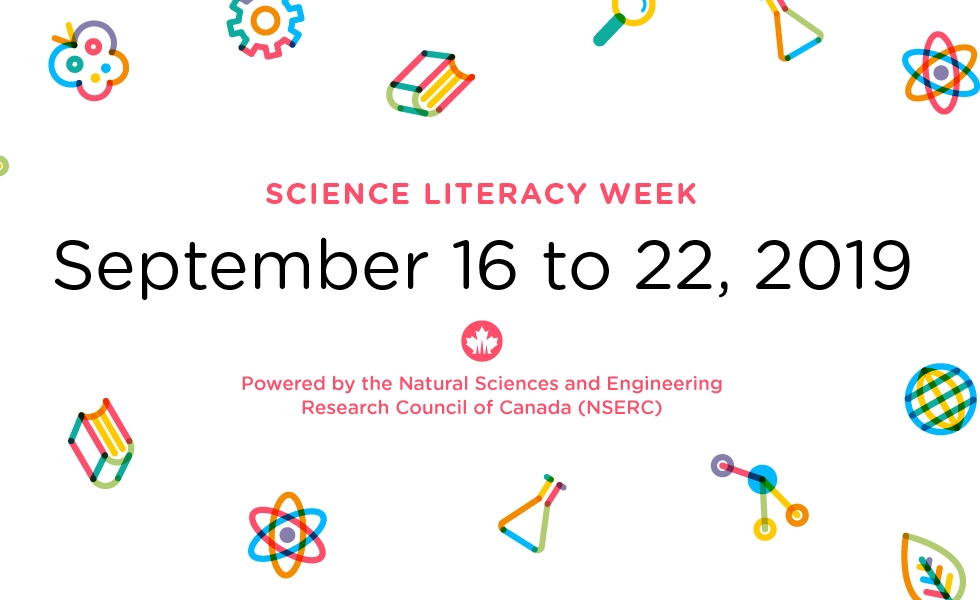 ---
Science Literacy Week is an opportunity to celebrate the science that is happening all around us on campus and across Canada.
Join McMaster University Library and our partners throughout the week of September 16 – 22, 2019 for a great lineup of events and activities.
This year's McMaster Science Literacy Week events are presented as part of a special year of programming, hosted in partnership with the Health Sciences Library and the Faculties of Science and Engineering, aimed at celebrating the ways in which the Library supports research, teaching and learning related to Science, Technology, Engineering and Math (STEM). 
Science Literacy Week events include:
STARGATE: TALK AND FILM SCREENING WITH SARAH SYMONS 
Mon. Sept. 16th | 7:30–10pm | The Westdale Theatre 1014 King St W, Hamilton, ON L8S 1L4  | Presented by: Sarah Symons
Join us for a screening of Stargate, with an introductory talk by Archaeoastronomer Sarah Symons, Associate Professor in the School of Interdisciplinary Science.
Dr. Symons will introduce this classic sci-fi adventure with a brief discussion of some of the things we know (and some questions that we still have) about the ancient Egyptian culture's relationship with space, time, and the stars.
FREE, OPEN TO THE PUBLIC. REGISTER NOW
---
ELM PROGRAMMING WORKSHOP
Wed. Sept. 18th (11:30am-12:30pm and  from 5:30pm – 6:30pm) | Fri. Sept. 20th (12:30-1:30pm) | Thode ThInK Space | Presented by: Outreach Computing & Software
These hour-long workshops will provide a basic explanation of the Elm programming language. They will focus on programming and math principles. Participants will get to experience how basic math and arithmetic principles are integral in the programming world, and get a more hands-on approach of understanding programming.
There will also be a small tutorial on how to program your own presentation slides which is beneficial for the whole student community.
We require attendees to bring their laptops, no specific software is required.
This event is free and open to the public.
---
3D PRINTING WORKSHOP – WOMEN IN ENGINEERING
Mon. Sept. 16th | 5-7pm | Thode Makerspace | Presented by: Women in Engineering
The McMaster Women in Engineering Society is hosting a free 3D printing printing workshop with Thode Library to celebrate Science Literacy Week! In this drop-in workshop, first year students will have the opportunity to learn the basics of CAD and 3D modelling using Autodesk Inventor software. Students are encouraged to bring their own laptops to follow along with the workshop. Participants will be making keychains using the 3D printers, which they will be able to take home at the end of the workshop!
Students can sign up via this Google Form | Walk-ins are welcome as well!
---
ASTRONOMY FOR MUGGLES AT THE W.J. MCCALLION PLANETARIUM
Wed. Sept. 18th | 7–8pm & 8:15–9:15pm |  W.J. McCallion Planetarium, Burke Science Building B149
In this show we explore how the night sky influenced the names of characters from J.K. Rowling's Harry Potter universe, and we look at some of the astronomical objects Harry and his friends focused on in their years at Hogwarts School of Witchcraft and Wizardry. Brace yourself for a magical night under the dome at the planetarium!
Reserve your seat in advance, tickets $7.
---
HUMAN LIBRARY – WATER EXPERTS
Wed. Sept. 18th | 7:00 pm | Thode ThInK Space | Presented by: Pascale Bider
The event is a Human Library, which brings together experts from various fields to participate as 'books' and encourages 'readers' to engage in dialogue on the topics that the library's 'books' are experts in. This event will be centered around the topic of how science is used to inform action (political or community-driven) in the context of Great Lakes water quality, we will be looking to bring in some speakers who have expertise in these areas to act as informal resources for students to engage with. We hope to spark dialogue and discussion about local water issues, and inspire students to get involved in conservation efforts in their community.
This event is free and open to the public.
---
SIDEWALK ASTRONOMY
Wed. Sept. 18th | 7:30pm | Mary Keyes Residence near the turning circle | (Rain date: Sat. Sept. 21st)
Join the Sidewalk Astronomy team on their two telescopes (10″ and 12″ in diameter) to view Venus, Mars, Jupiter, Saturn, star clusters, and nebulae. Our astronomy is weather permitting, so please check the Sidewalk Astronomy website to confirm if skies are going to be clear!
This event is free and open to the public.