Celebrating Indigenous Nurses Day with Six Nations Polytechnic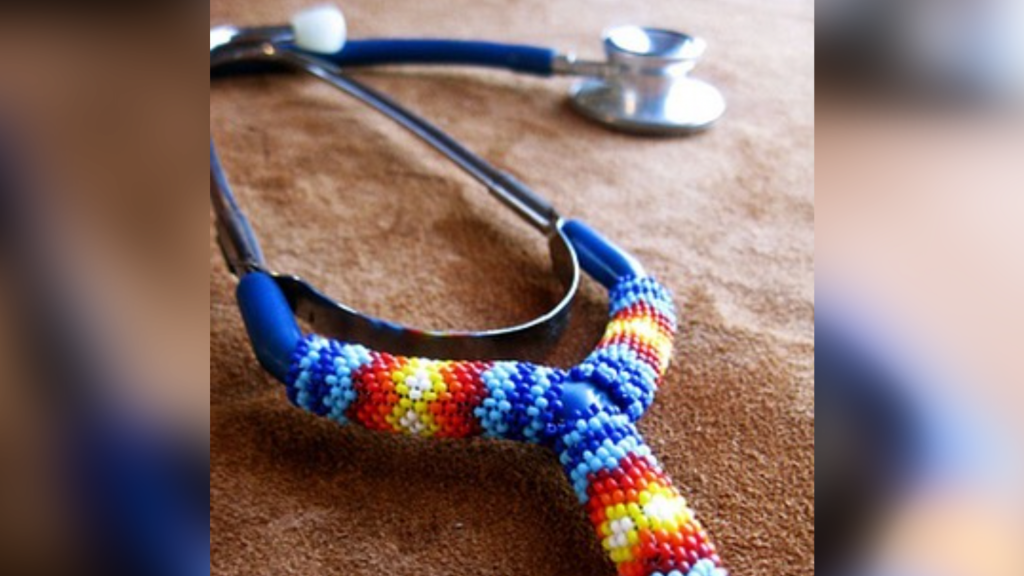 Indigenous nurses, nurses who support Indigenous communities and Indigenous nursing students serve as front-line advocates for Indigenous patients and help bridge traditional healing practices and Western medicine.
---
For Marshall Patterson, celebrating Indigenous nurses is not only important, it's intensely personal.
"All the matriarchs in my family were nurses and caregivers, so I'm proud of that," says the McMaster School of Nursing master's student. "I want to help to carry that torch and being Indigenous is part of that."
Marshall was among a group of Indigenous nurses, nurses who support Indigenous communities and Indigenous nursing students at an event intended to honour and celebrate Indigenous Nurses Day.
The event, co-hosted by the Indigenous Health Learning Lodge (IHLL) and Six Nations Polytechnic (SNP) on May 9th, took place at the SNP Ohsweken Campus.
It began with a closed talking circle for Indigenous nursing students and Indigenous nurses. It then opened up to all in the community for a provided lunch and to hear from guest speaker, Lacey VanEvery.
VanEvery is a McMaster School of Nursing graduate of the Registered Practical Nurse (RPN) to Bachelor of Science in Nursing (BScN) collaborative program, and graduated with her Master's of Public Health. She is currently working for Indigenous Services Canada as the acting nurse manager for Southern Ontario and Thunder Bay South Zone.
The two co-hosting groups saw this as an opportunity to celebrate the tremendous work that all Indigenous nurses do.
"We are going to give people the opportunity to discuss what we went through and take a healing approach […] We're looking to gather support in the form of a talking circle," says Amber Skye, the unit manager for health services at SNP and one of the organizers of the event.
Skye notes that due to the pandemic, SNP and the Indigenous health community have not had the opportunity to host an event like this in a while. Like many other health care professionals, Indigenous nurses found themselves fulfilling many roles within their communities during the pandemic. They wanted to take this opportunity to reflect on and acknowledge the many challenges they have overcome.
When asked why it's important to continue to recognize and support Indigenous nurses, Skye says it's because of the unique role they play every day and the impact they have on their patients. Even while working within a very Westernized health care system, Indigenous nurses continue to meet and balance the needs of Indigenous health and traditional healing practices.
"They bridge a lot of gaps and do a lot of important work in our communities, and it can often go undiscussed," says Skye.
Sarah Thorne, a learner services coordinator at the IHLL helped Skye organize the event. Thorne agrees with Skye that Indigenous nurses are expected to be something for everyone, and that one of the biggest challenges is having to advocate for their patients within the health care system.
"It's really challenging to have to navigate these challenges, while still caring for your patients. Advocating, while doing all these other roles can be very taxing," says Thorne.
The McMaster School of Nursing has been working towards building a curriculum that will teach its students more about Indigenous health.
Improvements have been made in the past couple years, such as a mandatory introduction to Indigenous health policy and practice course being implemented for the BScN learners. Thorne mentions that there's interest coming from students for even more curriculum based on traditional Indigenous healing practices.
Patterson, who is currently working in a placement at the IHLL, helps facilitate talking circles for Indigenous students at McMaster to better understand what the student experience is on campus. During one of their recent talking circles, students were asked how the current curriculum supports their identities.
With the support and insights from the IHLL, the School of Nursing will continue to expand the curriculum to offer more learning around Indigenous health practices. There is an aspiration to support Indigenous nursing students enrolled at the School of Nursing, but also to bridge this support to those students at SNP and Mohawk College that are in the BScN program as well.
Patterson says he has seen a positive change since he completed his undergrad at the School of Nursing.
"There's a significant increase in the amount of curriculum that specifically teaches students about Indigenous cultures, and presumably for nurses they're focusing on the health care perspective," says Patterson. "I believe they're mostly trying to teach about the history and make people aware of Indigenous peoples."