Celebrating in song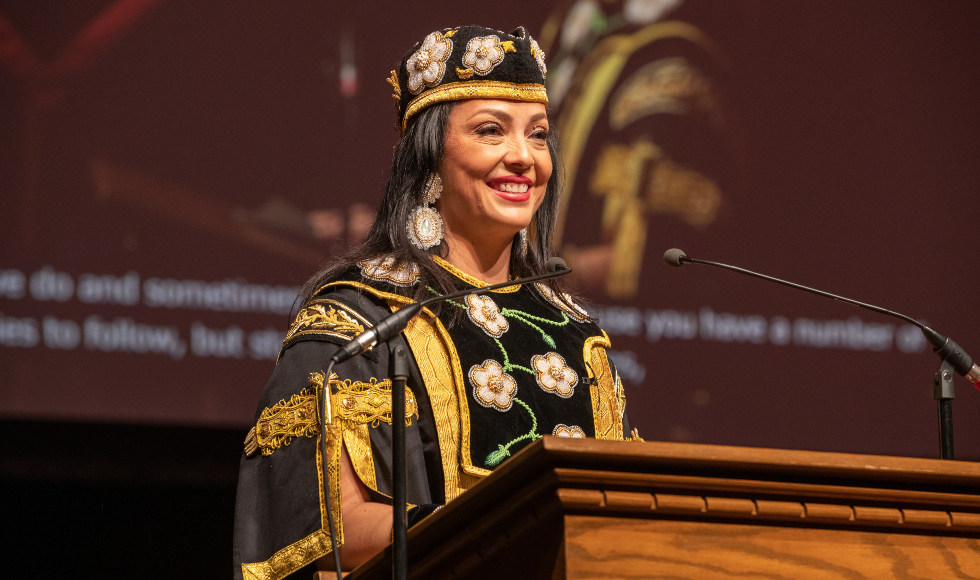 Chancellor Santee Smith at the Fall 2019 convocation.
---
Fall 2020 convocation celebrates both the accomplishments of McMaster's graduates and the installation of David Farrar as president and vice-chancellor. To mark the occasion, Chancellor Santee Smith offered an original song, which she wrote with her daughter, Semiah Kaha:wi Smith.
"We wrote the song during our travels in Aotearoa/New Zealand, after being inspired by the Maori singing culture and how closely it is linked to Kahnyen'kehàka song and dance," explains Smith.
"It has a celebratory energy and is our expression of gratefulness to the natural world. The lyrics are vocables, not language, and falls in line with the traditions of Kahnyen'kehàka songs being tones and cadences within the language. Song is a way to connect energetically and vibrationally to each other and to community."