Celebrating 90 years of community impact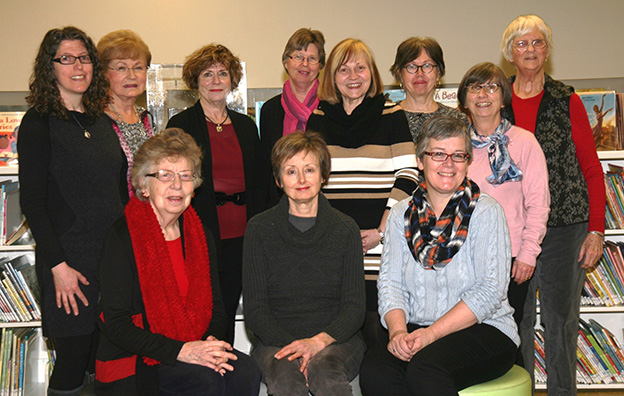 Members of the Hamilton branch of the Canadian Federation of University Women gathered at the Hamilton Public Library on Tuesday, February 10 to commemorate the club's founding exactly 90 years earlier.This Monday, they're hosting their annual author's night to raise more funds for scholarships.
---
Hamilton, 1925: With a population of almost 18,000, the city was growing by leaps and bounds. Skirts were shorter, hair was bobbed, and it was close to seven years since Canadian women had won the right to vote. There was even a female druggist in town.
On Tuesday, February 10, 1925, a group of women gathered in the Hamilton Public Library to form the University Women's Club. Their goal? "The advancement of education, art, science, literature and social reform."
Now celebrating its 90th anniversary, the club (since named the Canadian Federation of University Women—Hamilton) is still going strong with lectures, events, interest groups and political advocacy.
It has also continued its long-standing tradition, established in 1937, of raising funds for scholarships. The CFUW-Hamilton now supports four scholarships at McMaster University. To date, at least 130 students have benefited. The club also funds a scholarship in Brock University's Faculty of Education and another at Mohawk College. A portion of annual membership fees goes toward another scholarship program, managed by the national office, for women pursuing postgraduate studies.
The International Federation of University Women was founded in 1919 with branches in the U.K., the U.S. and Canada, says Trudi Down, a McMaster alumna and long-time member of CFUW-Hamilton.
Following the atrocities of World War I, the federation was formed to "talk about peace and international cooperation," she says.
Another important goal of the IFUW: promoting lifelong education for women and girls. Over the years, CFUW-Hamilton's scholarship fund has been replenished through book sales, individual donations and bequests.
For the past 12 years, the CFUW-Hamilton has raised money for scholarships through an annual author's night. This year, they welcome author Helen Humphreys on Monday, March 16 at 7:30 p.m. in the Wentworth Room of the Hamilton Central Public Library at 55 York Blvd. Tickets are $10 and are available at the door.
Down notes that CFUW membership is open to all women who support the organization's goals, and a student rate is available.
"It's a great organization. We're a club of like-minded people with a common background," she says.
And in honour of CFUW-Hamilton's 90th anniversary, an exhibit of archival materials will be on display at the Hamilton Public Library in May.
For more information, go to http://www.cfuw-hamilton.com/