Carmela Vespi honoured with Lifetime Achievement Award for outstanding service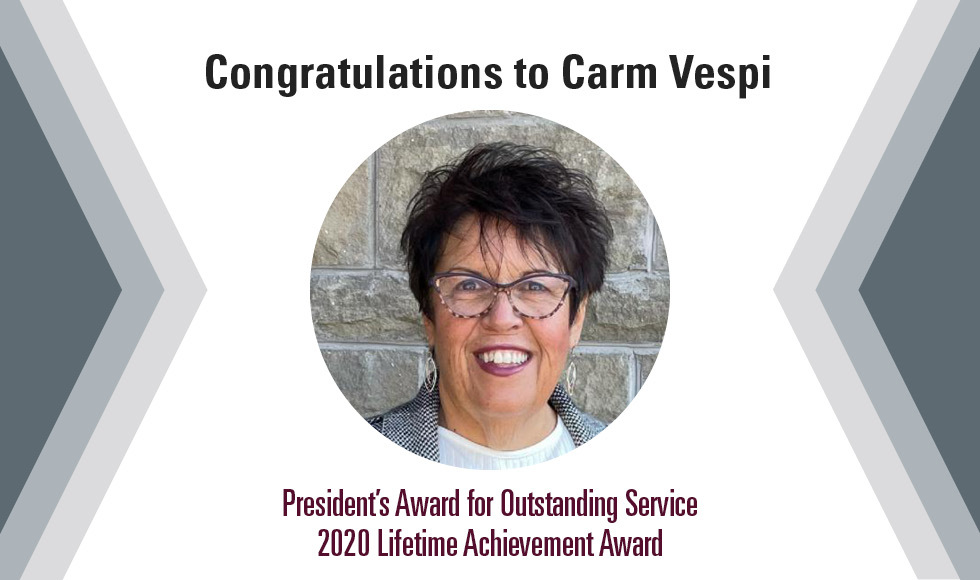 Carm Vespi, manager of alumni relations and youth programs, Faculty of Engineering is being recognized for her 45-year career connecting students, alumni and youth.
---
The 2020 President's Awards for Outstanding Service recognize 167 nominees and recipients that have surpassed expectations, delivered exceptional service and made an outstanding contribution to the mission of McMaster University.
This year's President's Awards also honour Carmela Vespi with a Lifetime Achievement Award.
The Lifetime Achievement Award is granted to an individual employee, with a minimum of 15 years' service, who demonstrates extraordinary performance, accomplishment, and leadership responsibilities in their day-to-day operations.  This recipient must contribute superlative and collaborative proficiency through their commitment that impact McMaster's reputation and the broader community.  It's a prestigious and significant accomplishment that has only been designated to three recipients since 2015.
Vespi, manager, alumni relations and youth outreach, has more than 45 years of experience in the portfolio of student engagement and outreach programs for the Faculty of Engineering. Through her continued dedication and passion, she has fostered a supportive McMaster community for current students, alumni and youth in Science, Technology, Engineering and Mathematics (STEM) programming.  Vespi is an exemplary leader who has devoted her time to encouraging innovation from those around her and exhibited a commitment to diversity, equity and inclusion through her outreach initiatives.
Her nomination highlights various accomplishments, including the launch of MacEngineer magazine in 1985, the establishment of Venture Academy STEM summer camps in 1991 and expansion of camp programs with more than 23,000 workshops hosted in 2019. She has built strong relationships with Actua, the Ontario Network of Women in Engineering (ONWiE), the YWCA's Beyond the Bell program and Girl Guides Canada. Vespi is a proud advocate for Go ENG Girl, Go CODE Girl and Pathfinders Badge Day programming at McMaster. She is also an active member of the Bay Area Science and Engineering Fair Planning Committee and has earned three Actua awards.
"I was fresh out of high school when I started my career at the Faculty of Engineering. I have been privileged to watch the faculty evolve over the years. But the one thing that has never changed is my Fireball Family. Our strong community of staff, faculty, students, and alumni have helped me become the person I am today and I'm so grateful for that. It is an absolute honour to receive this award and to be nominated by my McMaster Engineering colleagues. Cheers to the Fireball Family!" says Vespi.
A virtual celebration will be held on June 11 at 10 a.m. to recognize the achievements of the 2020 award recipients; a link to access the video festivities will be made available prior to the event on the President's Awards website.
Check out the full list of nominees and recipients or share a note of congratulations for any of the award recipients via the President's Awards for Outstanding Service web page.