Caring and Sharing: Remembering Margaret Juravinski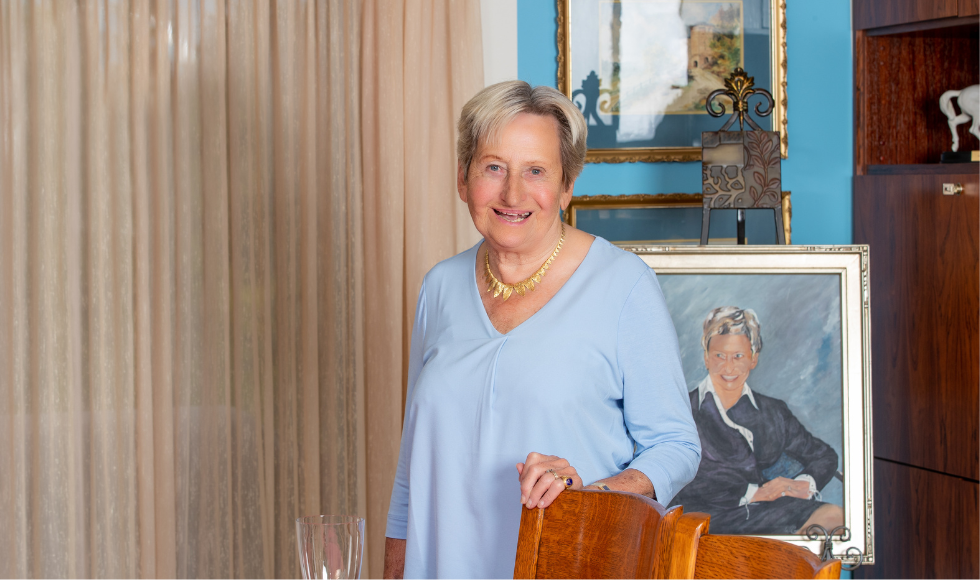 A proud lifelong Hamiltonian and well-known philanthropist, Margaret Juravinski was beloved by the Hamilton community.
---
A proud lifelong Hamiltonian and well-known philanthropist, Margaret Juravinski was beloved by the Hamilton community.
Her care and concern for the people of the city manifested itself in her and her husband's remarkable generosity over more than 20 years, creating a transformational philanthropic legacy in Hamilton.
For Margaret, 'sharing is caring' was a mantra she invoked each and every day. It didn't matter the amount or where the gift was directed, it was the act of giving and the impact it would make that was paramount.
"It's what we want to do for the community because we care for this community … caring and sharing is the general idea we hope other people would pick up on," she said in a 2019 interview.
The 91-year-old died May 9 in Hamilton. Charles, her husband of more than 65 years, died Feb. 16, 2022 at the age of 92.
Margaret grew up during the Great Depression in east Hamilton. After the war, she met Charles Juravinski while working at the Woolworth's counter making sandwiches.
Across all aspects of her life, Margaret was known for her dedication, energy and wisdom. She worked alongside her husband, helping manage Flamboro Downs for 30 years until it was sold in 2003.
Throughout all their various business and philanthropic endeavours, Margaret was Charles' top advisor and partner. While Charles may have been the more vocal of the pair, both he and Margaret made it clear time and time again that the success of their 65-year plus marriage relied heavily on the fact that they were partners: in business, in marriage and in life.
Margaret and Charles spent more than two decades making gifts to several Hamilton organizations, including giving more than $68.8 million to Hamilton Health Sciences, McMaster University and St. Joseph's Healthcare Hamilton.
Their generosity is recognized in part with the naming of the Juravinski Hospital and Cancer Centre at Hamilton Health Sciences; the Juravinski Innovation Tower at St. Joseph's Healthcare Hamilton's Charlton Campus; the Margaret & Charles Juravinski Centre for Integrated Healthcare at St. Joseph's West 5th Campus; and Margaret's Place Hospice at St. Joseph's Villa.
Over the last four years, Charles and Margaret continued to make new gifts totalling $16.5 million through their namesake foundation to support research on child and youth health, integrated care, burn research, macular degeneration, health system transformation, COVID-19 and brain health.
Today, the Juravinski name is synonymous with world-class, personalized health care and health research in Hamilton through the Juravinski Research Institute.
---
Leaders at Hamilton Health Sciences, McMaster University and St. Joseph's Healthcare Hamilton reflect on the legacy of Margaret Juravinski
Dr. Julian Dobranowski, Chair, Juravinski Research Institute Steering & Scientific Committees
"Today, we mourn the loss of a true champion for the health and prosperity of Hamilton. Margaret Juravinski and her husband, Charlie, embodied the spirit of philanthropy. Selfless to her core, Margaret sought to make Hamilton a better place by improving the quality of health care for patients at all stages of life. Giving was part of her DNA, having spent much of her golden years inspiring others to make gifts to causes close to their hearts. It was a tremendous pleasure to call her my friend, and while I'll miss her wonderful smile and endearing sense of humour, it gives me hope to know that her and Charlie's legacies will live on through the Juravinski Research Institute and the countless patients and families who have been touched by their immense generosity." 
Rob MacIsaac, President and CEO, Hamilton Health Sciences
"It is with heavy hearts that we acknowledge the passing of Margaret Juravinski. Margaret never minced words – she was deeply and genuinely committed to improving the lives of all patients. Margaret and Charles Juravinski were a force to be reckoned with in our community, and great friends of Hamilton Health Sciences. We are forever grateful for their compassion and endless generosity."
 Dr. Paul O'Byrne, Dean and Vice-President, Faculty of Health Sciences, McMaster University
"Margaret Juravinski, fueled by her pride in Hamilton and deep affection for the people in this community, inspired us to come together to conduct world-class health research and provide care that is improving peoples' lives every day. While we have lost both Margaret and Charles, the Juravinski legacy will make a profound impact for decades to come." 
 David Farrar, President and Vice-Chancellor, McMaster University
"Margaret Juravinski believed in sharing with others, the power of partnership and the ability of people in this community to excel. We will always be grateful for her remarkable generosity and belief in the transformative work underway at our university and with our hospital partners. She and her husband, Charles, have left an extraordinary mark on Hamilton."
Debbie Martin, Vice-President, University Advancement (Acting)
"Margaret was a remarkable woman with an amazingly kind soul. She continued to be engaged in the work she and Charles had begun with unmatched enthusiasm for the good that could be done in Hamilton and the impact health research could do around the world."
 Melissa Farrell, President, St. Joseph's Healthcare Hamilton
"All of us at St. Joseph's Healthcare Hamilton and its charitable foundation are truly saddened by the passing of Margaret Juravinski. The passing of a pillar of our community can leave a tremendous void in our hearts, but Margaret left us an incredible legacy that will live on. Because of Margaret and her late husband Charles, our city is home to world-class healthcare facilities that bear their names, and we are at the epicenter of health research thanks to the work underway by the Juravinski Research Institute. The legacy of Margaret and Charles Juravinski is achieving exactly what they intended it to – benefitting and improving the lives of others well beyond their passing."
---
McMaster's flags will be lowered on May 12 and over the weekend in memory of Margaret.