Canada Research Chair program names three McMaster recipients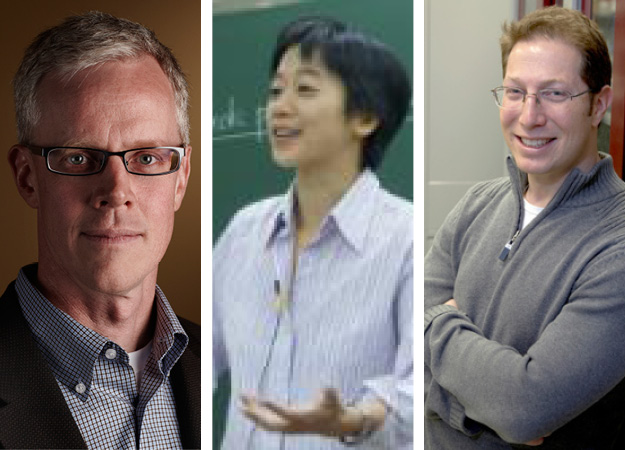 McMaster's 2014 Canada Research Chairs, from left to right: Eric Brown, professor, Department Biochemistry and Biomedical Sciences; Megumi Harada, associate professor, Department of Mathematics & Statistics; Jonathan Bramson, professor, Department of Pathology & Molecular Medicine.
---
Three McMaster researchers, Jonathan Bramson, Eric Brown and Megumi Harada, were named Canada Research Chairs during a Friday announcement.
Bramson and Brown were both selected as Tier 1 Canada Research Chairs, and will receive $1.4 million over seven years to help further their research efforts. Harada, a Tier 2 recipient, will receive $500,000 over five years.
Mo Elbestawi, vice-president, Research & International Affairs, says the Canada Research Chair program allows McMaster to retain researchers of the highest calibre who contribute significantly to the University's research enterprise.
"Professors Bramson, Brown and Harada are among the best in their fields, and we're fortunate that they're pursuing their pioneering research programs here, in areas that are of critical and strategic importance to the University," said Elbestawi.
Bramson, a professor in the Department of Pathology & Molecular Medicine, was named a Tier 1 Canada Research Chair in Translational Cancer Immunology. His ongoing research efforts with the Bramson Group focus largely on developing methods to direct cancer patients' immune systems to attack their tumours.
"Our research seeks to augment the immunity of cancer patients by enabling their white blood cells to attack their cancer. Due to repeated courses of chemotherapy and radiation treatment, the patients' white blood cells lose the ability to kill the cancer cells," explained Bramson.
"The Bramson lab has created methods to rehabilitate white blood cells in a petri dish and train the cells to destroy tumours. Our goal is to infuse the rehabilitated immune cells into cancer patients where, if successful, the white blood cells will kill their cancer cells. Unlike traditional therapies, the rehabilitated white blood cells will also seek out and destroy small deposits of cancer, preventing recurrence."
Brown, a professor in the Department Biochemistry and Biomedical Sciences, was named a Tier 1 Canada Research Chair in Microbial Chemical Biology. Recognizing the need for new therapies to treat the emergence of so-called "superbugs," the Brown Lab at McMaster is striving to develop the next generation of cutting-edge antibacterial drugs.
"Multidrug resistant bacteria continue to be a health-care burden in both hospital and community settings. Remarkably, in the past fifty years, only a few new chemical classes of antibiotics have reached the clinic," said Brown.
"Existing antibiotics are directed at a small number of targets, principally cell wall, DNA and protein biosynthesis. Indeed, multidrug resistance among bacterial pathogens is thought to be due in large part to a limited repertoire of antibacterial chemical matter."
Megumi Harada, an associate professor in the Department of Mathematics & Statistics, was named a Tier 2 Canada Research Chair in Equivariant Symplectic and Algebraic Geometry. Her primary research interest involves symplectic geometry, also known as the mathematical framework for classical physics.
At McMaster, Harada explores the complex relationships of equivariant symplectic geometry with other areas of mathematics, including equivariant algebraic geometry, hyperkahler geometry and geometric representation theory.
She is currently on sabbatical leave in Japan.
Each year, the federal CRC program invests roughly $265 million to attract and retain some of the world's most promising academic minds.